Raúl Lizoain, the goalkeeper who earned respect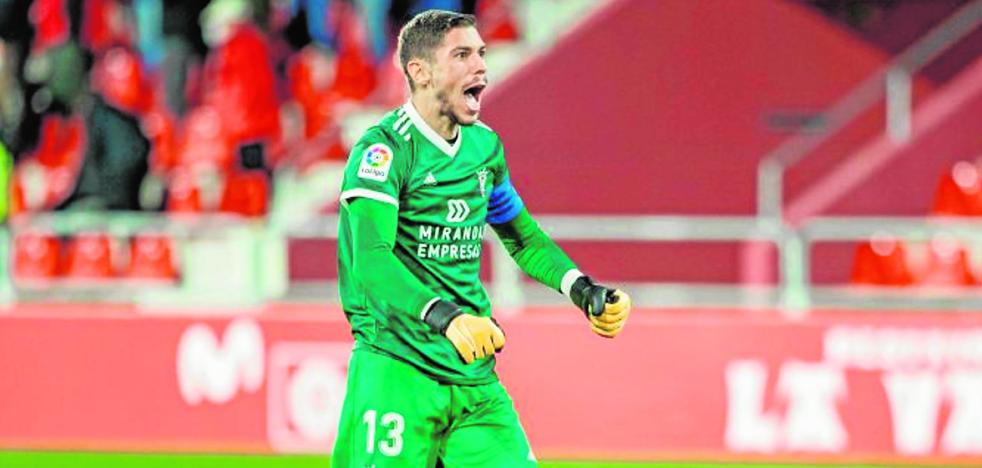 soccer
The player from Gran Canaria is the starting goalkeeper for CD Mirandés and for him it will be, this Friday (8:00 p.m.), a game full of memories and feelings
Getting to wear the captain's armband in a team is not an easy task and not all players know how to manage a locker room. It is an award that is achieved with loyalty, professionalism and respect, the one that the Gran Canarian has won over the years
Raúl Lizoain, CD Mirandés goalkeeper that this Friday (8:00 p.m.) will be in charge of protecting the goal that the yellow strikers will try to beat to continue their unstoppable trajectory towards sixth place.
At 31 years of age, Lizoain has proven himself as one of the most reliable goalkeepers in the League. Behind him eight seasons at UD Las Palmas, from the age of nineteen in the first team, and 76 official matches.
He debuted with Juan Manuel Rodríguez in that match that Las Palmas played in Huesca (2-0) on November 26, 2011 and in which he had to replace the Argentine goalkeeper Mariano Barbosa, sent off in the first half. He was promoted with UD Las Palmas to the First Division in 2014-2015, playing 18 games. In his debut in the top flight, at the Vicente Calderón, he was the starting goalkeeper against Atlético de Madrid (1-0), with a goal from Griezmann.
It was not easy for him to fight for a starting position with the goalkeepers that the club hired from abroad year after year. In silence and with professional rigor he was always prepared for when his time came.
In its beginnings, it learned from the advice of Barbosa, Pindado or Cicovic, and from the example of overcoming his father and uncle -they are blind- his true idols, with whom he learned to overcome each moment of adversity that he encountered along the path of life.
Two years at AD Alcorcón and this, his third campaign, the Miranda de Ebro club, They have served him to enjoy football in the company of his family. He is experiencing his sporting and personal moment of greatest maturity and dreams of one day returning to what was his home.
In the booth, Raúl Lizoain is a leader, a responsible person who helps, teaches, protects the colleague and who knows how to value the work of each club worker. This Friday he will be the sporting enemy, but that does not mean that the wise fans of the Gran Canaria Stadium reward him as he deserves, with a standing ovation before the match.
In his two previous visits since he left, also with Mirandés, the pandemic left the stands of the Gran Canaria Stadium empty.
And the thing is that Lizoain, in case you don't know, is yellow at heart and defended the shield of UD Las Palmas as if his life depended on it.
There have been many adventures that he shared with his great friend Jonathan Viera, whom he admires for his human and football quality. and who for the first time will face on a pitch. Lizoain does not hesitate to classify him as a unique player, admitting that he "would pay whatever money was needed" to have him on his team.
He has recognized that the game will be special for him and that it will be emotionally charged. He sees UD Las Palmas "capable of playing for promotion" and praises the great run of results they are achieving in this decisive stretch of the season.
Raúl Lizoain is a simple guy, who learns with each stop, who earns everyone's admiration for his way of approaching things naturally and transparently. Tomorrow she will put on her gloves to work honestly for the club she represents.
Soccer is so capricious that it surprises us with this type of situation that serves to teach them that behind a ball there are also feelings. It will be a special night, something rare to see one of us defending the shield of another team. So is this sport.
UD Las Palmas is risking all its options, Mirandés, for its part, arrives in Gran Canaria with the intention of certifying their permanence in the category. Everyone's eyes will be on the 7.32 x 2.44.