Raphael: "Social conscience should be present in everything we do"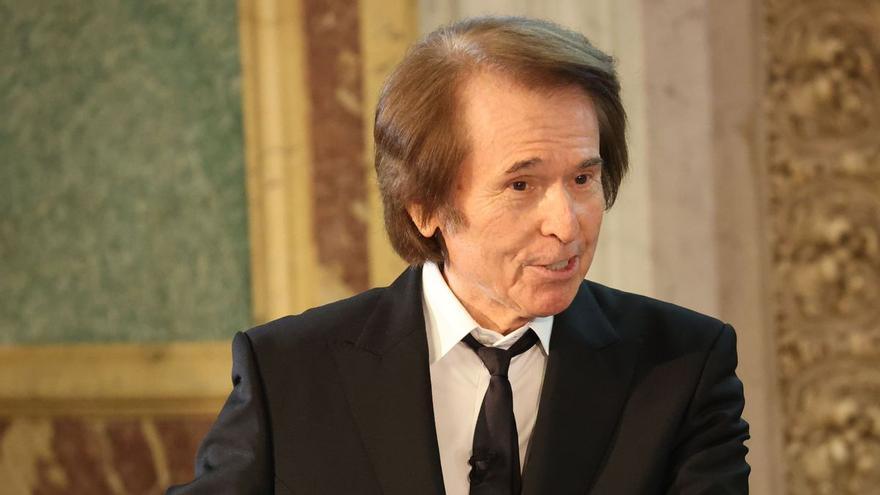 The singer Raphael has collected this Wednesday the 'Award for a lifetime professional' granted by the Mapfre Foundation as recognition of their work beyond the artistic and has claimed that "social conscience and commitment to the common good" must be present in everything.
"Since I started my career, I was always very aware of the iImportance of taking advantage of my microphone not only to sing, but to address issues that would make us dialogue and move towards a more just world", Raphael has proclaimed, after receiving the award from the hands of the Queen Sofia at the Casino de Madrid.
Along with the queen, has been her eldest daughter, Infanta Elena, in her capacity as Project Director of the Mapfre Foundation, as well as the president of this entity, Antonio Huertas.
The awarding of the award to Raphael coincides with the celebration of his 60 years on stage.
"This award completes a very special year for me," he confessed the singer from Linares (Jaén), who turned 78 years old last May.
After underlining that any individual must act thinking of others, he has admitted that, above all, those people, like him, and companies that have "a privileged situation to help" must do so.
"Majesty, thank you for so many things"
"Social conscience and commitment to the common good should be present in everything we do, in everything", he stressed in his speech.
Once the hardest part of the pandemic has been overcome, Raphael has called for the union of citizens and that areas such as "science, research, culture and social inclusion" are the "guide".
If we want that the society advances, it is necessary that we walk together, has demanded.
Before finishing his words, he addressed Queen Sofía to express his gratitude: "Your Majesty, thank you for so many things, so many years that we have known each other."
At the gala, Queen Sofía also presented the Mapfre Foundation Social Awards in the other three categories.
The ELEVEN it has obtained the "Best Entity"; the Juanfe Foundation, dedicated to lifting adolescent mothers out of poverty in Colombia the "Best Project or Initiative", and the Professor of Insurance Law Abel Veiga, the "International Insurance Julio Castelo Matrán").
The awards, endowed with 30,000 euros each, aim to distinguish people, organizations or projects that contribute to a more just and less unequal society.
Due to sanitary restrictions, the cocktail after the ceremony has been canceled and the event has a private dinner between the main authorities and the winners.