Raphael and Nathy Peluso open the poster for Luce, the new festival in Benicàssim | Blog Miss Festivals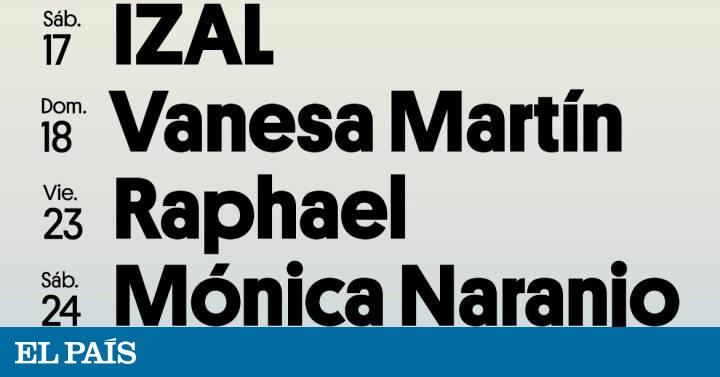 With a poster in which practically everything fits, in terms of genres and public profile, he begins his journey Shine, the new festival that joins the Benicàssim scene and the first to do so under a completely reformulated concept to adapt to the Covid era. The event will arrive throughout the month of July at the concert venue of the tourist municipality by The Music Republic, promoter of the Benicàssim International Festival (FIB) and other festival macro-events such as the massive Arenal Sound (also in Castellón), Viña Rock or the Festival de Les Arts.
Luce Benicàssim's musical mix is ​​inaugurated by IZAL (Saturday, July 17), Vanesa Martín (Sunday, July 18), Raphael (July 23), Mónica Naranjo (Saturday, July 24), Nathy Peluso (Friday, July 30) and Rozalén (Saturday, July 31). Half of the dozen artists that, according to the promoters, will nourish the poster of this first edition.
Because yes, the new Benicean festival will not be a typical festival: it advocates space the concerts, spread out in independent days throughout a month, and its outdoor stage will have all the security measures in force and a large space and diaphanous "that will provide a great experience to attendees respecting the allowed capacity and maintaining safety distances", they point out from the organization. The venue will also include a public area divided between track and stands.
Along with music, gastronomy will be another of the disciplines that are present in Luce Benicàssim. "With the aim of creating an experience that transcends the purely musical, the venue will have high quality catering services", the same sources have reported.
Luce will have a limited number of tickets, which will go on sale next Tuesday, April 6 at 12 noon, at lucebenicassim.com.
At the moment Luce Benicàssim, the last to arrive, is also the only one to be celebrated for sure of those who nourish the festive season of the Castellón coast, which should have started this Easter with the SanSan Festival, postponed to next October.
The FIB and the international reggae competition Rototom Sunsplash, which share a venue in Benicàssim, have not yet revealed their plans and alternatives for this summer. Perhaps the results of the pilot project last weekend, which brought together 5,000 people at the Palau Sant Jordi for the Love of Lesbian concert, will help re-launch strategies. On the website of the mythical FIB, bought by The Music Republic in 2019, what can still be read is the 'FIB will strike back' that accompanied the announcement of the cancellation of the 2020 edition in the spring of last year. We will have to wait.