Rainbow legacies at Cervantes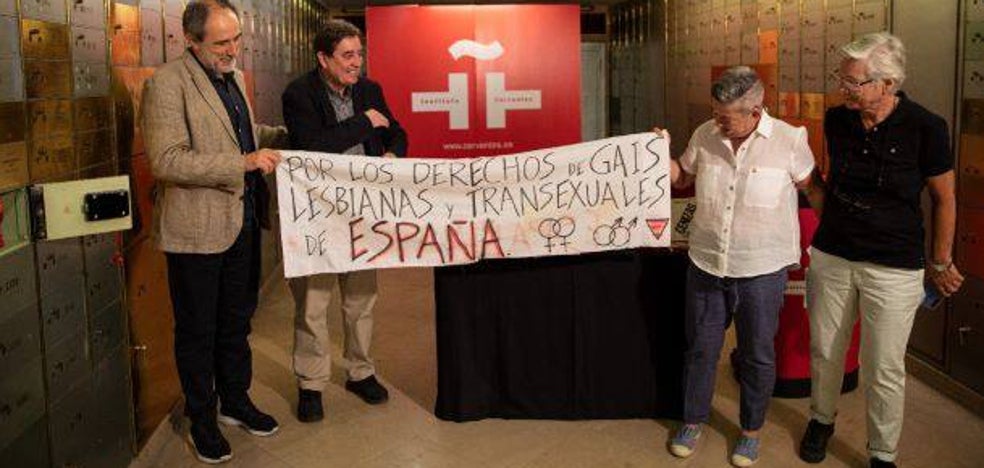 Eduardo Mendicutti and the founder of Librería Berkana, Mili Hernández, deposit texts and documents claiming the LGTBI movement in the Caja de las Letras | On International Pride Day, the writer left several originals and editions of three of his novels
The first rainbow legacies that the Cervantes Institute's Caja de las Letras houses were deposited this Tuesday by the writer Eduardo Mendicutti and the founder of Librería Berkana, Mili Hernández. On the International LGBTI Pride Day, they left behind books, texts, photos, documents and objects protesting the movement of which they are a part and an active, sustained and long struggle for rights and equality. A legacy received with "proud" by Luis García Montero, director of the Cervantes who claimed "diversity and difference as a common good".
Convalescing from a recent knee operation, Mendicutti was unable to travel from Sanlúcar de Barrameda (Cádiz), where he resides. His publisher in Tusquets, Juan Cerezo, deposited his legacy in box 1177 after the writer explained it in a video. «All these years I have accompanied the LGTBI militants with my writings in their advances for the conquest of the rights of all of us and I have looked for something that, apart from its literary qualities, represents well the turnaround of this country and the collective in these years ", said
The journalist and activist writer chose the typescript of 'A bad night anyone has', the adventures of some transvestites on the fateful night of 23F that gave Mendicutti the City of Barbastro Award. «I don't know if it is the best or the most memorable of my novels, but it is the most significant. It represents the transition from dictatorship to democracy », he specified. He added successive editions of this fiction that appeared in 1982, a copy of the original of 'Tattoo', his first novel, Sesame Prize in 1973 and which was censored, an edition of 'Cenizas', his second novel, published Café Gijón Short Story Prize only as a booklet, and several press clippings from his first years of career, -«when he had great hair»-, among them a laudatory review signed by Leopoldo Azancot.
"All my novels deal with homoerotic issues and reflect politically on the need to create a balanced Spain, knowing that no country is balanced if it does not have the presence of the LGTBI community, its history and that of women," he said. For Juan Cerezo, Mendicutti's novels "are a wonderful testimony to the evolution of the oral language of some groups", highlighting her ability to narrate profound themes without losing her sense of humor and irony.
pioneer

If Mendicutti is a reference in Spanish homosexual literature, Berkana was the first LGTBI bookstore in Spain and Latin America. "It has been the nerve center for information and connection for homosexuals from all over Spain who knew and know that they can find there what they need in reference to their way of being and living and to glimpse the horizon that awaits us," said its founder. Milli Hernandez.
"This is the greatest recognition for our bookstore in its 30-year history," Hernández boasted before depositing his legacy in box 1178. He introduced the pioneering catalogs that were published since the opening - "crucial for the collective before the internet"- , along with four «essential» books: 'Identity and difference on gay culture in Spain' (1997), by Juan Vicente Aliaga and José Miguel García Cortés; 'De Sodoma a Chueca' (2004), in which Alberto Mira traces the cultural history of homosexuality; 'Deseo y Resistencia' (2009), by Gracia Trujillo, the history of lesbianism in Spain, and 'Ours is indeed worldwide', by Ramón Martínez (2017), «which explains very well what has happened in the last 40 years".
Hernández added a map of the Madrid neighborhood of Chueca, today gay territory, a poster and a banner with the legend 'For the rights of gays, lesbians and transsexuals in Spain' made with a pillowcase «from when we paraded in 1994 on the 25 anniversary of the 'Stonewall Revolt' in New York", the gay bar in Manhattan that rebelled against repeated police harassment and promoted the international fight for their rights. "That day they gave us the Spanish flag with the eaglet because it seems that they had found out that Franco had died and we had to wrap it around a banner stick to hide it," Hernández recalled between emotion and amusement that parade that changed his life and promoted your bookstore.
«Berkana has been the vehicle for the LGTBI culture to have visibility. Back then we didn't have books and the readers were in the closet", recalled its founder. "Culture is a healing space and Berkana has been for tens of thousands of members of the collective," added Hernández. «I emigrated because of my sexual orientation in the 80s without knowing who I was or what was happening to me. In the 60s and 70s there were no references and homosexuality was not talked about in schools or in families. When it was rumored that Mari Trini was a lesbian, like the tennis player Martina Navratilova, I found the first references," said the bookseller and creator "out of necessity" of the Egales publishing house, another unavoidable reference for the LGTBI collective.
After the delivery of the legacies, a round table entitled 'The common good of difference' was held. Mendicutti and Hernández participated, as well as the writer Luisgé Martín, the artistic group Cabello y Carceller (made up of Helena Cabello and Ana Carceller), and Fernando López, a researcher and artist specializing in flamenco. The meeting was moderated by the deputy director of International Relations of the Cervantes Institute, Philippe Robertet.