Rafaelillo, discharged in Pamplona: "I felt that everything was over" | Culture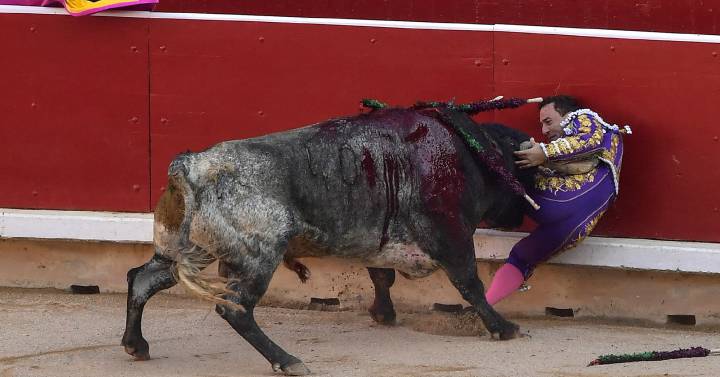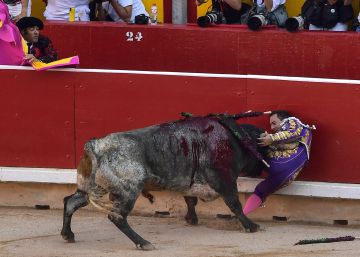 "I felt that everything was over and that the bull had burst me."
These were the first words of an excited Rafaelillo, the bullfighter who was seriously injured by a bull from Miura on July 14 at the San Fermín fair, and who has been discharged this Friday at the Hospital Complex of Navarra.
He said he leaves the center "overwhelmed and overwhelmed" by the signs of affection, and convinced that "from now on I will feel half Murcia, half pamplonica." Now he will travel to Murcia, where he will be admitted to the Quirón San Carlos clinic, to continue his recovery process.
In a press conference in which he has been accompanied by doctors Ángel M. Hidalgo, chief surgeon of the Plaza de Pamplona, ​​Miguel Ángel Ciga and Miguel Salvador who have assisted him since the fuck, the bullfighter has thanked the services doctors, his family and all those who have been concerned about his evolution since July 14 was caught in the last run of the Sanfermines by a bull from the legendary Sevillian livestock.
"I have spent my whole life dedicated to my profession in a career that has not been characterized by being easy. I have lived very hard moments, but I can promise you that the 14th in Pamplona has been the toughest of all with a lot of difference," he said. recognized after assuring that he felt that "everything was over" and that the bull had "burst."
Rafaelillo was caught by the bull against the boards and suffered "a sheath in the left hemithorax and multiple rib fractures", among other injuries, from which he has been recovering, but which still force him to take a strong pain medication .
To such an extent he felt the seriousness of what happened that, before being sedated to be surgically intervened in the bullring, he asked to call his wife and two daughters "to say goodbye to them in case I didn't hear them again, and that it was what God would like. "
"Fortunately and thanks to the miraculous intervention of these guardian angels who are the doctors, July 14 will be a date on which I will celebrate my birthday from now on," he said excitedly.
On his recovery, he has said that he is "aware that there is now a hard road ahead of slow and painful recovery before returning to a normal life and getting back in front of the bull, but it is something I have assumed."
Until then, "it's hard to work hard for this profession that is my life, and I'm willing to pay this tribute that we have to pay the bullfighters," said the teacher, happy because leaving Pamplona today "is a step forward in my recovery, a reason for happiness ", although he will remain hospitalized in Murcia, close to his own.
It has affected that the "multitude of messages of support of the family of the bull", with "affection and consideration demonstrated in these difficult times" have made him feel "overwhelmed and overwhelmed", a gesture for which he has thanked: " You don't know how important it has been for me and how dear I have felt. "
As for Pamplona, ​​with whom "I have always maintained a special bond", after eleven years doing the promenade in Sanfermines, Rafaelillo thanked the Casa de Misericordia (owner of the Plaza de Pamplona) for his trust and assured that he " I would like to "be back in the sanfermines of 2020.
Asked for the moment of the catch, he recalled that the bull was "very treacherous" because he did not warn him before lighting it, "but the bulls are animals and have unpredictable reactions," said a Rafaelillo who assumes that "it is very difficult" to succeed with the bulls of Miura, a livestock that "does not allow you to relax and take out the artistic side that you have inside".
For his part, Dr. Ángel Hidalgo, after explaining Rafaelillo's evolutionary process from the accident to the present day, commented "at the moment the pain subsides, I calculate in the next two or three weeks, and he is doing more physical exercise, you will find better and better. I think that, if everything goes well and without complications that are not expected, an approximate date for its definitive recovery could be October ".
Finally, Dr. Miguel Ángel Ciga revealed the difficult moments that were experienced in the infirmary after the brutal fuck: "We did not know if the origin of the abundant hemorrhage presented by the bullfighter was the mediastinum or the diaphragm, until the thorax was opened and, fortunately, it was proven that it came from the intercostal arteries. "
(tagsToTranslate) rafaelillo (t) pamplona felt (t) finish (t) bullfighter (t) catch (t) bull (t) miura (t) July 14 (t) return (t) be (t) enter (t) )Murcia



Source link