Rafa Romera: "I would like my music to only depend on myself"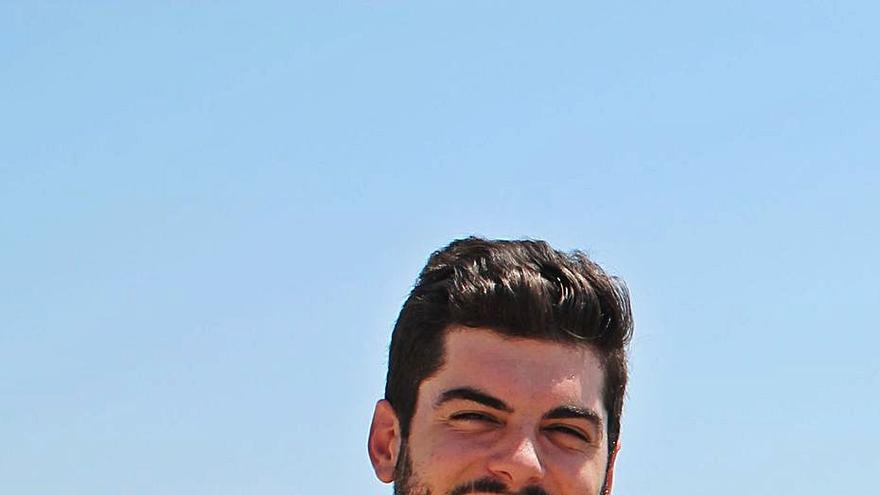 Little rest, since after the summer he will release his first album. What style will you choose in your songs?
Yes, I'll be recording the last three songs shortly. They are good vibes, but also some nostalgic ones. I am looking for a fusion both in style and feelings. For example, the song Callejuelas talks about the narrow streets of the center of Córdoba where the music is in the street and they spend the day humming.
And the last two songs?
The second, Piesecitos, focuses on the moment you miss your partner, even though I am no longer with her. But I think songs are the same as tattoos: they will always be part of your story. And The Good Boy is the last one, which is about a person who has grown up in a cultured family and due to life circumstances has ended up on drugs and totally alone. Now they don't respect him and they don't behave well. It is a social criticism because it speaks of discrimination to a person who has had problems and society tends to look down on it. We usually judge before we meet people.
Is this topic due to an experience you lived closely?
Yes, in the end everyone has someone who has been there, who has had a bad time and who has needed help. And many times he has not allowed himself to be helped and it is not known why. I had it made with a YouTube base, but I took it that way early and I want to produce the song well again.
Is fusion flamenco the genre that defines you the most?
Possibly, although I'd like to do some research. Now I'm looking with a guitarist to do a bit of a fusion between indie and flamenco. Even some bulerías with blues.
My little corner, your third single already released, pays tribute to the beach, but you are from Córdoba.
The thing is, I was born in Córdoba, but when I was a month old I went to Malaga because my father was sent there to work. I was there for 19 years. So, I wanted to do a song on the beach that I grew up with. Not so much in its form that we all know that space, but of the beach in winter and the solitude in it. I wrote the song three years ago and had a bit of it in the pipeline.
Now that you can live from music, did you imagine it the same as how you are living it?
Everything really surprises me. Before I was used to doing some bowling and some agreements were reached by word and very quickly. In plan they would give you 200 euros for the four of us and sometimes we would come and they would tell us: 'We don't have 200 euros, maybe 150'. And, of course, we had already sung (laughs). Changes a lot. In the music industry there are many people behind. When you're not in the industry, they don't take you seriously.
What do you think is due to this lack of seriousness?
It is due to a lack of social commitment, which is no longer economic. It would be cool if people were to ally in some way and fight for the culture. If the population supported culture, the Government would have no other choice. The fact is that with the number of artists in Spain you don't want to bet on culture because you see that it doesn't interest or doesn't generate money for the greats.
During your time at Operación Triunfo, does the contest guide you once it is over?
It puts you in contact with people who see that they go with your style and that you can do well. With Live Nation I am very happy because I can do my songs and my songs. On the other hand, I don't know if I would have signed if they had asked me to retouch my compositions. Later it is unknown how things will go, but I would like my music to only depend on myself.
"In the music industry there are many people behind and when you are not involved they do not take you seriously"
It seems that now the contest is not so focused on finding a good voice.
This year I think they have looked for an artist more than just the voice. It is true that the voice is very important, but at the end of the day it is a set of everything. A song that transmits to the public or transports them somewhere is what people are looking for, to live a two-hour experience in order to avoid their problems and enjoy the concert.
What prompted you to appear at OT?
I accompanied my ex-partner to the casting of the program. I had no pretense. Sometimes it happens that when you go without looking for it, you don't have that pressure and you are going to enjoy it. Somehow they saw that and they chose me. It was a bit chaotic because I didn't want to go. I really thought my music wouldn't fit.
Is music consumption measured a lot now in YouTube views?
It depends a bit on the genre you do. In the urban style that is worn now, it seems like a competition to see who has more views. I really like the live show, and maybe my songs are not so focused on visualizations.
Do you have a closed song with another artist?
With Bite we have met shortly to compose a song. Later with Juanito Makandé he has the studio here and I would also like to work with him. I am also in contact with a Mexican artist, Coby Quintana. And Fernando Costa would be an honor because I like his protest songs.
You start your career with a pandemic on top, do you think that the cultural sector is being treated more strictly in the protocols and measures?
This happens because this sector does not generate like the other sectors. If culture generated as much money as airlines, another rooster would crow.