Quirónsalud Tenerife reminds you that healthy habits help avoid prostate problems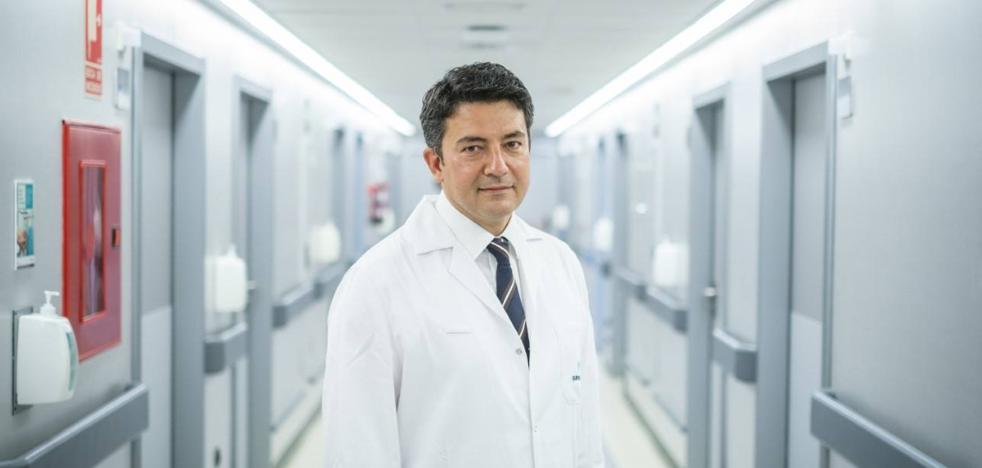 The head of Urology at Quirónsalud in Tenerife, Dr. Guillermo Conde, says that prevention and early diagnosis are key to success against prostate cancer
Diagnostic and therapeutic advances, together with early diagnosis, have meant that in recent years one of the oncological diseases that most affects men: prostate cancer; It is also one of the pathologies with the lowest mortality rate. However, not everything is done, prevention is also essential and at this point men have to take an active role in maintaining healthy lifestyle habits.
The head of the Urology service of the Quirónsalud hospitals in Tenerife, Dr. Guillermo Conde, on the occasion of the celebration of the European Prostate Health Day on September 15, wants to recall the most important guidelines that we must take into account to bet on a healthy prostate.
"The first advice, without a doubt, is to visit the urologist regularly, especially in men over 50 years of age, since from this age is when the risk of developing this type of problem increases," he stresses. the specialist. However, it is also crucial to maintain a healthy and balanced diet rich in foods with lycopenes such as tomato, watermelon or papaya; drink at least 1.5 liters of water a day, limit the consumption of alcohol and caffeine and give up tobacco completely. Spicy foods are also not recommended as they can irritate the prostate and cause bladder function problems.
Likewise, it is important to avoid being overweight, perform 45 minutes of physical activity daily and lead an active sexual life. "Ejaculating at least twice a week improves the functioning of the prostate and prevents pelvic congestion," says the specialist.
Dr. Conde insists that early diagnosis is key in the treatment of prostate cancer, since its symptoms may go unnoticed at first. He clarifies that the main ally of this objective is the measurement of PSA (Prostate Specific Antigen) levels in blood, an indicator that is obtained through a simple test.
"PSA is a protein secreted by the prostate and is the first tumor marker that allows evaluating the progress and response to treatment of prostate cancer," explains Dr. Conde, later pointing out that they can also be elevated in cases of prostatitis or benign prostate growth or urinary tract infections.
warning signs

Among the symptoms that may indicate that there is a problem in the prostate is difficulty or pain when urinating, doing so with blood or an increase in the number of times we go to the bathroom. Incontinence problems, nocturnal urine loss or blockage in the urinary tract can also hide a prostate problem and, therefore, recommend a visit to a specialist.
Dr. Conde explains that there are three pathologies that mainly affect the prostate: prostatitis, benign prostatic hyperplasia and prostate cancer. Regarding the latter, he specifies that both in 2022 and 2021 this has been the cancer that most affects men, with some 30,000 new cases diagnosed in Spain per year.
«Despite its high incidence and awareness campaigns, according to data from the Spanish Association Against Cancer, only 31.8% of men who have suffered any of the symptoms related to a prostate problem decide to visit a specialist », emphasizes Dr. Conde.
About Quirónsalud

Quirónsalud is the leading hospital group in Spain and, together with its parent company Fresenius-Helios, also in Europe. In addition to its activity in Spain, Quirónsalud is also present in Latin America, particularly in Colombia and Peru. Together, it has more than 45,000 professionals in more than 160 health centers, including 55 hospitals with approximately 8,000 hospital beds. It has the most advanced technology and a great team of highly specialized professionals of international prestige. Its centers include the Fundación Jiménez Díaz University Hospital, Teknon Medical Center, Ruber Internacional, Quirónsalud Madrid University Hospital, Quirónsalud Barcelona Hospital, Dexeus University Hospital, Gipuzkoa Polyclinic, General University Hospital of Catalonia, Quirónsalud Sagrado Corazón Hospital, etc.
The Group works to promote teaching (nine of its hospitals are university hospitals) and medical-scientific research (it has the FJD Health Research Institute, accredited by the Secretary of State for Research, Development and Innovation).
Likewise, its care service is organized into transversal units and networks that allow optimization of the experience accumulated in the different centers and the clinical translation of its research. Currently, Quirónsalud is developing a multitude of research projects throughout Spain and many of its centers carry out cutting-edge work in this field, being pioneers in different specialties such as oncology, cardiology, endocrinology, gynecology and neurology, among others.