Quique Setién: "I only guarantee that my team will play well" | sports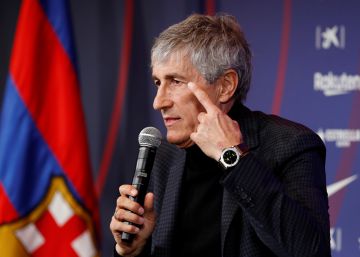 With navy jacket and black turtleneck, Quique Setién, 61, he appeared before the media with a smile from ear to ear, happy because he had known for a long time about Barcelona's interest, even if it was not by far the first option. "It didn't take me five minutes to accept the offer. He fell by his own weight. Everything has been very hasty and it was a surprise when I was notified this Monday. I knew I could be there … But I didn't think that Barça was going to decide for me. I don't have an extensive curriculum, I don't have degrees either, and I've only shown that I love this philosophy, "said Setién.
Thus, after training the team in the morning, he signed the contract that links him as a Barça coach until 2022, He hugged President Josep Maria Bartomeu while receiving some patting, the photograph was taken in the stadium stands next to his coaching staff – the second Eder Sarabia, the goalkeeper coach Jon Pascua and the physical trainer Juan Soto-, and He stood in front of the micros, accompanied by the president and the sports director, Èric Abidal. "It's a very special day for me. I face this challenge with great enthusiasm and I will try to convey to the players the enthusiasm and desire, that desire to win, that confidence I have. Normally it is not complicated and we are sure that they will interpret us easily. We will not have difficulty in maintaining the requirement, "the technician resolved.
The board of directors of Barça decided to say that Ernesto Valverde It was not enough, resolution ruled out after the last two European matches (Rome and Liverpool) but reactivated after the beats of the Saudi fan to the coach after the recent defeat of the Super Cup against Atlético, also based on the lack of a harmonious and dominating game that was supposed to him by the preparation of the staff and framed in the future electoral acts, because the new coach also supposes an aid for the continuous candidacy of the directive. Idea that went to waste, however, when Xavi ruled out taking over the team immediately, as did Ronald Koeman, committed in the short term with the Dutch national team and the European Championship. Inclined part of the sports area by Mauricio Pochettino, also President Bartomeu, ended up being discarded for his public rejection of the Barca club – "before training it, I would go to a farm in Argentina," said Mr. Mister in his day – and finally He agreed to sign Setién, who takes the leading team in LaLiga and already in the round of 16 of the Champions League. "I could not imagine that they gave me the leader of LaLiga," said Setién; "Yesterday I was walking next to the cows in my town and today I am in the sports city of Barça, training the best players in the world. A team that I will never be able to improve because this is the best ".
Cruyffista for punishment and conviction, because as a player he always wondered when he played against Barcelona and Dream team why they ran so much behind the ball without having it between their feet, Setien now arrives at Camp Nou. "Thank you for accepting the challenge. We know that you are in love with Cruyff, and our ideals are shared with yours, "Bartomeu said. "I only guarantee that my team will play well. In Las Palmas, in Lugo and in Betis, the team played football well. He had an identity. But seeing a team that has played well almost always, even the last game that played 70 minutes frankly well with only to improve putting it inside … But there are always things to improve.
He also referred to tactical drawing – "philosophy does not change; The drawing can. I do not say no, "he said," and to the quarry: "The players of the first team have to be clear that talent from below, if it makes its way, is because it really deserves it. And I have an absolute predisposition to take care of them, because whenever one appears, it gives a positive energy for everyone and does not allow relaxation for the first team players. It is a message that I have always complied with. "
Setién showed that his pulse will not shake at the responsibility of leading Barcelona. "I have my convictions and way of working, and so I will continue. And if we have to die with it, we will die. My goal is to win everything that can be won. Try to get as many titles as possible, in addition to playing well. To victory, the best way is to play well, even if this does not happen sometimes. " To do this, it has Messi "I have already told someone, not just Leo, who is special and unique. I have really enjoyed these 14 years, sitting in front of the TV to see this team, these players who have made me enjoy football. It has been every day, every game, "he said. "I am not aware of what it means to train the best player in the world and his teammates … But one thing is the admiration I feel for you and then there is reality, that Messi, Piqué, Busquets … each one has to be in his place. Surely it will be an extraordinary relationship with everyone because I am a sincere and direct person, "said Setién, who already led his first session as Barca coach on Tuesday morning, accompanied by President Bartomeu on the premises and the sports dome with Óscar Grau in front and the technical secretariat of Abidal and Planes.
Setién directed Santander Racing in the 2001-02 academic year, club in which he played 12 seasons, and achieved promotion to Primera. He went through the Poli Ejido, the Logroñés, the Lugo and, already in First, directed to Las Palmas and Betis. Now he will be the third Cantabrian coach who sits on the bench of Camp Nou after Enrique Orizaola (1961) and Laureano Ruiz (1976), also the fifth Spanish coach who leads the team without having dressed the shirt as a player, after Orizaola and Ruiz, in addition to Luis Aragonés (1987-1988) and Serra Ferrer (2000-2001). Now, he has signed until 2022 when the initial idea of ​​the club went through six months. And Setién wanted to be a project before a patch, even if he had also accepted the six months. But he signs for a longer time and conditions the president to be elected in 2021. "There is a clause that the elected president can choose the coach," Bartomeu said.
You can follow EL PAÍS Sports in Facebook, Twitter or subscribe here to the Newsletter.