Quique Dacosta: "The kitchen must generate beauty in every way, including the environment"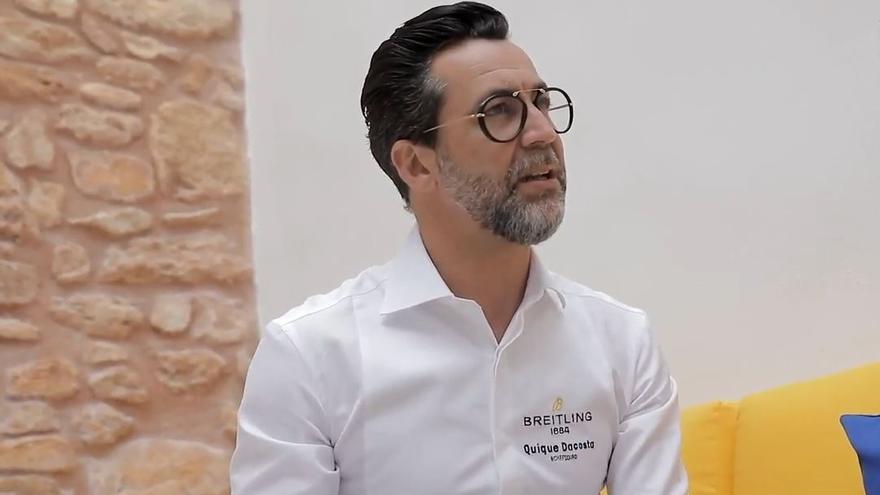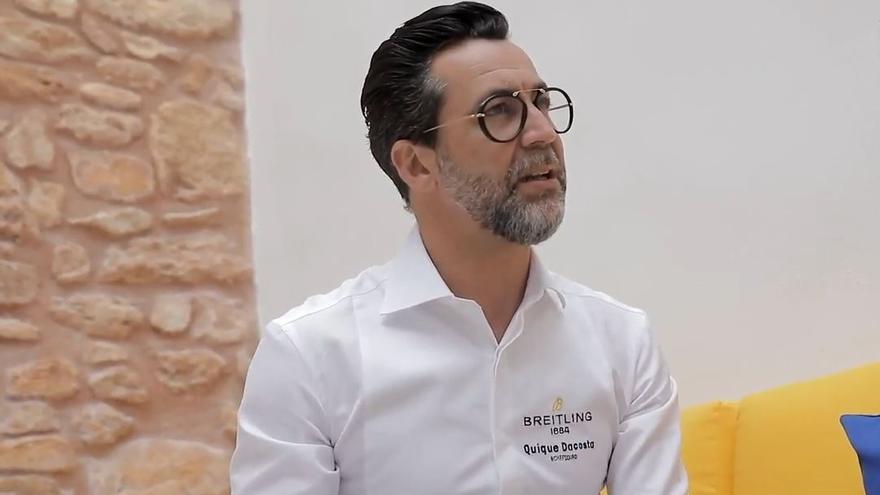 He claims that cooking can be an act of protest. How?
Although it has always been induced by hedonism, the pleasure of enjoying the table, I also think that it can lead to reflection. For me it is an extraordinary scenario. It can be transformed into a whole protest tool only with small actions that involve major changes, such as not using plastics. It is a way of building territory and creating a circular economy and positive values ​​that benefit the environment. Last year the menu had a fish plate between plastics. The dish represented the sea and obviously what you ate was not plastic, but it claimed that our relationship with the sea cannot continue like this. We had other protest-dishes and this one stayed. We subjected the client to a reflection without ceasing to please, to seduce with the food.
He often talks about "the beauty of the kitchen." What do you mean?
This adjective had never been associated with cooking, unlike other artistic disciplines. I am not referring to the aesthetics of the dish, but to the harmony, both in taste and when conceiving and processing it. Beauty understood as an inspiration and channeling, which each one expresses in their own way. I always tell my children that you have to be next to beauty and I mean those people who bring light and good energy. When you see that something turns dark, that it does not give you positive vibes or you feel that it is not on the side of the moral and ethical, you must subtly disappear and look for what gives you light. We return to the kitchen as an act of protest, because it must generate beauty in every way, also in our environment.
His recent Gold Medal for Merit in Fine Arts was "such a difficult year for everyone," as he highlighted. Is restoration getting over it?
Not much less. We don't know how much is left and there are restaurants that will never be able to open anymore. Obviously, lives had to be saved first, and they are there, but we are going to see how the world economy comes out of this tunnel and what desert has been left. That I cannot complain, because our projects are going well, does not mean that I do not realize how touched the sector is. There are many colleagues who have lost their only chance to earn a living. Since you dedicate yourself to this profession in body and soul, you are so specialized that you do not know how to do anything else and when the economy collapses in general terms, there are few alternatives.
The covid Has it served to change what was done wrong?
In my case I have not had to change anything. There is no new kitchen after the pandemic, because I have always advocated the relationship with nature, the circular economy and the local product, all together with a window open to the world. In the same way that the Mediterranean that we inhabit is the sum of cultures that have come and brought while others have come and taken, we have to do the same, because closing to the local seems to me a mistake and even goes against the nature of civilization, which it has always been searching, bringing and carrying. There are no borders to evolution. The kitchen has roots, although not borders.
Is it not necessary to recover the origins?
What are origins? For Maca de Castro it would be to be even more innovative, a Japanese restaurant in Madrid would have to be more Japanese in Madrid, for Quique Dacosta it would be to continue with the creative spirit … Going back to the origins can mean an evolution, since this does not mean look only towards the future, but also towards the past, which surely brings much more inspiration or the same, depending on which chef you ask. The origin is not the products either, since they are means of expression.