Quino, the genius immortalized in the form of a girl who made the world think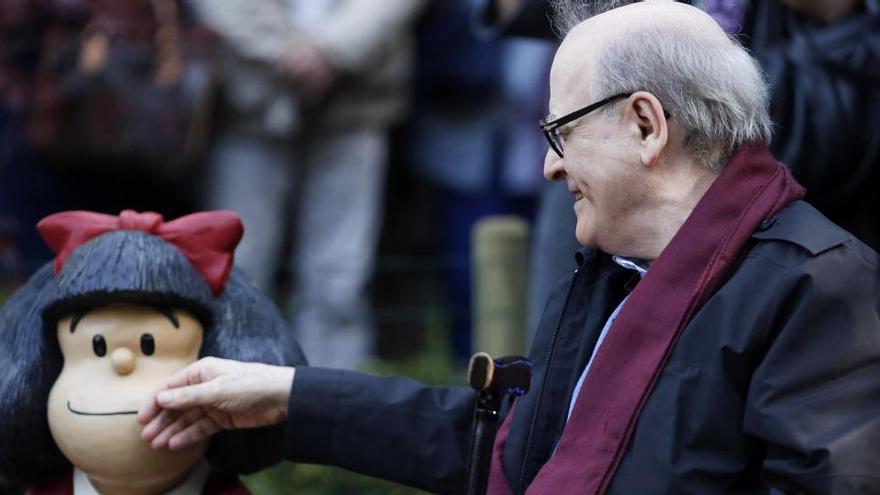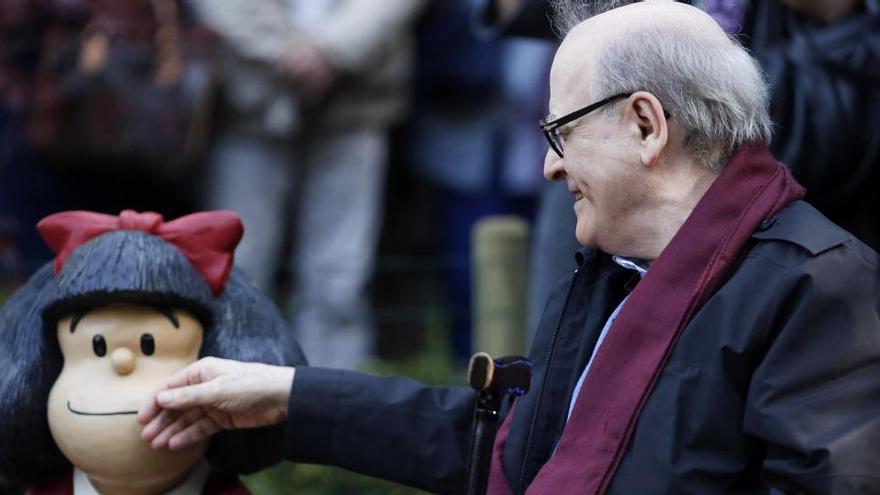 Never had children, but no one doubts that the Argentine cartoonist Joaquín Salvador Lavado, known as Cinchona Y died this Wednesday at age 88, Had his best offspring in Mafalda, the small and rebellious social fighter in which she immortalized herself forever to make the world think.
Widely considered one of the biggest icons of Argentina inside and outside its borders, the author, born in Mendoza in 1932, managed to make of his greatest work, a girl lover of the Beatles, democracy, children's rights and peace, and detractor of soup, war and James Bond, an eternal symbol.
"When they tell me, 'Thank you for everything you gave us,' I say, 'What did I give them?' among his followers, it was not difficult for him to recognize that someone "who made people think about things that happen".
A family full of Joaquines
Holder of many awards, such as the Prince of Asturias Award for Communication and Humanities and the Medal of the Order and Letters of France, Quino he was born the same year his Spanish parents emigrated to Argentina, and already in full adolescence began to study drawing at the School of Fine Arts in Mendoza. However, four years later, he decided to abandon it for the graphic world and comics. And there was no turning back on his destination.
By then Joaquín was already 'Quino', a nickname with which he could differentiate himself from the many 'Joaquines' that were already in his family, including his uncle, who awoke his passion for illustration. "Not only did he leave me a vocation, but a philosophy of life that has marked me a lot since my grandmother. The politicization of my family marked me a lot", evoked the great cartoonist.
At the age of 22, he moved to Buenos Aires, where he soon published his first page of graphic humor in the weekly 'Esto es' and began to regularly collaborate in media such as 'Rico Tipo', 'Dr.Merengue' and 'Tía Vicenta' , as well as illustrations of advertising campaigns.
Mafalda, frustrated face of appliances
However, in the Argentine capital he exhibited for the first time in 1962, while a year later he published his first book, 'Mundo Quino', a compilation of drawings published so far in magazines of the time.
And it was precisely an advertising commission that changed his life: A new line of household appliances called Mansfield was destined to be promoted with a character that began with 'M', which finally did not get published due to the failure of the brand.
Far from putting those frustrated drawings in a drawer, Quino rescued them for his next jobs in press. Thus, 'Mafalda' appeared for the first time in 'Gregorio', the humor supplement of the magazine 'Leoplán', to be later published regularly in other publications such as 'Front page' and 'El mundo' and in compilation books. .
The adventures of the little girl, as well as her friends Manolito, Susanita and Felipe, with whom she achieved success in dozens of languages, were developed from 1964 to 1973, although its image and its timeless and ironic messages for a better world they have made her immortal. "Seeing the things I did in all these years, I realize that I always say the same things, and they are still valid. That is the terrible thing … No?" Quino remarked to Efe.
The veteran cartoonist, married since 1960 to Alicia Colombo -who passed away at the end of 2017-, thus referred to his "usual themes", such as "death, old age and doctors", with which for decades he made readers think through his emblematic characters.
But as not only a small rebel knew how to live, she combined her emblematic creation with other books such as 'A me no me grite' (1972) and 'Yo que tú' (1973).
Although after 1973 Quino resumed the character on few occasions, not wanting to tire or repeat herself made Mafalda rest forever but stay alive in popular memory. In 1976 she moved to Milan, where she continued to make humorous pages, and in subsequent decades her popularity on all continents did not stop growing.
The "finger" on the emotions key
For a few years now, mobility and vision problems have prevented him from fully enjoying one of his great passions, movie theater, and has also had to stop his vocation, drawing, although he has not stopped attending tributes to his work and book signings. One of his last public events was at the end of last year, when he attended a tribute at the National University of Cuyo in his hometown, where he moved a while ago from Buenos Aires after becoming a widower.
'Simply Quino', his most recent book, which he signed surrounded by crowds at the Book Fair in the Argentine capital, was published in 2016, and it includes old strips published in the press.
Although he has never liked taking stock, "from time to time" he had no choice but to do it, above all due to the insistence of journalists when it came to eliciting the reason for his long success. "I ask myself that a lot too. I don't know. I know that I have put my finger on a key that moves many things"confessed the man from Mendoza, who was clear that, from the world of now, far away in time and circumstances of 1973, his eternal daughter would think that it is" a disaster "and" a shame ".