Quino dies and his Mafalda de Oviedo is orphaned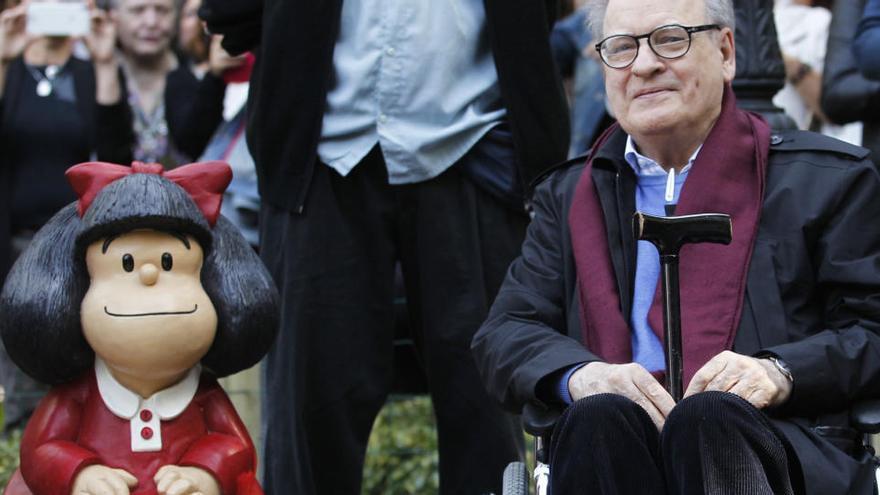 The Argentine cartoonist Joaquín Salvador Lavado, known as 'Quino' and popular for being the creator of Mafalda, died this Wednesday in Mendoza, his hometown, at age 88, sources from the author's environment confirmed to Efe.
Son of Spaniards and holder of awards such as the Prince of Asturias Award for Communication and Humanities and the Medal of the Order and Letters of France, Quino developed the adventures his most popular character between 1964 to 1973, although the stories of the iconic girl have been replicated around the world to the present.
For a few years, the author, who had moved to Mendoza from Buenos Aires at the end of 2017, after becoming a widower, suffered health problems, although he continued to attend various tributes to his work.
Salvador Tejón Lavado, "Quino", winner of the "Prince of Asturias" Award for Communication and Humanities, discovered in 2014 the Mafalda sculpture that has been installed in the Campo de San Francisco.
The piece, which was priced at 8,000 eurosIt is an exact replica of the one that has been in the Buenos Aires neighborhood of San Telmo for 15 years. Mafalda sitting on a bench by the duck pond.
"Orphanhood was a trauma for me"
Fifty years with Mafalda and 15 minutes with Quino. The "Prince of Asturias" Award for Communication chatted with LA NUEVA ESPAÑA in 2014 on the occasion of his award in a conversation where the cartoonist showed his humor and intelligence. Quino preferred the armchair at the Reconquista hotel in Oviedo to the wheelchair in which he made constant movements. "So as not to give a dramatic image," said Joaquín Lavado, 82 years old at the time.
-He broke up with Mafalda 40 years ago. At that time, piracy even put up fascist flags. Today some banners read "Mafalda is not a princess, she is a feminist." Do people love Mafalda more than you?
-Pirandello said that once an author creates a character, people feel it as their own and everything changes, their customs, their ideology. It is true. When I say that, for me, Mafalda is a drawing, there are people who are outraged: "Like a drawing, if I feel her as my family, as a sister, as a daughter." I don't differentiate between Mafalda and my humor pages.
-He stopped drawing 7 years ago after 60 years of graphic humor. Does your head keep seeing jokes even if you don't make them?
-I have censored my imagination because I no longer see what comes out of the pencil lead when I am drawing and that depresses me a lot. If I can't draw it, why am I going to think?
-Has your head retired?
-She works alone in other ways, a lot with music. There is a worldwide conspiracy to keep us from thinking, and every place you go they play music that is not what you want to hear. I have a great mental disco that hums popular music or a symphony and I am very angry to be interfered with.