Quevedo's fifth: who's who in the Canarian urban music factory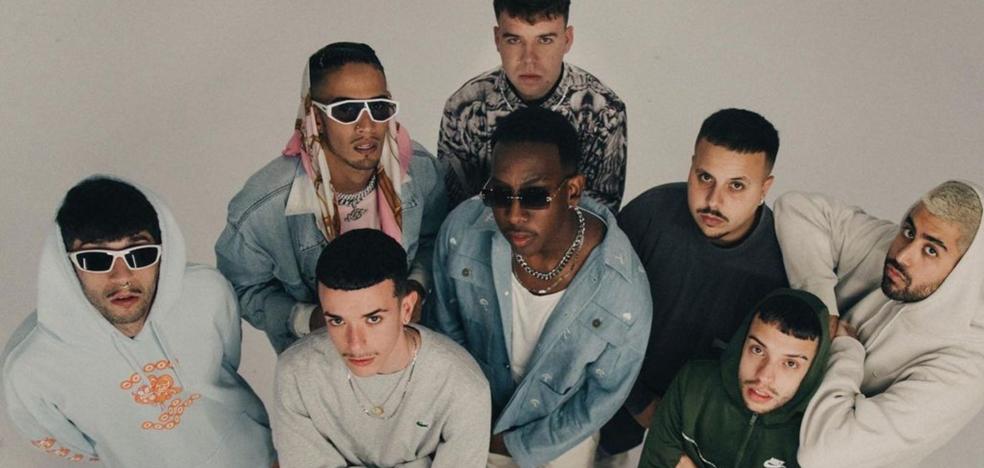 Due to its geographical position, its free ports and its ties with America,
to the Canary Islands they have not only arrived much earlier than to the rest of Spain things like Twix chocolate bars, Quality Street candies, canned meat or even some car model, like the Volkswagen Polo Classic from the 90s.
In the early 2000s, although not by sea but as a result of a constant exchange and mixture of cultures, they also landed, long before the peninsula,
new Latin rhythms like reggaeton by Don Omar and Daddy Yankee. Because the gateway to Spain of "Dale, Don, dale" or "Gasolina" was the Canary Islands.
That outpost served to lay the foundations for an avant-garde urban movement that at the time
led the K-Narias and that, although it has had flashes in the
last two decades -Soul Sanet or Adexe and Naufor example-, ended up hatching in 2019, when Don Patricio published
"Counting Moles".
This topic, written hand in hand next to
Cruz Cafuneshattered the playback statistics of streaming platforms such as Spotify and his video clip exceeded
150 million views on YouTube, numbers that he repeated with the remix of the song, along with
Rauw Alejandro and Anitta.
Now with the
mega hit of Quevedo and Bizarrapin his «BZRP Music Sessions #52», popularly known as
"Stay"the focus is once again on the urban music factory that is Canarias and whose main protagonists are the following:
Quevedo

The only Spanish artist to have led the list of
SpotifyGlobaland for five weeks,
Pedro Luis Dominguez Quevedo (Madrid, 2001), landed on the urban scene in 2020, almost on par with the lockdown and the pandemic. Raised in Las Palmas de Gran Canaria since he was five years old, he has published songs like "Don't tell me anything", "Now and Always" or, the last one, "No signal".
He is currently immersed in a
tour of festivals throughout Spain while his fans await the possibility that at some point he will release his first album, since at the moment he only has twenty songs, most of them collaborations with other artists.
Precisely the most important of all of them before the
Bizarrewas "Night fell", by the hand of Cruz Cafuné, Juseph, La Pantera, Abhir Hathi or El Ima, all Canarians.
Cruz Cafune

Carlos Bruñas (Tenerife, 1993), with the stage name Cruz Cafuné, is one of the former members of BNMP (Broke Children Making Pesos), one of the top
representative of the current Canarian trap and valued in the panorama for being the godfather of many emerging artists whom, through collaborations, he helps to make known.
The theme that gave the artist the most notoriety in his beginnings was
"My home"launched in 2016, with more than 35 million accumulated reproductions already on Spotify and which was awarded a gold record.
Collaboration with Rels B it helped both of them to give visibility to their work, especially thanks to the song "I improved it" (2016), in which they were joined by Ellegas. In addition, his first solo album, "Maracucho Bueno Muere Chiquito" (2018), has songs like "Chivatos", "Cuenta Conmigo" or "Te Enamorate de un G", which put him on the map of emerging canaries.
Patrick

One of the first to jump into the 'mainstream' with «
Counting moles«the most listened to song on Spotify in 2019,
Patrick Martin (El Hierro, 1993) He approached the music scene at the age of 14, surrounded by friends like Bejo and Uge, with whom he has formed the successful group Locoplaya, or El Pekas.
His collaborators define the style of his latest songs as a
"reggaeton full of flow". He also has his own session with Bizarrap, number 25, which accumulates 51 million views on YouTube.
Have
other hits of notorious success such as "Enchochado de ti" or "Pa' todo la vida", which was the soundtrack of a good part of the 'stories' of Spanish and Latin youth in the summer of 2020 and that accumulates 45 million reproductions.
Ptazeta

Zuleima González (Las Palmas de Gran Canaria Canaria, 1998)better known as Ptazeta, was the third Canarian to collaborate in the successful sessions organized by Bizarrap, number 45, which exceeded 85 million views.
Thus, its beginnings date back to 2019, when
opened a YouTube channel and began uploading his own songs in an exercise in self-production that is common in the industry.
One of his most successful songs has been
"Mommy", along with producer and DJ Juacko. Thus, in just two years,
Ptazeta has managed to dominate the Spanish rap scene and, three months ago, he signed with the
record company American Interscope, where artists such as Eminem or Lady Gaga are recognized.
bejo

Borja Jiménez (Santa Cruz de Tenerife, 1994), bejo, is a Canarian rap and trap singer dragged by his older brother to these genres when he was only twelve years old, the age at which he began to compose his own songs. He was the first of the Canarian saga to collaborate with Bizarrap in session 27, which has more than 10 million views.
He is one of the members of
Locoplaya group, which he formed together with Don Patricio and Uge from El Hierro. Among his most popular solo songs are "Mango" (2016) and "Mucho" (2016), and he is one of the culprits of "Cayó La Noche Remix", which exceeds 80 million views on YouTube.
In this 2022 he has collaborated in
"The Kissing War" together with the artists Macaco and Ana Mena.
Maikel Delacalle

Mikel Cabello (Tenerife, 1994), or Maikel Delacallerose to fame with the publication of his Spanish version of the song "Or nah", based on the original Try Dolla Sign, in 2016, at a time when he also recorded the video clip "Nada que Habla" and the song "Ganas" , which gave him recognition in the world of
urban music.
In October 2018 he released his first album
"Street and Faith", made up of six songs, to which is added one of his latest hits, "I want you to get closer to me", together with the Canarian group Conexión Pasillo. In addition, he has collaborated with artists such as Justin Quiles, Kevin Roldán and Rels B, among others.
bonus track

To these six artists adds a significant amount of
musicians and producers what do they do of the
Canarian urban school one of the most prolific and active of the moment. With a
fame somewhat more restrained than the rest, but probably crouched down waiting to find the next 'hit' in Spanish music, they find themselves
other artists like Abhir Hathi, El IMA, La Pantera, Pimp Flaco or Juseph, among others.