"Queen is synonymous with magic, an inexhaustible source of good energy"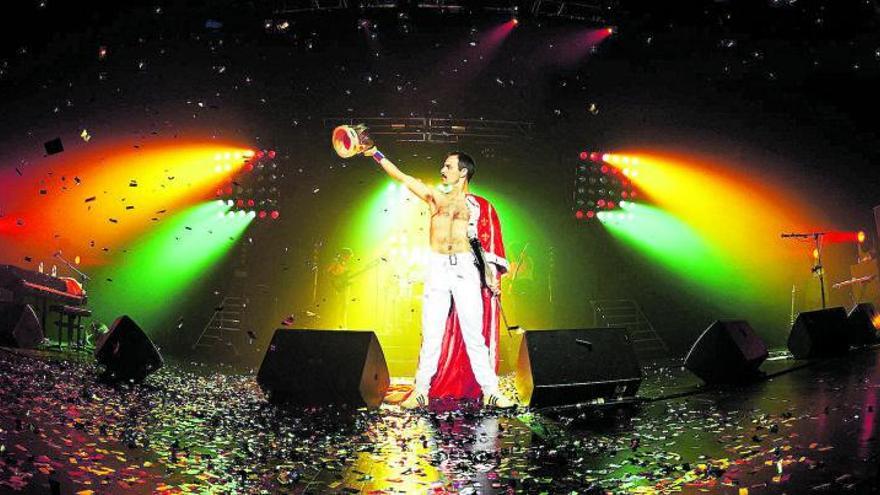 The best tribute band to Queen, Dios Salve a la Reina, lands one more year in the Canary Islands thanks to the Open Sea Festival. The appointments will be today, at the Gran Canaria Arena, and one day later at the Santa Cruz de Tenerife Fairgrounds. Argentine Pablo Padín once again takes on the role of the emblematic Freddie Mercury and invites the public, both those who already know them and those who discover them for the first time, "to dream with us for two hours" and to travel back to 1986 to enjoy again the music of one of the best bands in the history of music from around the planet.
After six years visiting the Canary Islands, the expectation for his return continues to increase. What does Queen have and what does God Save the Queen have that they like so much? Is Queen now more fashionable than ever since the singer passed away?
Queen has shown in recent years why it holds such a prominent place in the world of music and the title of the best band in the world. It surprises us, as fans of the band, as executors of their music, how their music is more relevant than ever, even with songs that are more than 40 years old. For us, Queen is synonymous with magic, it is an inexhaustible source of good energy that moves through the air every time its music is played. And we are blessed to be, in some way, part of that story.
They arrive in the Canary Islands with a renewed show. What have you prepared for the public?
When we consider making a new tour we always try to put on the table those great Queen classics that are inexhaustible and that can be heard again year after year. But we also like to take the license to show something that the band is not so well known for. On this occasion, we will play, in addition to all the songs that people want to hear, some songs from the first Queen albums, which are in a more rock universe. We will also include a great song from the more pop side of the band, among a few other things.
This is said to be "the best show of his career." How do you prepare to continue raising the bar for upcoming projects?
For us the public is always new and it is important that in each show we give everything of ourselves so that people are happy. The bar is always high because the point of comparison is none other than Queen, so we cannot relax. It's always a happy challenge to give it my all every night when we go on stage.
After so many years putting yourself in the shoes of Freddie Mercury, do you continue studying and rehearsing to get into the shoes of the legend?
It is always important for me to stay trained, physically and vocally. Freddie is very demanding and every time you listen to him you find new nuances and wonderful things to feed on.
«Looking at the end of the pandemic Freddie would sing that hymn which is 'Don't stop me now'
They have done an extensive review of the discography of Queen and Freddie Mercury as a soloist. Do you have any pending issues?
Queen is a band with more than 20 albums and more than 250 songs. We have reviewed a large part of his work but there are always issues to do, or issues that we have not done for many years and that it is good to play again. Honestly, Queen is a musically inexhaustible band.
How have you experienced the stoppage caused by the pandemic?
It was, and still is, complicated. The first months we sincerely enjoyed being able to stop a bit because we had come from many years of touring, but when time began to pass we began to feel longing for the stage, that place in which we enjoy so much. Now we feel blessed to be able to return to Spain and perform 25 great concerts.
How do you manage to give your all on stage but the audience can't dance and jump in the stalls?
To a certain extent we are used to it because in Latin America it is more common to do concerts with the public sitting in their seats. However, we always look forward to the standing shows. Anyway, after almost two years without playing, still seated, the energy of the audience is felt a lot!
What theme would Freddie Mercury have been singing about the coronavirus pandemic?
I can think of two, on the most critical and reflective side is Is this the world we created? But without a doubt, looking at the end and the light on the other side of the tunnel, I would look forward to the moment to sing loudly that hymn that has been composed to enjoy life and that is Don't stop me now.
What is your opinion of the latest film adaptation of Mercury's life, Bohemian Rhapsody?
We, first of all, are Queen fans, and everything that is done that reminds us of the band, that attracts new generations to their music and makes them a legend, is always welcome. The movie more than succeeded. It is a battle won for good music.