Quartararo continues to stretch the group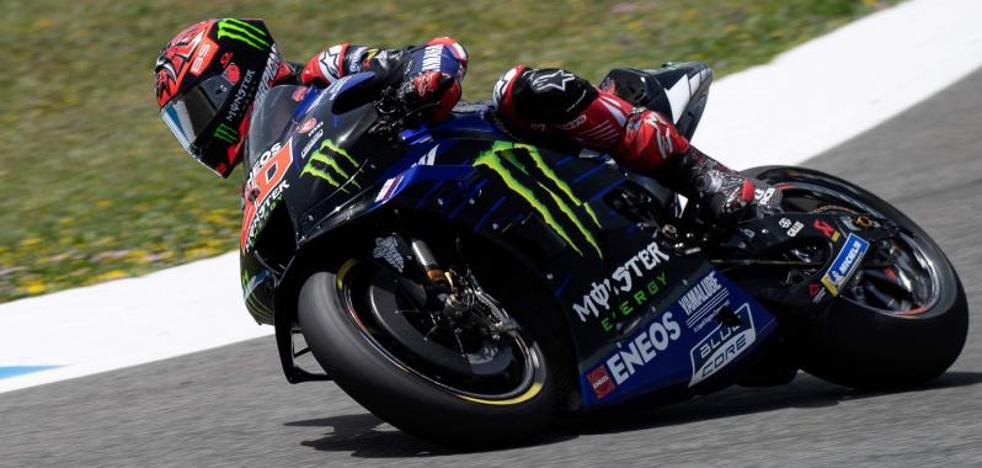 Spanish GP
The Frenchman set the fastest time on the first day of the Spanish Grand Prix, a sign of the intentions of the champion and current leader of the premier class
The numbers are clear (four consecutive pole positions and two wins in four races with the Yamaha) and the declared intentions too. Fabio Quartararo has marked his visit to the Jerez circuit in red and wants it to become an accolade for his candidacy to retain the MotoGP title, also to begin to consolidate a security cushion in case they go wrong. Yesterday, his plan began to take shape. He was seen to be very solid and aggressive from the beginning and ended up leading the time table, with a record 201 thousandths faster than that of the second, Enea Bastianini, and with a very good pace thinking, albeit soon, of Sunday's race .
"I had never felt so good on a Friday in Jerez, I had never had a good feeling, neither in 2021, nor in 2020, although my fastest lap was good afterwards," confessed the Frenchman, on a day that started off moving in the morning, with a couple of scares and a fall, this on a track that was a complex point due to the fact that it maintained some patches of humidity caused by the rain that fell on Thursday afternoon. "I am riding a little more aggressively, and tomorrow I will have to start doing it a little smoother, but keeping the same times or even improving them", he analyzed, while pointing to Pecco Bagnaia, Joan Mir and Aleix Espargaró as those who best passed had taught alongside him. All this with the question about the state of the track, which should improve a lot due to the accumulated rubber and because Jerez has received the World Championship with exceptional weather conditions. Something very necessary for those who have more pending work.
Above all in this need are the Honda riders, after the failure of the last weekend in Portugal, with three of its members, Marc Márquez, Álex Márquez and Pol Espargaró, crossing the finish line more than sixteen seconds behind the winner, precisely Quartararo. «In Qatar and Austin I felt closer. In Portimao, more or less. And here I have felt far away. But we will see, there are many races left and I will continue insisting. Staying in Portimao 16 seconds behind the winner is not finishing anything close, "explained Marc Márquez with some concern, nineteenth, more than a second behind the fastest on a complicated day. And it is that the plan for the five riders lined up by Honda (the three mentioned, Takaaki Nakagami and the tester Stefan Bradl) for the Andalusian event is to seek solutions to the problems of their prototype, with different lines of work.
Marquez Falls

Nakagami was able to qualify fifth, with more potential on a flying lap than on pace; He spread seventh; while the other three stayed out of the top ten. In the case of Marc, with two crashes in three curves, the first when he was pushing on one of his laps at turn six, the second in turn nine after picking up the bike and stepping on one of the patches of water on the Cadiz circuit. "The problem is that I had to go out with my second bike for the end of practice, and it was set up in a completely different way than the other. It hasn't worked as we expected and I haven't been able to fight for a good time", explained Marc Márquez.
Together with Pol Espargaró, three other Spaniards managed to get into the top ten that would provisionally be in Q2, although due to the good conditions that are expected, the classification could change completely: Jorge Martín finished fourth, Álex Rins eighth and Maverick Viñales ninth, with two of those indicated by Quartararo, Mir and Aleix Espargaró, outside that group, in addition to Marc Márquez himself. In Moto2 the best record was for the British Jake Dixon, ahead of Augusto Fernández, and with Arón Canet in a creditable ninth place. The Valencian arrived in Jerez three days after undergoing surgery to undergo surgery for a fracture in the radius of his left arm as a result of his fall in Portugal. «There are two strategies: either you do a few laps and save your strength for your hand or you adapt to riding the bike so it doesn't hurt, and that's what I've done. Carrying the motorcycle with my legs and with one hand, which doesn't even tire me, "said the Valencian graphically, who even needed help to remove his helmet and seeks to save his weekend. In Moto3 the best was Izan Guevara, with the leader Sergio García eleventh.