Protests against cruise ship tourism in Venice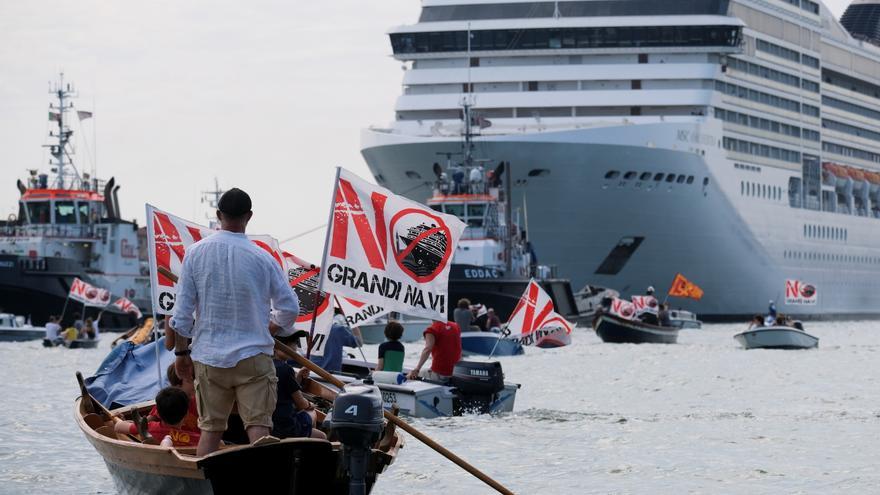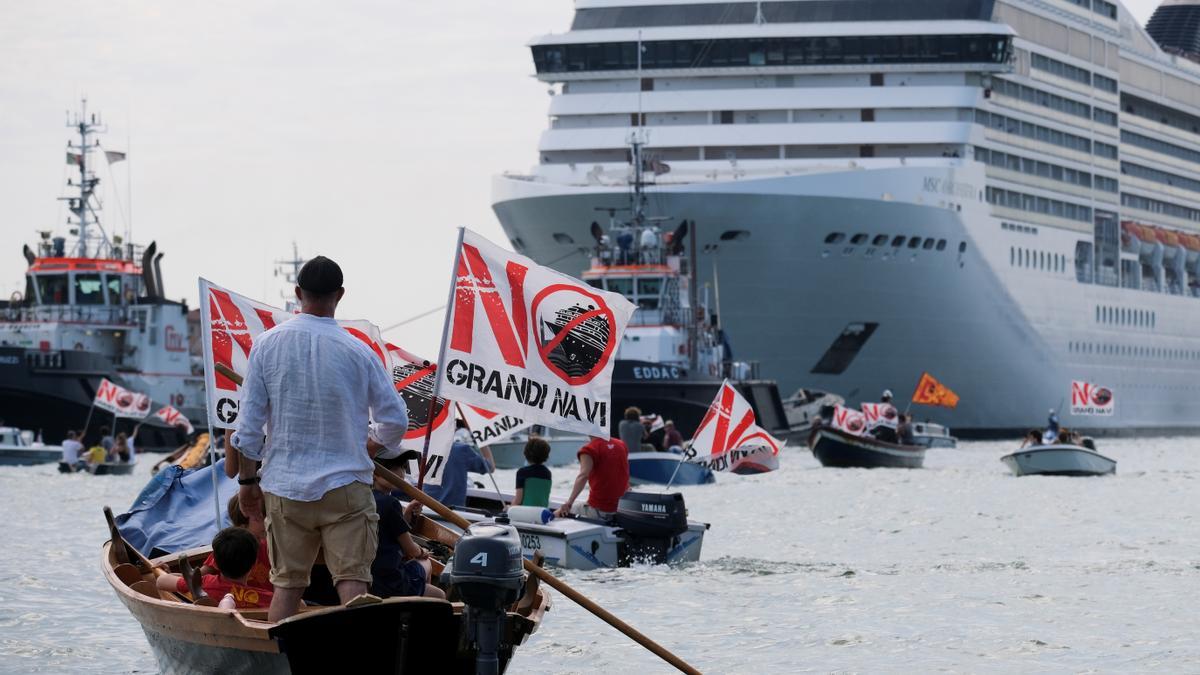 Organizations in defense of the environment and Venetian citizens tired of seeing how the large cruise ships arrive at the Venice lagoon and pollute the city demonstrated this Saturday against these large vessels, which continue to plow through the waters of the city of the canals despite about what the government promised to prevent their entry.
Last May, the Italian Parliament signed into law a decree previously approved by the Government of Mario Draghi that established, among other things, the convening of a public tender for encourage mooring point construction projects for ships of more than 40,000 tons and dedicated to the transport of passengers.
The intention was to move these boats away from Venice, as they usually sail in front of St. Mark's Square to travel the Giudecca Canal in the direction of the Maritime Station, the port where they dock, in the extreme west of the island.
The coronavirus pandemic and tourism restrictions they had paralyzed the cruise industry, but this Saturday the activity has resumed and the MSC Orchestra boat has left Venice to tour the Mediterranean.
This ship is 60 meters high (seventeen meters more than the Basilica of San Marco), 293 meters long, 32 meters wide and a weight of 92,409 tons. On June 3, he crossed the waters near San Marco and the Giudecca Canal to reach the Maritime Station. It will not be the only ship to do so this June, as it is expected that at least two others, from this and the Costa Cruises company, will also make the same route to the Venetian station.
Committee members "No Grandi Navi"they protested this Saturday to stop the passage of these boats through the Venice lagoon, while Armando Danella, spokesman for the Venice Environmental Association, wrote in recent days a letter to local authorities and the ministries of Ecological Transition, Heritage Cultural and Infrastructures to find a solution.
Vessels of more than 96,000 tons dock in the port of Marghera, several kilometers west of the seaport, but those of less weight can cross the lagoon.
For years, Venetian associations have asked the Italian Executive to build an alternative port and have proposed several options, including the San Niccolò area, on the Lido, for tourists to go to Venice by ferries.
UNESCO already requested in 2012 the Italian Government to look for alternatives to maritime traffic in the area of ​​the Venice lagoon and put an end to the passage of large ships it has been one of the conditions that it has subsequently imposed to prevent it from being eliminated from the list of world heritage cities.