Prometheus puts the Roman theater of Merida on its feet | Culture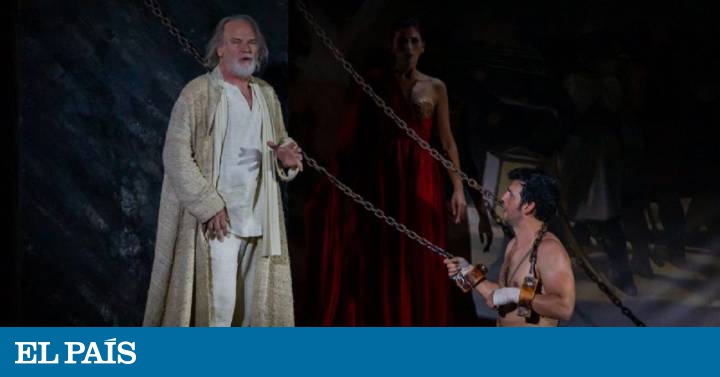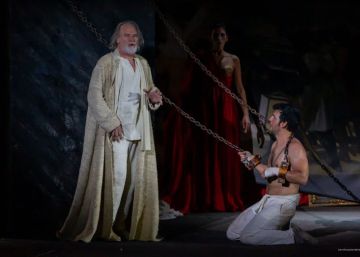 José Carlos Plaza, one of the great stage directors of this country, a very young disciple of unquestionable masters such as William Layton and Miguel Narros, surprised on Wednesday with an unexpected confession, after the premiere of Prometheus at International Festival of Classical Theater of Mérida. A few minutes ago, the public, standing, had cheered the absolute premiere of this assembly, whose authorship of Esquilo remains as a nurturing source in the version made by the writer, poet and director of the Cervantes Institute, Luis Garcia Montero, of which Plaza came to say: "For my age (62 years) I have had many hours of theater, many works ... Well, in my many years of profession, I think this Prometheus García Montero is the best text I've ever had in my life. And the most difficult too, but right now this is a very necessary function, they are difficult times when you have to believe in the human being. "
Everyone could hear it, while a few meters away García Montero hid under a modest look and added: "I can only say that the discussion that occurs in this text between Prometheus young and Prometheus old has a lot to do with my own doubts, with the discussions I have with myself ... It is inevitable to ask if Prometheus did well in giving us fire to humans, but after enjoying Merida several times, of being elected for the fourth time by José Carlos Plaza, of enjoying this sunset on stage and of these actors… I am totally convinced that he did very well, because life is worth it and because hope is almost common sense, "he pointed out in relation to the myth of the Prometheus titan who confronts Zeus and all his power, and steals the fire to give it to men so that they can become better beings living together.
The assembly had just premiered (which will be performed until Sunday 28 in the Roman theater emeritense) and the audience had especially cheered the actor Lluís Homar, turned into an old, wise, lucid, ironic Prometheus, even a passing point, as if he had come back from everything, full of resources, which serves as a counterpoint a young and intrepid Promise, embodied in Fran Perea, giving the replica from passion, rage, confrontation and rebellion, and even with a quixotic point in search of justice and the liberation of human beings from the gods that embody power. A transcript reminiscent of the sacramental cars of the Baroque, where you also appear with the gods in the most mundane places.
The Prometheus de Esquilo / García Montero, cruelly punished by Zeus, an unjust god like many others, fulfills his punishment chained to a large rock where he will remain eternity wondering if he did well delivering fire to human beings. On this occasion the creators of this montage have placed the action in a metaphorical hell, which they call the attic of history, and in which all the tragic and historical facts of humanity are ruined, represented by paintings such as The executions of May 2, Freedom leading the people, Saturn devouring their children or even a picture of Mauthausen. There Prometheus maintains a diatribe with himself, of deep poetic and philosophical depth, disturbed by characters that represent the power of power, love, friendship, pride ... that are testing all the moral, ideological and ethical principles of This first contemporary hero.
Characters represented by actors known as Fernando Sansegundo, Amaia Salamanca, Israel Frías and Alberto Iglesias. And almost permanently on stage the necessary choir of all Greek tragedy, which here García Montero has turned into calamities arising from Pandora's box, as related to this story, as the Force, Cruelty, Violence and its two counterpoints, which they always come from the hand of Hope, such as Compassion and Freedom.
Once again, Plaza is discovered as the great director of actors that is, supported by his usual team in which there is always the scenery of Paco Leal, the music of Mariano Díaz and the creative and surprising costumes of Pedro Moreno.
. (tagsToTranslate) prometeo (t) put (t) foot (t) theater (t) roman (t) merida (t) lluís homar (t) star (t) version (t) luis garcía montero (t) direct (t) ) josé carlos plaza



Source link