Profile of today's stage of the Vuelta a España 2020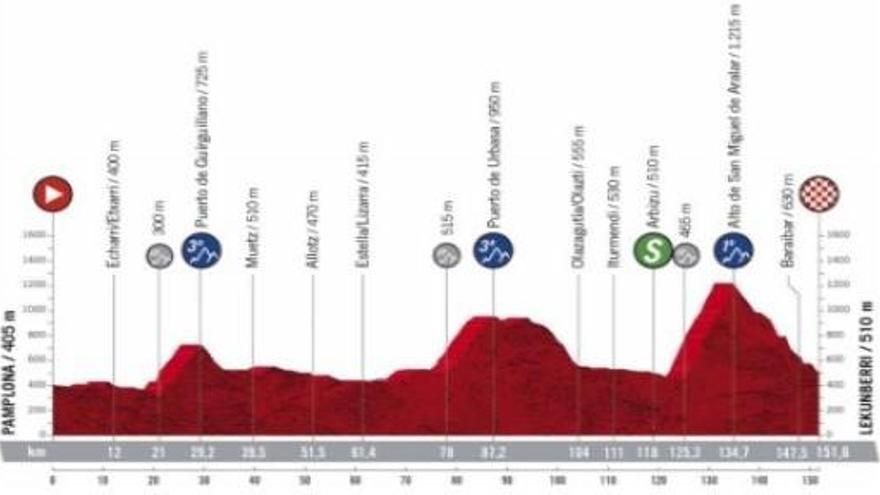 Second stage of Vuelta 2020, which will link Pamplona with Lekunberri with 151.6 kilometers the route, and the second day with ascents that will not give the peloton a truce and that may have repercussions on the classification, such as the Alto de San Miguel de Aralar, just 16.9 kilometers from the finish.
The aspiring to fight for the 'red' in this 75th edition they won't be able to take any breaks on a short-mileage day but in which the ascent to a port with almost ten kilometers and ramps of up to 15% can take some unexpected victim.
Besides, the climb to San Miguel de Aralar it is developed in a good part of its mileage on concrete roads, which increases the level of demand for cyclists' pedaling.
The first half of the route, except for the third category ascent to the Guirguillano peak, does not present notable difficulties with a fairly flat layout, while in the second part the cyclists will have to ascend another two passes.
The route should serve to sift even more the group of favorites and make it clear if any of them have not reached the Spanish race in the necessary condition to fight for the final victory.
This second stage will be carried out entirely on the roads of the Autonomous Community of Navarra.
Start time: 13.49 hours
Check In: 17.30 hours
Intermediate average: 41 kms / h
Second stage ports
Km. 29.2 Alto de Guirguillano (3rd) 8.2 kms at 4.3%
Km. 87.2 Alto de Urbasa (3rd) 9.2 km at 4.7%
Km. 134.7 Alto de San Miguel de Aralar (1st) 9.4 kms at 7.9%, with a maximum slope of 15%.
Intermediate sprint
Km. 118 Arbizu.