Profile of today's stage of the Giro d'Italia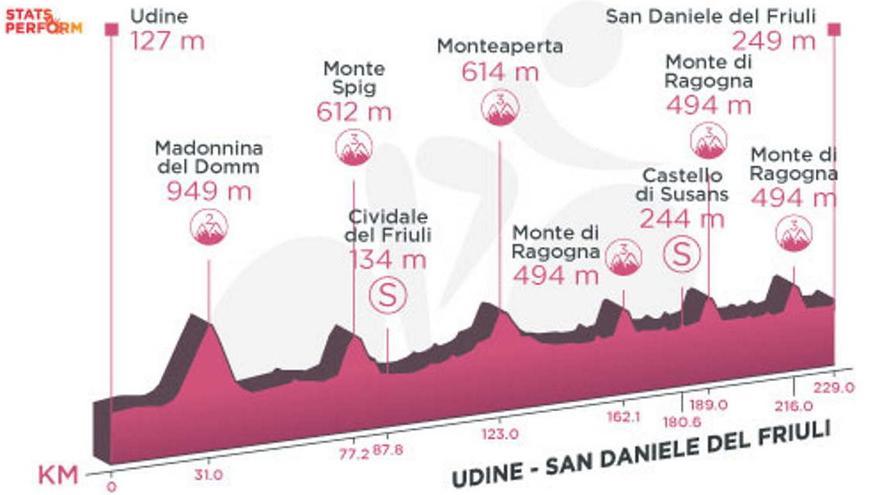 The sixteenth Giro stage, which will be played this Tuesday between Udine and San Daniele del Friuli, of 229 kilometers, is the second longest of this edition, a day with abundant ups and downs that will be a serious punishment for runners.
The first 150 km to the entrance of the San Daniele del Friuli circuitThey have a sequence of slides with three levels. The first one, the Madonnina del Domm (2nd, 10.8 km at 7.1 of average slope), is the longest and steepest. The next one, Mount Spig (3rd), is 2.8 to 10 percent, a short but explosive difficulty and is followed by Cota de Monteaperta (3rd), 3.3 kms to 7.6).
Once in Majano you enter the circuit that is almost completely covered before access upon arrival. After the entry, the peloton will face the wall of the Castle of Susans, with a slope of 1 km with slopes of up to 16 percent.
After a short descent to a few flat kilometers, you reach Monte di Ragogna (2.8 km at 10.4 on average and 16 maximum) that will be climbed twice more in the two laps of the circuit. Follow a short and demanding descent and the approach to arrival through undulating roads.
3 km from the finish line you enter the inhabited area of ​​San Daniele to face some steep slopes that lead to the last km and the wall of via Sottomonte, with a terrible slope of 20 percent, followed by a very short descent to reach the final 200 meters at 10 percent.
Portuguese Joao Almeida (Deceuninck Quick Step) will defend one more day the pink jersey, this time with an advantage of 15 seconds over the Dutch Wilco Kelderman (Sunweb) and 2.16 minutes compared to Australian Jai Hindley (Sunweb).
– Stage data:
Departure time: 10.10 am
Expected arrival: 4.30 pm- Mountain:
. Km 31. Madonnina del Domm (2nd, 10.8 kms at 7.1 percent)
. km 77. Mount Spig (3rd, 2.8 kms to 10)
. Km 123. Monte Monteaperta (3rd, 3.3 kms to 7.6)
. Km 162. Monte di Ragogna (3rd, 2.8 kms to 10.4)
. Km 189. Monte di Ragogna (3rd). second step
. Km 216. Monte di Ragogna (3rd), third pass.