Profile of today's stage of the Giro d'Italia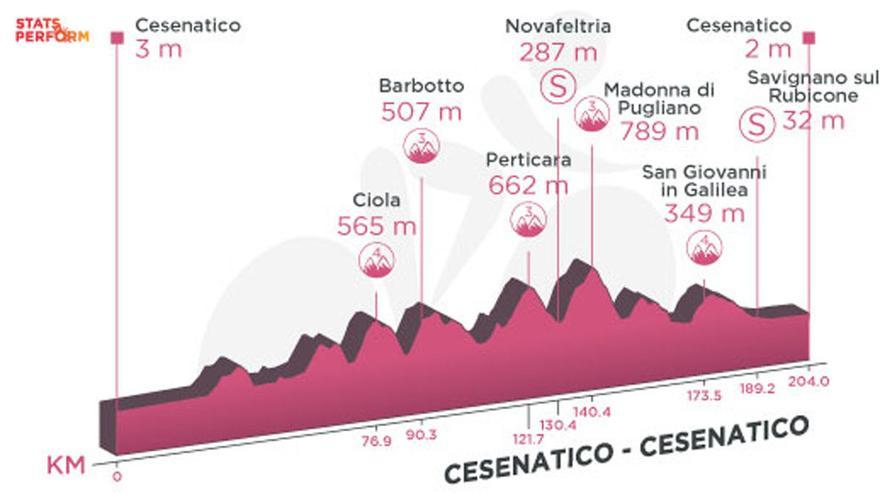 The twelfth stage of the Turn, with departure and arrival in Cesenatic, offers this Thursday 204 kilometers of classic cut that augurs strong emotions.
Except for the first and last 25 kilometers, the rest of the journey will be a permanent goes up and down with five dimensions that will be a gift for fans of adventures.
Cesenatico is a coastal and fishing town where, paradoxically, it was born Marco Pantani, at zero meters of altitude, and that is considered one of the best climbers in history.
The stage will run through the roads frequented by 'El Pirata', and scene of the Nove Colli cycle tourism march, close to turning 50 years of experience, almost the same as the aforementioned illustrious neighbor.
On this day is served a battle without quarter between ascents and descents, some with 2-digit gradients on narrow roads and sometimes with unfavorable asphalt.
The difficulties will be, in this order, the following: Ciola (4th), 6.3 km at 6.1 percent, Barbotto (3rd), 4.5 km at 8, Perticara (3rd), 7 km at 5.1 , Madonna di Pugliano (3rd), 9.1 kms to 5.9 and San Giovanni in Galilea (4th). 4.7 kms to 5.6.
Once all the heights have been overcome, it is necessary to deal with an end that is not without dangers. The roundabouts arriving at Cesenatico are abundant, as well as some speed bumps. A final at the level of the mas, total flat, where the sprinters, if they arrive together, will be able to explain themselves to the full.
One more day, Portuguese Joao Almeida (Deceuninck Quick Step) will defend the pink jersey that was holstered on the top of Etna, on the third day. He has 34 seconds of income over the Dutch Wilco Kelderman (Sunweb) and 43 regarding Spanish Pello Bilbao (Bahrain McLaren).
Data from stage 12 of the Giro d'Italia:
Mountain Ports:
Km 75. Ciola (4th), 6.3 kms at 6.1 percent
Km 90. Barbotto (3rd), 4.5 kms to 8.1
Km 121. Perticara (3rd), 7 kms to 5.1
Km 140. Madonna di Pugliano (3rd), 9.1 kms to 5.9
Km 173. San Giovanni in Galilea (4a). 4.7 kms to 5.6
Departure time: 11.10 hours
Estimated time of arrival: 16.30 hours.