Professional associations promote the campaign against the flu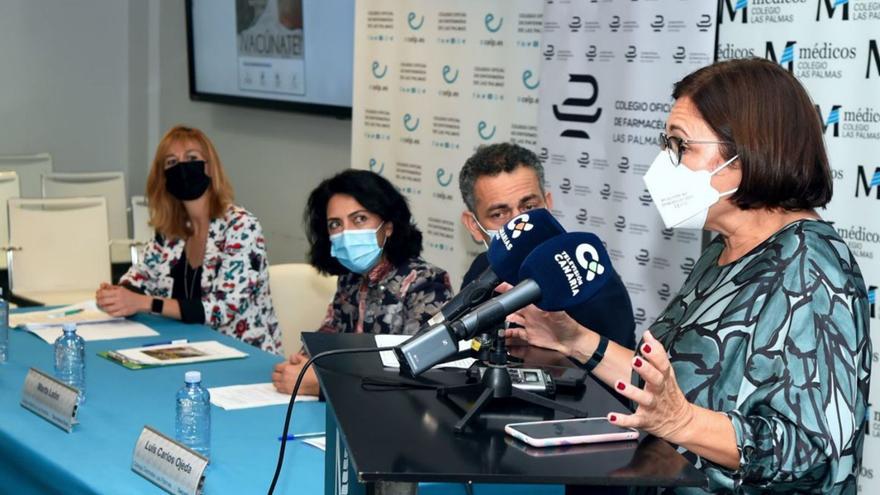 With the slogan The flu is not a hoax. Get vaccinated! The professional associations of Nursing, Pharmacists, Doctors and Dentists launched a campaign yesterday that aims to combat false information that circulates in networks about vaccination. «Before those who raise doubts or from ignorance they sow lies that, intentionally or not, seriously harm health and endanger thousands of lives, health professionals in Las Palmas want to make clear the efficacy of vaccines and their importance to avoid risks that, especially at this time, can be complicated by other infections, "explained the president of the Official College of Pharmacists of Las Palmas (Coflp), Loreto Gómez, who asserted the importance of the union between the groups to promote a single campaign. "Getting vaccinated saves lives, and that's a fact," he added.
For her part, Rita Mendoza, president of the Official College of Nursing of Las Palmas (CELP), stressed that the action "seeks to impact" with images and messages the risks to which unvaccinated people are exposed. "It is not about alarming, but it is about confronting hoaxes with the pure and hard truth," he said. "We work with the disease and we know its consequences and the suffering it can bring. That is why we have opted for such a direct message. No matter how many messages we receive, what must be clear to us is that the flu is not an invention, and that the best way to prevent it is with hygiene measures and vaccination ».
Mendoza also stressed the need to raise awareness among those who have responsibility in caring for other people: professionals who work in the health field, caregivers in the family environment and women who are pregnant or who have given birth less than six months ago. "They should be vaccinated not only with their own health in mind but above all that of the people they care for."
On the other hand, the secretary general of the College of Physicians of Las Palmas, Marta León, placed special emphasis on the data. In this sense, he recalled that, in the campaign prior to the pandemic, "28,000 people were hospitalized for the flu, and almost 4,000 died from it."
León also explained that "in that campaign, 619,000 cases were registered in Primary Care, and 1,800 patients were admitted to the ICU for this reason."
Finally, Luis Carlos Ojeda, secretary of the Governing Board of the Official College of Dentists of Las Palmas (Coelp), recalled that in addition to vaccination, the following preventive measures are recommended: cover your mouth when coughing or sneezing, preferably with disposable tissues; frequent hand washing, especially after coughing or sneezing; try not to reuse the tissues used when sneezing or cleaning nasal secretions; Limit contact, as much as possible, with other people if you have malaise, fever or other flu symptoms to avoid spreading them; avoid contact with sick people to reduce the risk of contagion, and make use of adequately ventilated spaces.