Private health denounces the sale of fraudulent insurance policies to British tourists | Society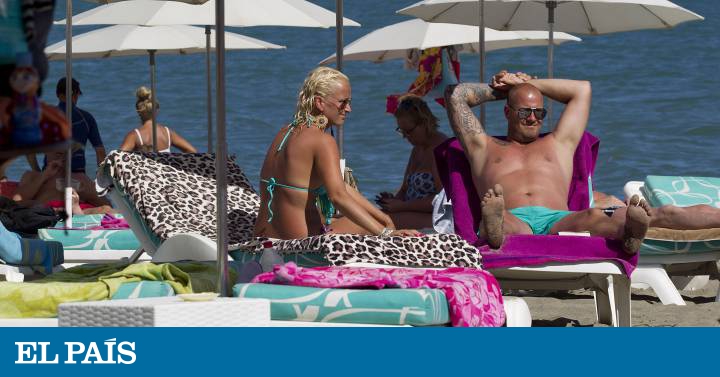 The Alliance of Spanish Private Health (ASPE), which groups 1,300 entities, denounces that British insurers market fraudulent travel insurance policies. These companies offer their clients cover services that the European Health Card already contemplates and that British taxpayers end up paying after the Spanish National Health System passes the bill to the United Kingdom. "These companies are charging for assistance they are not providing," said David Medina, member of the board of directors of ASPE, on Monday. In addition, employers complain that they have to assume expenses of patients who come to their centers believing that they are covered. "If they have a serious urgency, we have to take care of them until we stabilize them, at least We have to run with those expenses and then it is very difficult to claim that money," said Carlos Rus, general secretary of ASPE.
The managers of this employers have reported that they have detected up to 15 British companies that perform these practices: Travelinsurance4medical.co.uk, Insurefor.com, Ok To Travel, Insure Pink, Staysure, Suretravel Citybond, Covered 2 Go, Good to Go, All Clear Traveler, Alpha Travel, ERV Medi-Care, Leisurecare Multi-traveler X5, World First Traveler and Get going Travel Insurance. ASPE complained to the competent British authority, the FCA (Financial Conduct Authority), about these irregularities in 2016.
According to estimates by ASPE, these fraudulent insurance could represent a loss for the sector of 75 to 100 million euros per year. ANDThis medical organization affirms that these companies insure patients with pre-existing illnesses for an amount lower than the coverage of a person of this type. "It's a hook for these policies to be contracted," Medina said. The insurance that these companies sell can cost between 33 and 133 euros, depending on the services that are contracted. Up to 800 patients a day go on average to private centers with this type of insurance and attend them has an average cost of 4,000 euros, according to calculations and estimates of the employer. "These situations occur especially in tourist areas such as the Balearic Islands, the Canary Islands or the Valencian Community and especially during the peak holiday season," said Rus. Those affected tend to hire these policies through the Internet and are usually older people, as explained by those responsible for ASPE.
The employers have also reported that this fraud is a cost to public health, as British patients, in many cases, end up being referred to the public system. "The centers must assume a larger volume of patients, and even if the British health service pays the bill for the services rendered, that money is returned to the Treasury and not to the Ministry of Health that has paid for the treatment," Rus explained.
ASPE accuses the British companies that it has denounced of discrediting the Spanish system, since when a patient goes to a private clinic without insurance they are informed that the Spanish system is fraudulent and they recommend him to attend the public health service. "In addition, on many occasions we also have to assume the expenses of the transfer," said Media.
The employers have launched on Monday a plan of measures to prevent new fraud this summer and has asked for more commitment to the British and Spanish authorities to address this situation. "It is necessary that companies are obliged to put in writing the services to which their insured are entitled", said Rus. They have also published a document in English that will be distributed in health centers in tourist areas to inform those affected about their rights.
Those responsible for ASPE have stated that if a Brexit were produced without an agreement, it would be the end for this type of fraudulent insurance. "If there is no type of arrangement, the British would automatically be excluded from the European health system," said David Medina, member of the ASPE board of directors. Despite this, the employers have requested that there be a regulatory framework for the departure of the United Kingdom from the European Union. "We ask the Government to have a clear clarity so that it is known what coverage the British will have in the public system in Spain," said Medina.
(tagsToTranslate) health (t) deprive (t) denounce (t) sale (t) insurance (t) insurance (t) fraudulent (t) fraudulent (t) tourist (t) British (t) employer (t) insure ( t) company (t) charge (t) service (t) cover (t) European (t) European (t) health card



Source link