Private doctors will negotiate their new collective agreement en bloc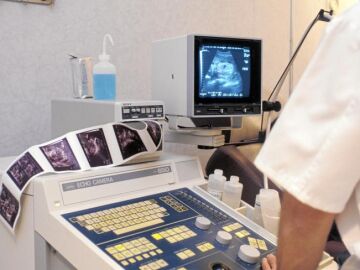 Private healthcare is not profitable for many of the health workers – not just doctors – who work there. The situation has finally exploded. Most of them – some 250,000 professionals: more than 50,0000 physiotherapists, more than 40,000 doctors, 15,000 psychologists, 12,000 podiatrists, among others – They work as freelancers and have been reporting for years that their fees have only increased by one euro at most – and that in consultations, not in explorations or surgical interventions – in the last 25 years, while the annual profit accounts of the main insurance companies continue to increase year after year.
According to the scales currently established by the latter - to which LA RAZÓN has had access - The remuneration for the most common medical acts (consultation, check-up and hospital visit) does not reach 30 euros in any of the specialties. To give some examples, for a Gynecology consultation - the highest paid specialty - the fees range, between one insurer and another, between 18 and 27.6 euros; for an ophthalmology check-up, between 7.7 and 16.6 euros; for a pediatric check-up, between 10 and 12 euros and less than 300 euros for a natural birth. To these outdated and obsolete scales, is added the exponential increase in the workload of these professionals, motivated by factors such as the collapse of public healthcare - with ever-increasing waiting lists - and the proliferation of "low cost" policies.
Private healthcare providers report that current prices do not cover costs, so professionals are forced to generate volume. up to 50 consultations a day in many cases-, which results in a reduction in the quality of care, which harms the patient.
Collective negotiation
Although this is a long-standing problem, it was not until September 26 that they received definitive support to be able to materialize their fight. That day, the National Markets and Competition Commission (CNMC)- the independent regulatory body responsible for preserving, guaranteeing and promoting, among other things, the existence of effective competition in all sectors and markets- finally accepted the "historic" request of medical associations and professional associations of physicians in free practice that the Independent healthcare providers could join together to collectively negotiate their conditions with insurers and hospital groups.
What is behind this concession are some guidelines that the EU approved in September 2022 and which establish that, in certain circumstances, Self-employed workers are comparable to employed workers and therefore collective bargaining will not violate competition rules.
One of the reasons why this collective bargaining has taken so long to be allowed has been the so-called "Omnibus Law" of 2009 which, in order to protect the consumer against groups of professionals in the same sector setting market prices, has limited the ability of professional associations to act to pressure to increase rates. Relying on the right to competition, insurers and hospital groups have refused for years to negotiate collectively with self-employed doctors.
David vs. Goliath
Thanks to this change of course, The Professional Medical Union (Unipromel), an organization that represents a large part of freely practicing doctors, may begin collective bargaining with insurance companies and reach an agreement that regulates the labor relations of those professionals who collaborate in hospitals, polyclinics or private centers.
Ignacio Guerrero, president of Unipromel, is the visible face of this David-versus-Goliath-style fight. And health insurers are at a critical moment, in part due to their aggressive policies to attract clients at ridiculous prices. In fact, They have invoiced more than 5,000 million euros in the first half of 2023 (7% more than a year ago), and they already bring together more than 12 million insured.
"None of this has had an impact on an update of the scales. We professionals have not seen a single euro. Thus, We are going to go all out so that what is ours is recognized. We have been in a defenseless situation for many years in the face of insurers, who have imposed their rates on us because we were not allowed to negotiate collectively. Now We will present a fair alternative that you will have to accept and, if they don't, we doctors will bill our services freely to the companies, giving a copy (to the patient) so that they are informed of how much their policy covers and what the doctor's price is," Guerrero explains to this newspaper. .
Most insurance companies deny that they have not raised the rates for health professionals in 25 years. In fact, they claim that they have done so in relation to the CPI. However, it is difficult to believe this if you take into account that, until now, autonomous healthcare workers have not been able to negotiate as a collective. «There are years and years of a flawed and corrupted model in its own origin, because there was no negotiation there, only abuse of power. "No other professional group is imposed what they have to charge, where has this been seen?" highlights the president of Unipromel.
Another criticism of this organization is that No government has ever been interested in or supported their claims, despite the fact that the work carried out by autonomous health workers relieves the public health system of almost 13 million users.