PRISA achieves an Ebitda increase of 8% and meets its financial objectives in 2019 | Economy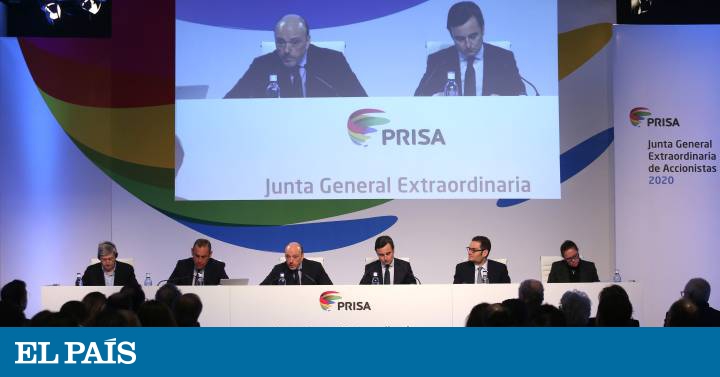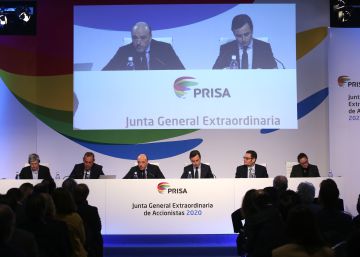 The PRISA Group, editor of EL PAÍS, closed the year of 2019 with a gross operating profit (Ebitda) of 242 million euros, which represents an increase of 8% (of 12% in constant currency) compared to that obtained in the previous year.
The company explains that 2019 has been a positive exercise in which "not only have each and every one of the financial objectives to which they committed to the investors been fulfilled, but, thanks to the improvement of the efficiency of the group as a whole , has registered a solid behavior in its most relevant markets and businesses, despite the macroeconomic difficulties that some of them have gone through. "
Revenues totaled 1,095.5 million and remain stable compared to 2018 (1.9% increase in constant currency). The exchange rate shows a negative effect of 24.1 million on revenues and 9.8 million on Ebitda.
The net result of the year shows losses of 182.3 million, which represents an improvement of 32.3% regarding the losses of 269.3 million recorded in 2018. The net result has been affected by the discontinuity of the Media Capital business, for the deterioration of tax credits and for the extraordinary provision of 51 million for a dispute with Mediapro.
Net bank debt at December 31, 2019 stands at 1,061 million euros, with a generation of operating cash in the period before operations of 18 million euros.
The group stressed that in 2019 it has continued to focus on the deleveraging process (sale of Media Capital), profitable growth, the creation of shareholder value (purchase of 25% of Santillana from minorities) and cash generation. In addition, it has maintained the investment pulse in the unstoppable process of digitalization of PRISA, whose results are beginning to be appreciated in a significant way, especially in the field of Education and the Press.
The PRISA General Meeting of Shareholders approved on January 29 the sale of Media Capital to the Portuguese firm Cofina. Funds from the sale of this asset are planned for the first quarter of 2020. The asset is recorded as a discontinued operation.
Santillana has developed a key role in the process of technological transformation in the educational system of the countries in which it is present through the implementation and development of digital teaching systems, through a technology platform scalable to any user in any region. Its offer includes a comprehensive service aimed at schools, teachers and students, which incorporates technology, training and advice.
Teaching systems accounted for 23% of Santillana's total income in 2019 and 40% of total private education income in Latin America. Santillana is the only operator that has developed these teaching systems outside Brazil and is present in 15 countries, which shows PRISA's high degree of commitment to the societies in which it works.
In the Press business, PRISA has the largest global news platform in Spanish with 131 million unique browsers and a presence in Spain and Latin America of its main brands, EL PAÍS and AS. In recent years, the company has moved towards a growing and scalable digital business model, whose first step has been the growth and leadership of audiences and the launch of digital advertising, which already has more weight than the traditional one.
The next step in this digital strategy is the loyalty of the audience and the creation of a business model around them in addition to advertising, that of payment for content. With this objective, navigation under registration in EL PAÍS was launched on July 24, which has had an extraordinary behavior. Currently, there are about one million registered unique browsers, which consume 15% of the total page views. EL PAÍS occupies the first position in news websites in Spanish and in the world media ranking the fifth position (excluding Chinese and Indian newspapers).
Santillana reinforces the teaching systems
The Ebitda of the Education business shows a growth of 6% (12% in constant currency), while revenues are made by another 6% (9% in constant currency), with a good performance both in private sales and in sales. public. The evolution of private sales (didactic and subscription models) as a whole grows 3% (6% in constant currency) and confirms the good result of the commitment to subscription models. In the year as a whole, the income of these models reached 142 million euros, growing by 13% (21% in constant currency) with an increase in clients of 16%, to exceed 1,435,000 students. By 2020, agreements have been concluded that increase the number of students with long-term contracts to more than 1,750,000, which represents a growth of more than 20% in students and a similar increase in income.
Santillana has set a central objective to accelerate the transformation and growth of education systems, taking advantage of its unquestionable leadership in Latin America. This new business model offers greater visibility of income, with signed contracts lasting between three and four years and with an average income per student above the average price per student of the traditional model. The average renewal rate of these systems is 86% with an Ebitda margin above 30%, higher than that of traditional education. In Spain, Santillana's revenues increase by 16%, while EBITDA reaches 53.8 million, up 21.4%.
PRISA Radio
PRISA Radio's Ebitda remains in line with the previous year, adding up to 63.3 million euros in 2019, against 64.2 million euros in 2018. These results have been affected by a difficult macroeconomic environment in Latin America, as well as for a comparison conditioned by the positive impacts that both the World Cup and the elections held in 2018 had on an advertising level.Without those impacts, Ebitda grows 3.5%.
Advertising revenues gain market share in the most relevant markets. For example, in Spain the growth is 2%, a figure that rises to 4% in Colombia. As for audiences, he continues to maintain leadership in Spain, Colombia and Chile, as well as second place in Mexico.
PRISA Radio is the largest radio group in Spanish with a presence in 10 countries, more than 21 million listeners and 51 million unique browsers. Its objective is to become the largest producer and distributor of audio in Spanish.
PRISA News
The Press unit shows an Ebitda growth of 5.7 million euros (88.6%), since it goes from 6.4 million in 2018 to 12.1 million in 2019, due to business growth and efficiencies operational
Digital advertising has an increase of 9% and already represents 31% of Press revenues, and 57% of total advertising revenues. The circulation margins improve by 22%, as a result of the agreements and efficiency measures reached in 2018.