'Pride and equality', the slogan of the coupon that ONCE dedicates to LGTBI Pride Day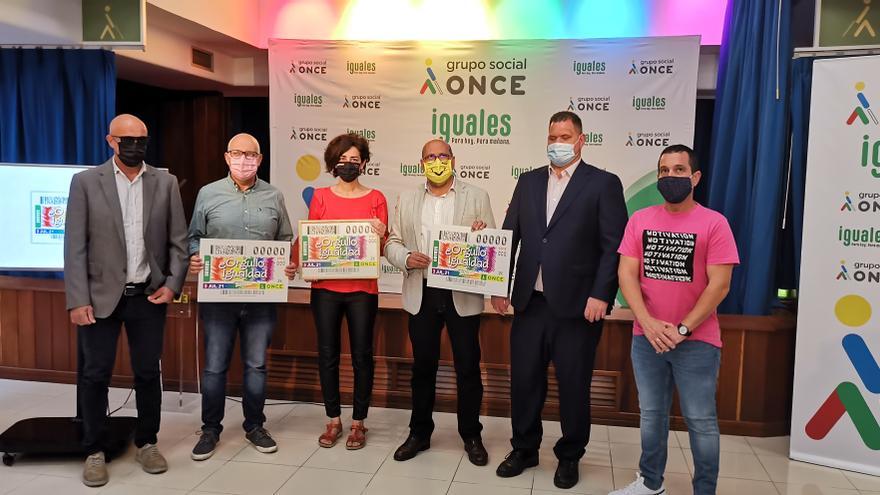 ONCE dedicates its coupon for Saturday, July 3, to LGTBI Pride Day 2021. Five and a half million coupons will carry this celebration throughout Spain with the slogan 'Pride and equality'.
José Antonio López, Territorial Delegate of the ONCE in the Canary Islands, Miguel Ángel Déniz, President of the Territorial Council of the ONCE, Víctor Manuel Ramírez, General Director of Diversity of the Government of the Canary Islands, Mª José Hinojosa, Psychologist and Coordinator of the Gamá Collective, have presented this coupon, accompanied by Raúl Cárdenas, representative of the ONCE workers.
With this initiative, the Organization joins a celebration that seeks to achieve a multicultural and diverse society, in which all people have a place regardless of their sexual orientation and gender identity or expression.
After last year's virtual and balcony edition, due to the pandemic situation, this 2021 LGTBI Pride Day will be celebrated in a way that is most similar to previous editions of the pandemic. And in this edition, it will have a vindictive character for the rights of trans people. Thus, the motto of Pride 2021 will be 'Human rights are not negotiated, they are legislated: Comprehensive Trans Ya Law'.
The ONCE Weekend Sueldazo offers, every Saturday and Sunday, a main prize to the five figures and series of 300,000 euros, plus 5,000 euros per month for 20 consecutive years to a single coupon of the number and series awarded in the first extraction. In addition, prizes of 2,000 euros per month for 10 consecutive years, to the four coupons of the numbers and series awarded in any of the extractions from the second to the fifth. 54 prizes of 20,000 euros in the five figures of the number awarded in the first draw. And prizes of 400, 200, 30, four and two euros.
ONCE coupons are sold by the Organization's more than 19,000 selling agents. In addition, they can be purchased from www.juegosonce.es, and at authorized collaborating establishments.