Prensa Ibérica joins the tribute to the education of Gestionando children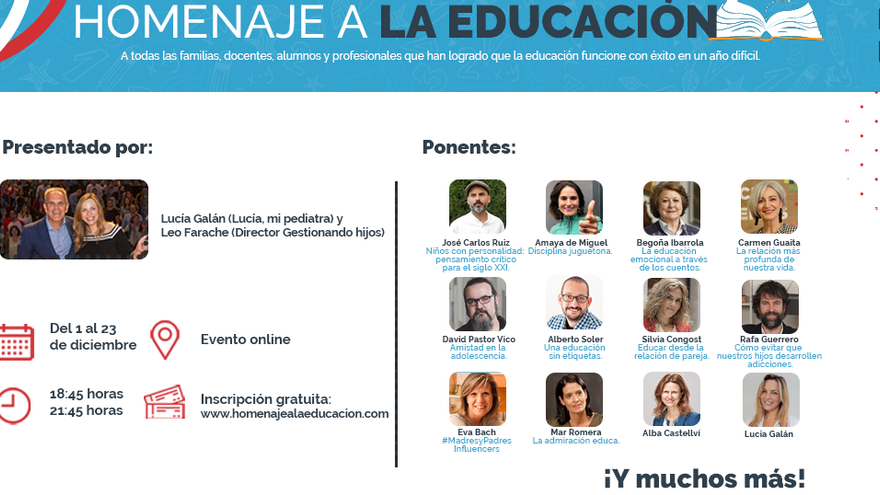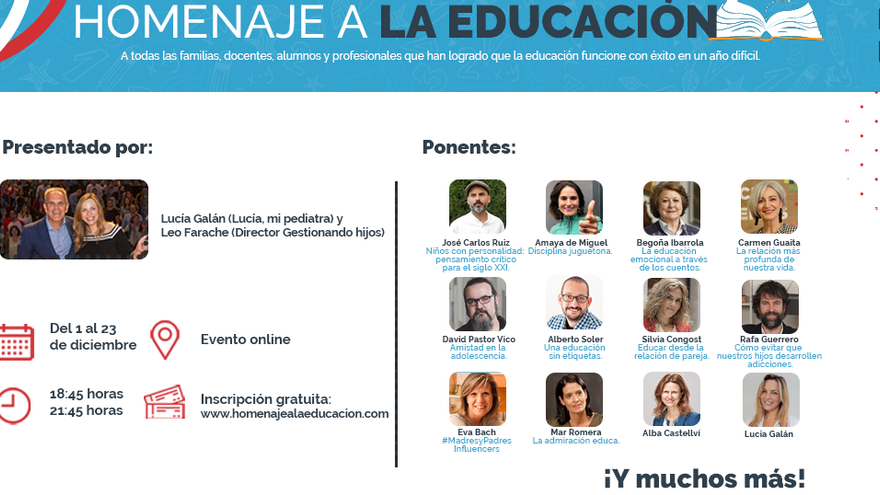 Iberian Press, the leading communication group for regional and local information in Spain, will participate in the online event Tribute to education what organizes Managing children and that will take place from December 1 to 23 online through its YouTube channel.
Prensa Ibérica, as media partner of this tribute, once again shows its commitment to education with this alliance, after having carried out during 2019 and part of 2020 the Gestionando Hijos Tour in several Spanish cities, including Oviedo, Las Palmas de Gran Canaria, Valencia and Alicante, in the company of Gestionando Hijos and the group's regional newspapers.
The current event, as stated by its director, Leo Farache, aims to "pay tribute to all the families, teachers, students and professionals who have managed to make education work successfully during a difficult year, marked by a pandemic."
In this tribute, some of the greatest education experts of our country:
– The psychologist and writer of children's stories Begoña Ibarrola
– The philosopher and professor José Carlos Ruiz
– The psychologist Alberto Soler
– The pedagogue Mar Romera
– The neuropsychologist Rafa Guerrero
– The pedagogue Carmen Guiata
– The philosopher and popularizer David Pastor Vico
– The pediatrician Lucía Galán (Lucía, my pediatrician)
– Chef and child nutrition expert Juan Llorca
-The psychologist Cristina Guitiérrez Lestón
– Psychologist Silvia Congost
– Family therapist Amaya de Miguel
– The pedagogue Alba Castellví
Your presentations can be followed from December 1 to 23 Through the YouTube channel of Managing children. Registration is free and is done through the web: www.homenajealaeducacion.com
Topics of the presentations
– Emotional education through the stories (Begoña Ibarrola)
The transmission of values ​​and the management of emotions through stories is one of the most used tools in the world of education. They allow children to understand their world and acquire the necessary tools to cope with it.
– Children with personality: critical thinking for the 21st century (José Carlos Ruiz)
What implications will it have for the future if we don't teach our children to develop critical thinking? Making decisions is essential, but doing it from a broad perspective, knowing the pros and cons and knowing which is the smartest, that is already somewhat more complicated. Critical thinking must be in our education from the time they are small, thus we will avoid great evils when the dreaded adolescence arrives.
– Playful discipline (Amaya de Miguel)
What is the game? The main tool to make our children learn. There is no room for error and they do not have the feeling that they are not in constant evaluation, in addition to having fun during the process.
– A education without labels (Alberto Soler)
The Pygmalion effect already told us about the result of the expectations and labels that we put on our children. If we do not stop repeating to our son that he is lazy and that he is not worth studying, he will end up being fulfilled because of our words. Changing the concept towards them is our duty.
– The deepest relationship of our life (Carmen Guaita)
Would you call an adult useless or yell at the first turn when they made a mistake about something? No right? So why do we allow ourselves to do it with our children? Talking to them with respect and from empathy is essential for them to grow up with the feeling that they are taken into account and that they are not treated badly either in public or in private.
– Educate from the relationship (Silvia Congost)
A healthy relationship between the parents will always be a synonym that the children will grow up in an environment of respect and love. No matter the type of family we have or our current situation, the couple is the axis by which the children are guided.
– Responsin: how to prevent our children from developing addictions (Rafa Guerrero)
Attachment is one of our most primary forms of bonding with our caregivers. To create a secure attachment, the fundamental thing is to respond to the needs that our children manifest throughout their lives. That is responsin, a key element to prevent our children from developing addictions to screens or even substances.
– Admiration educates (Mar Romera)
Family and school always have to go hand in hand. When we communicate, when there is a relationship of mutual respect, the children also feel it and coexist better in the classroom.
– Emotions, adolescents and pandemic (Cristina Gutiérrez)
The objective of this talk is to help understand the negative emotions (fear, anger and sadness) that the pandemic has caused, not only in adolescents, but also in parents, teachers and children. What are the consequences of these negative emotions felt for so many months? With easy resources to manage them and understand behaviors and attitudes to get yourself to be well because probably, others will not be.
– TOfriendship in adolescence (David Pastor)
Friendships become the benchmark for our children when they reach adolescence, denying it or prohibiting it would be a mistake. The goal is to understand our children and help them make good choices so that they avoid the greatest number of disappointments that we experience along the way.
– Interview (Lucia Galán)
Interview with Lucía Galán about education and its implications in the current situation our country is experiencing.