Pou stands in front of a compendium of Shakespeare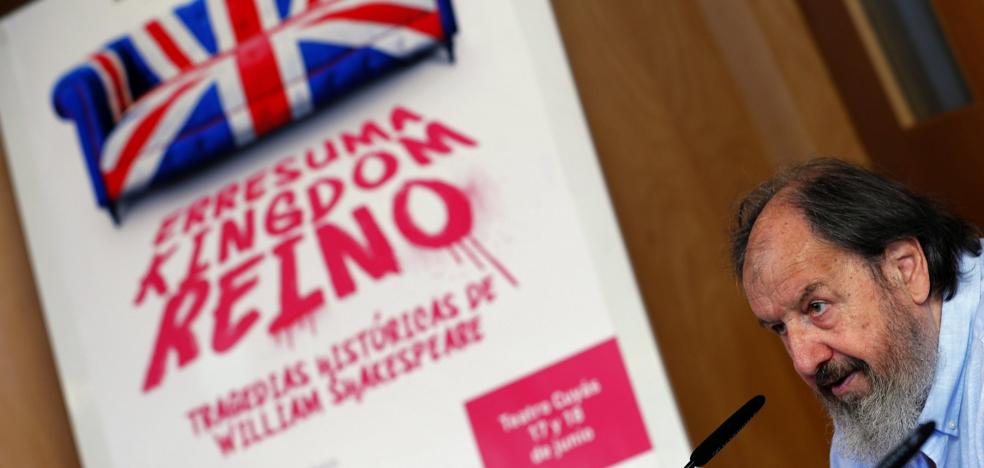 The actor gives life to Falstaff in 'Erresuma, Kingdom, Reino', by Calixto Bieito, which is being performed this Friday and Saturday at Cuyás in the capital of Gran Canaria
The
Cuyas Theater of Las Palmas de Gran Canaria closes this Friday and Saturday, always at
7:30 p.m.his current season with the play
'Erresuma, Kingdom, Kingdom'a compendium of the historical tragedies that Shakespeare wrote, from the writer and director
Calixto Bieitoin which the "mixture of poetry and violence shakes the viewer".
This is how the actor summed up this Friday
Jose Maria Pou this show in which he brings to life
Falstaff, the "gulfest gulf in the history of England"which is on a par with characters such as Hamlet and Othello, as he pointed out at the press conference he offered with
Ylenia Baglietoone of the actresses who appears in the cast, and the Island Director of Culture of the Cabildo de Gran Canaria, Francisco Bravo de Laguna.
In total they are
eleven actors who will go up to the Cuyás stage, which for this occasion will show off at the beginning an "immaculate white" decoration that,
in a minute and a half, it will already be stained blood redadvanced Pou, who warned that it is not a comfortable show and that, furthermore, it requires the viewer to actively participate.
There are eight tragedies that run through the dramas starring
'Richard II', 'Henry IV', 'Henry V', 'Henry VI' and 'Richard III'which the director of the Arriaga Theater in Bilbao has known how to "squeeze without waste", because he has ensured that it maintains the essence of Shakespeare despite
reduce 32 hours of theater in one and 40 minutes.
Courage

It is all a
"challenge" and an exercise in "courage"which reveals his extensive knowledge of the greatest of playwrights, because in his texts «everything is there, he touches on all the themes, passions and human behavior», stressed José María Pou, the only actor from another Spanish community who appears in the cast of a Basque production performed by Basques.
He also indicated that he is
third Shakespeare that represents and again by the hand of Bieito, with whom he starred in 'King Lear' and 'Forest', another anthology but on that occasion focused on scenes that took place in forests. Pou defined him as a "genius of contemporary theater".
The veteran and renowned actor emphasized the aesthetic concept of this work, for its
"shocking plastic"inspired by the paintings of the Irish painter Francis Bacon for the colors he uses: white, black and red, and the reflection that his plot presents on how to reach power and the violence that reaching that goal can generate.
About him
canthe actor who plays Falsttaf commented that
"Unfortunately, it almost always generates violence" and that an example of this is now being experienced in Europe, alluding to the war in Ukraine and Russia.
In any case, both José María Pou and Ylenia Baglietto agreed that the eleven actors
they "undress in such a way in this work that they vomit their entrails and reach the limit" and that the representation that they will offer today and tomorrow in Las Palmas de Gran Canaria has evolved since they premiered it last February.
Both also stressed that 'Erresuma, Kingdom, Reino' offers the viewer the possibility of choosing where to focus their attention in this journey through history that is similar to a museum in which the public passes through different galleries and that in the end will conclude with
an enthusiastic bravo or he will walk away indignantly without giving a single applause.