"Possibly in a decade Alzheimer's will be controlled"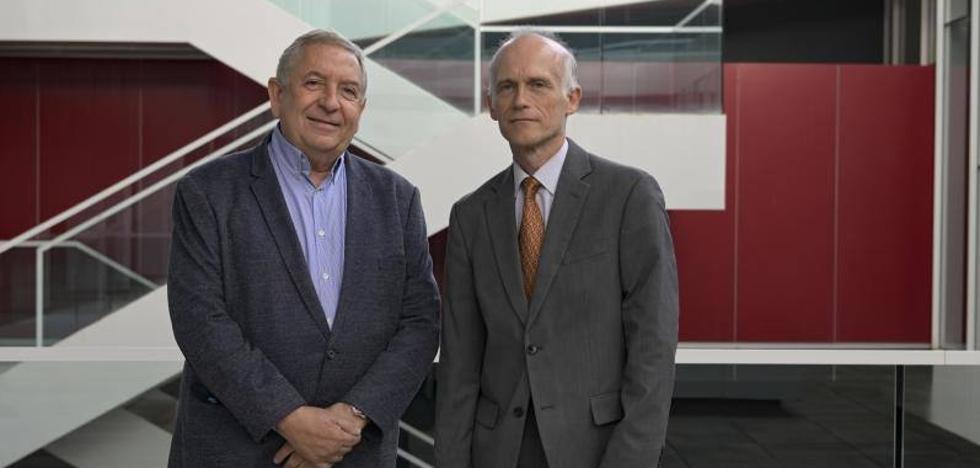 Javier Olazarán is one of the most authoritative international voices in neurodegenerative disease research
Taking advantage of his stay in Gran Canaria to participate in the
XXIV Annual Meeting of the Canarian Society of NeurologyJavier Olazarán, neurologist at the Gregorio Marañón hospital, team leader of the HM Hospitales Memory Disorder Unit and scientific director of the María Wolff Foundation, visited the CANARIAS7 facilities together with Dr.
Rene de Lamar to take stock of the milestones achieved in Alzheimer's research and the steps that will be taken in the short, medium and long term. "There is no doubt that cognitive decline is associated with the aging of the population, growing exponentially
from the age of 65 and multiplying by two the prevalence in the population every five yearsso that in those over 85 years of age, practically one in three people suffer from dementia", clarifies the neurologist Olazarán, adding that "in approximately three quarters of these people, Alzheimer's is the cause of dementia, alone or in combination with other pathologies.
"This disease is the monster"

For the doctor, "this disease is the monster that we have to know and control, I'm not saying cure, but at least control, and it is clear that we are getting to know it better and better." In this sense and coinciding with René de Lamar's analysis, Olazarán points out that «
We already know perfectly well everything that happens in Alzheimer's disease, which begins approximately two decades before symptoms begin. During this process, "a peptide is added, which is a small protein, and which is initially thought to be good. In fact, amyloid is a natural antimicrobial peptide, although there comes a time when its presence is excessive, leading to the onset of neurodegeneration."
Preclinical diagnosis

This early diagnosis is essential to be able to control the disease in the medium term. «The biochemical mark of Alzheimer's is what we can already detect when there are hardly any symptoms, what we call the preclinical diagnosis. On the other hand, when the first symptoms appear, what we call a prodromal diagnosis, when the only thing that happens to that person is that, for example, they reach
a place and he doesn't remember very well what he was going there for, or that a word does not come out because he does not remember it, or some small mistake. With those first symptoms
we can already diagnose with one hundred percent accuracy that Alzheimer's disease exists in the brain, and that's what has revolutionized the field."
A complex process

These small symptoms mentioned by the renowned neurologist begin about two decades after the entire process begins. "This process, which we have
almost everyone from the age of 50 or from the age of 60, can lead to dementia in some people and not in others. We can detect who will be those people who develop it, taking into account that it is a tremendously complex process since we have about 20 years of symptoms and another 20 years of pre-symptoms ».
Javier Olazaran. /

Juan Carlos Alonso

The important thing in Olazarán's opinion is that
"we know exactly all the chemical steps, and now what we have to try to do is control all those steps to ensure that they do not advance ». Regarding the next milestones to be achieved, if the evolution of the research continues to bear such important fruits, the doctor affirms that "it is a disease that is going to be controlled in the initial phases, ensuring that it does not reach the phase of total dementia, possibly in the next decade," he says.
"It is important that all health professionals are involved in the goal of successful aging and delaying the manifestation of deterioration."

"We do not have drugs that act on structural lesions"
Dr. René de Lamar recalls that "according to the World Health Organization, we are in the decade of active and healthy ageing. If we know that the prodromal period is so many years old, if we can affect that period and we are able to give people years of relative quality and decreased loss of function, we are winning", points out the doctor, adding that "that is the goal of science. In addition, he points out that "we do not have drugs that act on structural lesions."
«In the three decades that I have been practicing neurology I have seen a change with my patients»
The advances, thanks to the heroic work of people like Olazarán, are small steps that are true global successes to, in the future, control one of the cruelest diseases that exist. Olazarán is optimistic,
"I have seen a change and I think we are going to maintain that rhythm", aims ambitious. For his part, René de Lamar stresses that "it is important that all health professionals are involved in the objective of aging successfully and delaying the manifestation of deterioration. Otherwise we will have before
a person with dementia, with social and economic costs».