Possible maritime storm in the Peninsula and the Canary Islands due to the storm 'Theta'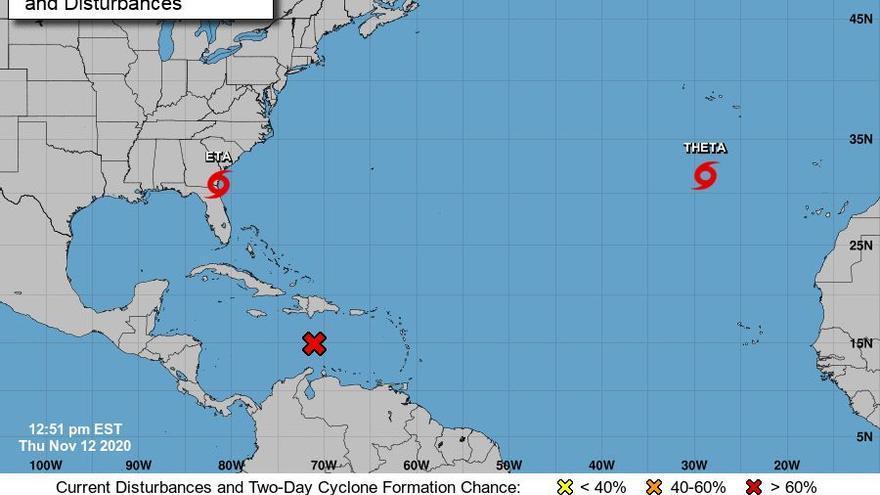 A powerful anticyclone located in Eastern Europe will influence Spain in the coming days, where the rains will give prominence to the fog banks while the evolution of the tropical storm continues'Theta ' in the Atlantic, which It could generate maritime storm in the Peninsula and the Canary Islands.
In general, the weather will be stable and will be marked by high pressures, as it has advanced to Efe the spokesperson for the Meteorology Statal Agency (Aemet), Rubén del Campo, who has announced that the fog will take center stage in the two plateaus and in the valleys of the great rivers.
In some cases, they will be "thick" fogs that will reduce visibility to less than 200 meters, while in others "it will not be at ground level", but banks of low clouds will form that will not affect visibility as much but will leave very covered skies.
As for the rains, del Campo explained that in the coming days the country will only be affected "by frontal systems associated with distant storms", which will leave weak rainfall in the west of Galicia and in points around the Strait between Wednesday and on Friday.
Temperatures will not vary too much these days, except in foggy areas, although the nighttime environment will be cool, with frosts in mountain areas and in the central and northern peninsular moors.
In contrast, during daylight hours the weather will be relatively mild for the time of year, except in areas affected by fog.
The maximum values ​​will reach 20 degrees on the shores of the Cantabrian Sea and the Mediterranean, as well as in the interior of Andalusia, while on the two plateaus and around the large rivers the maximums will range between 12 and 16 degrees.
Meanwhile, the National Hurricane Center (NHC) The US continues to monitor tropical storm Theta, which formed this Tuesday in the Atlantic far west of the Canary Islands, that advances towards the east driving winds of 110 kilometers per hour.
Del Campo has explained that "although the most probable thing is that it does not directly affect the Peninsula and the Canary Islands", Attention must be paid to the "possible maritime storm" that its presence may generate, "not excessively distant".
Despite the fact that the Aemet spokesperson has stressed that "the effects on the ground will be minimal", it has not yet been ruled out that its influence will bring "intense but not extraordinary" winds in the extreme western peninsula in the last days of this week and at the beginning of the next.