Portuguese Tsunami in La Mar de Músicas | Culture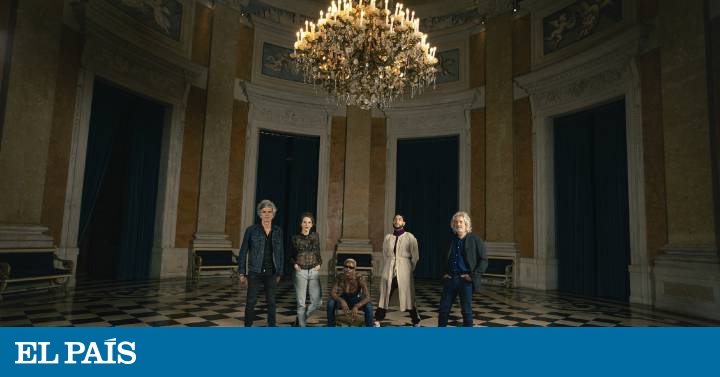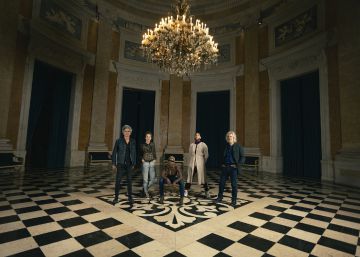 Pongo is a thunder that arrives in Cartagena after downloading its kuduro in Macron's house; Luísa Sobral sing to the calm and, to be able, in his home study; a black and a white good represent the richness and variety of current Portuguese music, far beyond the fado, but also. Portugal is the guest country at the Cartagena festival The Sea of ​​Music, from July 19 to 27, but what arrives is an antitopic cultural tsunami.
Pongo – who acts on the first day of the festival – is the queen of kuduru electronic and its contagious rhythm was chosen by the president of France, Emmanuel Macron, to vibrate in his palace on the occasion of the Day of Music. "It's nice," says Pongo, between cigar and cigar and rework in the mirror to his impeccable image. Angolan by birth, at the age of eight, she left for Portugal to escape the civil war. I put, the girl Engrácia Silva he is now 27 years old for the neighbors of his native Cuca, he fuses African rhythms with electronic and disco music. In the Lisbon neighborhood of Amadora, the band Buraka Som System, germ of many things and that today, already disintegrated, continues to make history with each of its members, as is the case of Pongo and that impact (in 2008) Kalemba wegue wegue.
To find more artists of the tsunami of La Mar Músicas you have to go to another neighborhood of Lisbon, to the slopes of Alfama, bohemian refuge of the best fado houses and now of several musical emigrations. At midnight, the house of Jon Luz, his Tejo Bar, welcomes everyone on condition that they know how to do something with the strings, whether vocal or guitar. There the Cape Verdeans are dropped Mayra Andrade (who acts on July 19 in Cartagena) and Dino d'Santiago (the 22), so different and so special.
Everything that Tejo Bar gathers is good and different but, in addition, it has the seal of "Madonna was here" In this famous place it is better to listen Nova Lisboa, from D'Santiago, to understand what is happening, with its mixture of funanáfrom there and the Fado from here.
Images, paintings and letters
The festival of Cartagena extends the prominence of Portugal to other arts. In films with classic films such as Fados (Carlos Saura), Captains of April (María de Medeiros), Historical Center, by Manoel Oliveira, Erice and Costa, and the most recent Letters of War (2017), by Ivo Ferreira, recreation in black and white of the stifling atmosphere of the colonial war in Angola.
The end of that traumatic colonial experience in Mozambique, Angola and Cape Verde (1975) is described by Dulce Cardoso in the novel Return (2011). Cardoso participates in the literary section of the festival with Portuguese writers of various generations such as Afonso Cruz (Jesus Christ drank beer), Gonçalo M. Tavares (Learning to pray in the age of technology) and Lídia Jorge (The times of splendor). Painting and photography complete the portrait of current Portuguese culture, with works by photographer Valter Vinagre, paintings by Pedro Cabrita Reis and the muralist Frederico Draw, which he will create live in a public space.
The silky, sensual voice of Mayra Andrade, star in France and Portugal, joins the guitar sound of Luz, who takes music from a broom. Andrade sings mornas by Cesária Évora, with whom he shared bars and stages so many nights, or shows his sweet afrobeat to the world, the royal homeland of Andrade, Cuban by birth and by a little German, French, Angolan, Senegalese residence and, of course, Portuguese
From the extraterrestrial part of the festival is on July 20 Tiago Miranda, better known as Conan Osiris; Conan, for a Japanese anime series, Osiris for the Egyptian god. The singer occupied one of the last positions in the first semifinal of Eurovision of this year, with its spasmodic interpretation of Telemóveis. Conan Osiris, also famous for his clothing, wears a gauze nightgown that reveals a Primark tracksuit, obviously false. His strong scenic imposture leaves behind, regrettably, his unique musical proposal already announced in I love bowling (I like cakes, 2017), of Arabic sounds – Gypsies, they say in Portugal. "Musically, Eurovision did not change anything. I did not get sufficiently strong influences on an artistic level. " Behind his masks and golden hooks, Conan Osiris is exquisitely polite and respectful. "On a personal level, Eurovision gave me confidence to be in front of so many people and another perspective of things; on a technical level, I learned that you have to be on top of everything so that things do not get out of control ".
Cartagena travels with a Nepalese flutist and a Chinese violinist, "a mixture of experiences of sounds and peoples, which make sense in a festival like the Spanish, which shows music from other worlds." His experimental and / or spiritual pop does not leave anyone indifferent, or himself, who does not pretend to please (not that they hate him). "It moves me to save the country with a more natural and spiritual component; but I do not do my music thinking about the applause of the people, but in what goes through my head and sometimes I do not remember what was going through my head ".
Around love
That will never happen to Luísa Sobral, for the third time in Cartagena on July 20. Its source of inspiration is not galaxies or extrasensory powers but the purest family daily life. He brought out the fruit of his pregnancy in the beautiful song For you –do not miss your video-, of the birth, Mãe, and of parenting, Pink, the last album dedicated to his daughter, in which the delicious Or melhor present. His intimate music revolves around love, like the song that composed him to his brother Salvador to be (and win) Eurovision last year, Love for both.
Cartagena reserves the most collected scenario, a university playground. "I do not think there's a summer music or music for festivals, everything has to be chuntachunta", Explains Luísa Sobral. "I do not think the artist has to change his show. People already know what is going on and know what awaits them. I've sung on big stages, but I really prefer places where I can see the faces of the people in the last row. "
Luísa, like his brother Salvador, are habitual in the Spanish musical billboard; this year, she travels with a more guitarist sound under the Raül Refree production. "We look for the true sound, we even leave the imperfections of the studio". Raül Refree, who has produced Rocío Márquez and Rosalía (Los Ángeles), also performs at the festival, accompanied by Lina.
But to teach the Portuguese musical reality forgetting the fado would be to distort it and that is why La Mar de Músicas attend the Mariza imperial (July 23) and the intense Ana Moura (on the 25th), that this day records his seventh album, this one with the North American Emile Haynie, producer of Lana Del Rey, Beyoncé and Dua Lipa, among others. "Although my soul is fado, I look for new sounds and influences from both sides of the Atlantic and the result will be my less fadist record". Ana Moura is prepared for the controversy. "Amalia Rodrigues herself was condemned when she deviated from the pure fado and now they are her most classic records".
From Beja, the deep Alentejo, he came out with a clarinet under his arm, António Zambujo to sing in a fado house in Alfama (in Cartagena he will be on July 22). As a twenty-year-old he won the Amalia Rodrigues prize for best fado player, but he is already in his forties and if his soul is still a fadist, his fundamental Rua Emenda and the recent Avesso they are trips through the bossa nova, the copla, the tango or the bolero. It is the Lisbon mulatto -And therefore Portugal-, that play the guitars of the Dead Combo duo, another fundamental date (the 23rd) of the La Mar de Músicas festival.
(tagsToTranslate) tsunami (t) Portuguese (t) the sea of ​​music (t) festival (t) cartagena (t) break (t) prejudice (t) country (t) neighbor (t) offer (t) heterodox (t) rhythmic (t) heterodox (t) rhythmic (t) mestizo (t) mestizo



Source link