Pork sales to China quadrupled in coronavirus crisis | Companies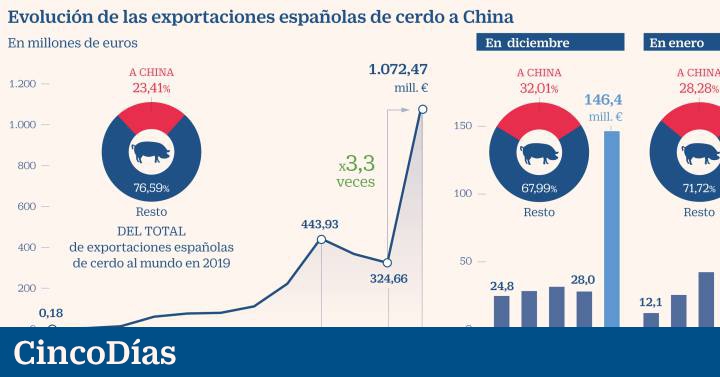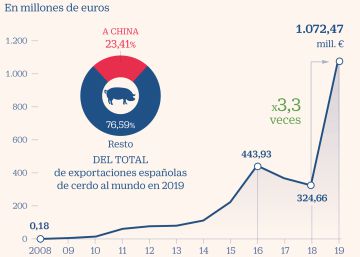 The coronavirus crisis has made Spain one of the main suppliers of pork to China. Sales of pork to the Asian giant have multiplied by four in the two months between December 2019 and January 2020, according to data handled by the Secretary of State for Commerce, going from 71 to 278 million euros compared to the same period.
This sudden growth began to take shape during the past year and peaked in December 2019 and January 2020. The outbreak of swine fever detected in the Asian country definitely contributed to this., which forced 60% of the herd to be slaughtered and imports to be drastically increased to guarantee supply. Good proof of this is that sales in Spain closed last year with a volume of 1,072 million euros, which represented a new historical maximum and tripled the figure reached in 2018. In this way, it became the first buyer in Spain, surpassing France, as it absorbed 23% of Spanish exports worldwide.
But those figures grew even more intensely in the last month of 2019 and the first month of 2020, coinciding with the celebration of Chinese New Year, as a result of difficulties in obtaining local produce. This shortage triggered purchases from third markets and accelerated even more sharply due to the closure of the country's main industries, as a result of the measures to control the coronavirus epidemic starting in Hubei province.
In fact, Spanish pork exports in December 2019 rebounded to 146 million euros, five times more than the value registered twelve months earlier (28 million) and reached 132 million in January 2020, three times more than 43 million reached in the same month of 2019. In those two months, China has become the main client of the Spanish pig industry, with 32% and 28% of purchases in December and January, respectively.
A trend that will have been repeated and even increased in February, since it was the first month in which the closure of local factories was a fact and the supply to the population was made mainly with imported product. Some data corroborated yesterday by the Chinese Customs Department, which reflected that purchases of pork from other countries increased by 158% between January and February and they marked a monthly maximum in December, with 270,000 tons.
Miguel Ángel Higuera, director of the National Association of Producers of Pig Cattle (Anprogapor), He clarifies that this growth in imports from China is not real, since during the months of January and February 2019 they sacrificed a large part of the pig herd, to prevent them from catching the fever, which sank purchases abroad during those two months and distorts the comparison. Despite this, it remains the world's largest consumer, with 50% of world demand.