Pope Francis summarizes his 10-year pontificate: "They have been a tension"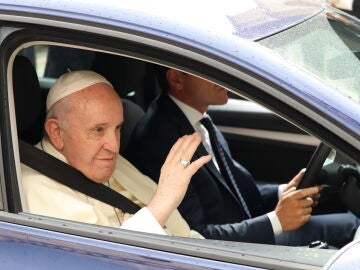 Pope Francis was clear about his wish on the occasion of his tenth anniversary on the throne of Saint Peter: "For my 10 years as Pope, give me peace", he asked in an interview with the Vatican media included in "Popecast", a podcast in which the pontiff offers a look at these years.
About that March 13, 2013, "the first word that comes to me is that it seems like it was yesterday." And he dared to summarize this period: «These ten years have been like this: a tension, living in tension».
After 40 trips abroad, three encyclicals, 899 canonized saints, thousands of audiences or hundreds of visits to dioceses and parishes, the Pope described "the audience with grandparents in Saint Peter's Square" from around the world on September 28, 2014 as "the most beautiful moment" of his Pontificate.
"The elders are wisdom and they help me a lot. I'm old too, right? But the elderly are like the good wine that has that old history. Meetings with the elderly renew and rejuvenate me, I don't know why... They are beautiful, precious moments," Francisco said.
Regarding the most painful moments, he mentioned all those related to the horror of war, such as when he visited the military cemeteries of Redipuglia and Anzio (Italy), the commemoration of the Normandy landings or the vigil to prevent the war in Syria. "Behind the wars is the arms industry, this is diabolical," Francisco declared. "A technician told me that if weapons were not made for a year, the problem of world hunger could be solved. It is the market that has created the war (...). Wars are used to test weapons," he said.
Thus, he once again condemned the barbarism that has been experienced for more than a year in Ukraine and shared his "three dreams" for the Church, for the world and for those who govern the world, for humanity.
Francis did not expect that he himself, a bishop "come from the end of the world", would be the Pope who would lead the universal Church in what he described as a new world war, that of Ukraine. «He thought that Syria was something unique, then the others came (...) It hurts me to see the dead, young people – whether Russian or Ukrainian, I don't care – who do not return. It's tough," he noted. In this sense, he declared that currently no one can deny that the world is facing a world order war "since all the great powers are involved."
Francis celebrated a mass yesterday at his residence, Casa Santa Marta, with the cardinals present in Rome, an intimate moment of which no information or images were provided, and he continued with his usual day (which yesterday was a holiday in the Vatican ), as he has been doing every year since his election. According to his usual style, he does not usually celebrate birthdays or other anniversaries.
During these 10 years, the Pontiff has visited a total of 59 countries, many of them with a Catholic minority (such as Egypt or the United Arab Emirates), and has traveled to places far from Rome, such as Myanmar and Bangladesh, where he has reiterated the universality of his message. Among his next destinations are Budapest (Hungary), from April 28 to 30, a city he already visited in 2021 to celebrate the closing mass of the 52nd International Eucharistic Encounter, and will participate in World Youth Day (WYD) to be will be held in Lisbon in August.
In October, he will preside over the last two days of the Synod of Synodality in Rome, a great listening process that the Catholic Church began in October 2021 in local churches and which has listened to both the opinion of Episcopal Conferences, as well as those of parishes, schools and laymen.
At 86 years old and with a knee problem that sometimes forces him to use a wheelchair, a few months ago all kinds of rumors and theories broke out about his possible resignation or his capacity to govern (which increased after the death of the Pope Benedict XVI). However, Francisco silenced the gossip with a single sentence: "He governs himself with his head, not with his legs," he settled.