Pope Francis beatifies John Paul I and sets him as an example of a "peaceful and serene" pastor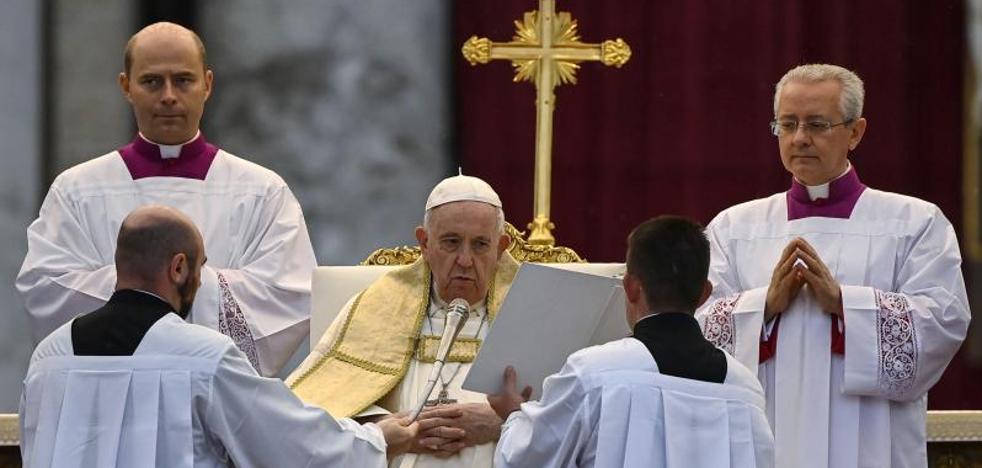 The 'Smiling Pope' was the image of a Church "that never closes its doors, that does not harden hearts, that does not complain or harbor resentments"
John Paul I is already blessed. In a ceremony marred by the rain that fell on Rome this Sunday, Jorge Mario Bergoglio beatified this Pope who went down in history because his pontificate lasted only 33 days, when he died unexpectedly in 1978 at the age of 65, which gave rise to all kinds of speculation that ended up becoming the plot of books and movies. Albino Luciani, the first name of this Pontiff who surprised the faithful by addressing them simply and ceasing to use the majestic plural, attains status prior to sainthood thanks to a miracle achieved through his intercession, according to the Church. Catholic. It is about the healing in 2011 of the Argentine girl Candela Giarda, affected by a serious illness and who, according to doctors, had no hope of surviving.
Before the around 25,000 faithful present in St. Peter's Square in the Vatican to participate in the beatification ceremony, Francis described John Paul I as a "peaceful and serene shepherd" and made reference to "the smile" he showed. It was the best way to convey "a Church with a cheerful, serene and smiling face," said Bergoglio, thus drawing an obvious parallel with his idea of ​​how he wants the Christian community to show itself. The one known as 'Smiling Pope' was the image of a Catholic Church "that never closes its doors, that does not harden hearts, that does not complain or harbor resentments, that is not angry or impatient, that does not show up harshly nor does he suffer from nostalgia for the past».
Although Candela Giarda, who is 22 years old today, could not participate in the beatification of John Paul I because she had broken her foot and had to stay in her country, Juan José Dabusti, the Argentine priest who, In the Buenos Aires hospital where the girl was hospitalized, she prayed with her mother and two nurses, asking John Paul I to intercede so that he would cure the girl. When asked about the reason that led him to opt for Luciani with so many saints to address, this parish priest from Buenos Aires confessed that his life is marked by the figure of the new blessed. «In 1978, when he was elected Pope, I was 13 years old and his figure struck me because of his overflowing humility and his joy, expressed in that famous and immortal smile by which we all know him. Since then I had a great personal affection for him and his death saddened me very much », says Dabusti, who assures that he owes the decision to become a priest to the new blessed. "He is a kind of spiritual father to me."
It was this parish priest who sent a letter to Rome to his compatriot Bergoglio telling him what had happened with Candela, so that the process that culminated in his beatification was set in motion. Also present at this Sunday's ceremony was Sister Margherita Marin, the last of the nuns left alive who cared for John Paul I in the papal apartment. The 81-year-old nun confirmed that the pope's sudden death was due to a heart attack, as the doctors who examined the body wrote in the documentation that has come to light with the beatification process. The nun considered that the news about an alleged poisoning of Luciani, in which "the hand of the devil" was seen, was nothing more than "speculation".