Pope Francis apologizes for "losing his patience" by rebuking a woman who grabbed his arm | Society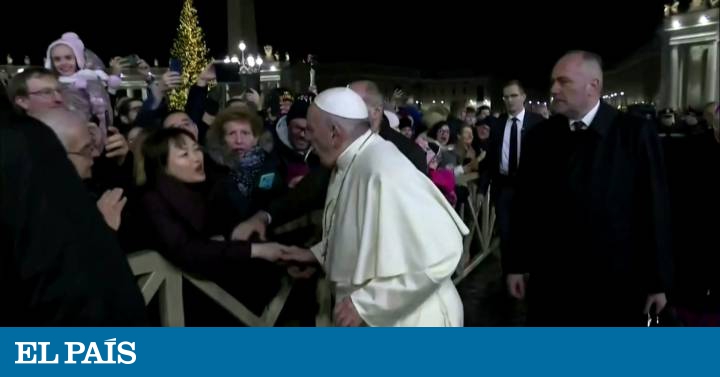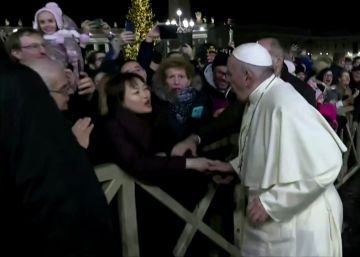 The Pope Francisco He apologized this Wednesday before the traditional Angelus prayer for having "lost patience" the day before when a faithful forced him to shake his hand and he punched him in the hand. "So many times we lose patience. It happens to me too. I apologize for the bad example set yesterday," said the pontiff from a window in the apostolic palace of St. Peter's Square in the Vatican. The incident occurred when the Pope, visibly upset, rebuked a woman who grabbed him by the hand and pulled him towards him while he greeted the faithful on his visit to St. Peter's Square after officiating the last Mass of the year.
The woman, with Asian features, was next to the rest of the faithful behind the security barriers of the square and when the Pope passed by him, he grabbed her hand and suddenly pulled him towards her. Francisco immediately tried to get rid of the woman and, after doing so, hit his hand in a sign of reprimand, visibly irritated, while his security officers approached to help him, although they did not have to intervene. When the incident occurred, Jorge Bergoglio had just arrived at St. Peter's Square in the Vatican to visit the tree and the Bethlehem Portal installed during the Christmas period.
The Pope has officiated this Wednesday the first mass of the year in the Basilica of St. Peter's in the Vatican and offered a homily in which he firmly condemned the violence, humiliation and offenses that women frequently suffer. "Women are a source of life. However, they are continually offended, beaten, raped, induced to prostitute themselves and eliminate the life they lead in the womb," said the pontiff. Then he went to the Vatican Apostolic Palace to pray the Angelus together with those gathered in St. Peter's Square and took the opportunity to apologize.