Police detain dozens of Extinction Rebellion activists at London City airport | Society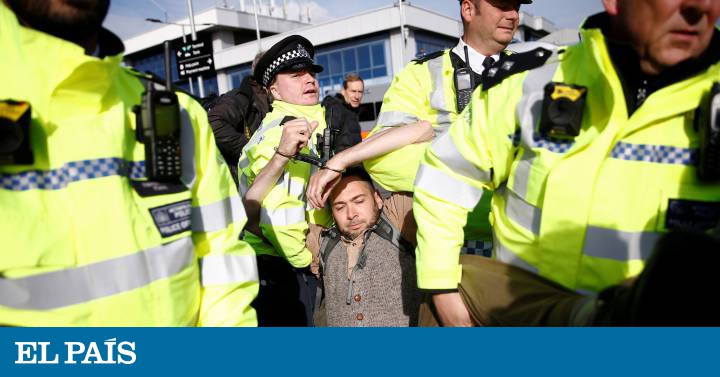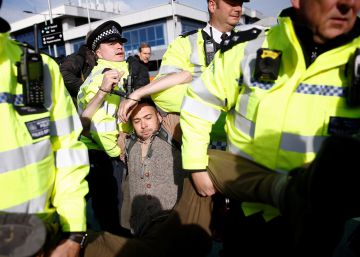 The London Metropolitan Police has arrested dozens of Extinction Rebellion activists who had chosen London City airport as a target early this Thursday. It does not have the dimensions or the importance of other airports such as Heathrow or Gatwick, but its proximity to the financial center of the city made the organization choose it as the target of its actions. This civil disobedience movement, born in 2018 in the United Kingdom in protest against the inaction of governments in the face of climate change, already took the streets of dozens of cities on Monday in a coordinated way in several countries.
"The London City airport plans to double its number of flights, and is located in an area with high urban density. This causes horrible noise pollution and enormous pollution. The disproportionate use of private jets by businessmen and managers of finance makes them a traveling elite that could achieve the same objectives using digital telecommunications. All this must stop, and Extinction Rebelion will stop it, "said the spokesman for the organization, Rupert Read, in the call for protests.
Dozens of police have blocked the airport's entrances since the early hours of the morning, and passengers have been required to show their boarding passes before entering the building, to avoid camouflaged sabotage. The activists have chosen to try to block the accesses and exits of the Docklands Light train station, which connects the airport with the city. In a protest similar to those of Hong Kong, as defined by the organizers, dozens of activists have starred in peaceful sitting and have even used glue to attach themselves to the ground. A plane has had to return to the terminal after an activist who managed to camouflage himself as a passenger began his protest upon arriving at his seat. The police arrested him immediately and was evicted from the aircraft.
London has demanded the help of hundreds of police from all over the country to face a week of protests that have caused serious traffic problems in the British capital. More than 800 activists have already been arrested since last Monday. The main fear lies on next Tuesday, when the queen must go to Parliament to read the speech that begins a new legislature. The city authorities try these days to seek the collaboration of Extinction Rebelion to prevent the royal parade from being affected. The organization has expressed its willingness to cooperate to avoid altercations.
The movement plans to carry out actions in 60 large capitals over two weeks, mainly from Europe. In Spain, they have focused on Madrid, and a group of about 200 activists have camped in front of the Ministry of Ecological Transition.