Pol Hermoso, Álvaro Rico and Jasón Fernández: "'Alba' is a creation of social conscience"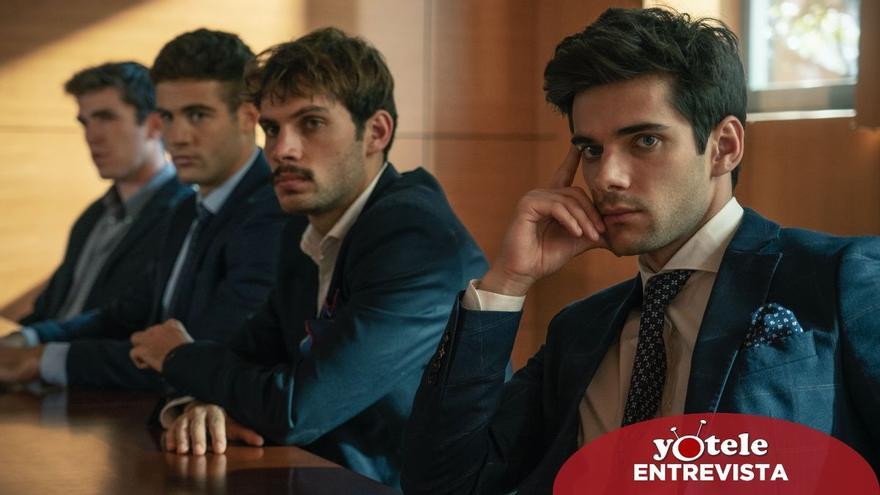 'Alba' returns this Sunday to Atresplayer Premium with the premiere of its second chapter. In addition to Elena Rivera and Eric Masip, Álvaro Rico, Pol Hermoso and Jason Fernández they are also part of this emotional drama whose starting point is the violation multiple to a young woman who will fight against the rich and powerful family of her attackers to do justice. YOTELE talks with the actors about their characters in the new Atresmedia series.
What feedback do you expect from the public of 'Alba'?
Jason Fernandez: I think it is going to be a very well received series at the soap opera level. It is a creation of social conscience. It would be very interesting if those who see it make them think and reflect on certain things.
Pol Hermoso: I think it's going to be attractive since it not only talks about the rape, but as a result of that a lot of plot opens in which people can surely feel identified in many other aspects of the series.
Tell us each of your characters
Álvaro Rico: My character is Jacobo, he is Rubén's cousin, a friend of Hugo and Bruno. Jacobo is the natural leader of this group. He's a smart and lucid guy. He has a manipulative point, but it is part of his DNA, he does it naturally. When the rape occurs, which seems to be a fact that is going to end everything, he moves everything and pretends that nothing has happened.
PH: Mine is Rubén, he is on the opposite side of his cousin Jacobo. He is the black sheep of the family, his parents want Rubén to be as intelligent and hardworking as Jacobo. He is a person who wants to become someone, but does not have the tools or the intelligence to be able to achieve it. He is a character that is divided in two, he relies a lot on drugs, alcohol and is losing himself. He seeks to attract the attention of those around him to be the leader, something that he never manages to achieve.
JF: My character is Hugo, he is a boy who needs his leaders to be up to the task, he wants to look like Jacobo and Rubén, he does not know him at all, and he puts on a breastplate to not show whether what he knows is true or not. As a result of certain circumstances, he gets to know himself and his armor is collapsing.
What have you learned from 'Alba'?
Á.R .: Antonio Banderas once said that the characters taught him more than he taught the characters. After recording this series, I think there can be no better definition than Banderas' phrase.
JF: I have learned that there are many people out there who show themselves in one way, but it really takes everything inside, you have to see much more than a physical or a simple perspective from the outside. There are people who to understand the rest show an image that is not real. We have to learn to see beyond at first glance.
PH: What the series is going to show is not only the act of rape, but all that it entails, where the characters come from and this can create a debate for the viewer, which for us will be an achievement. Anything that can serve to help teach our society that it sins a bit from these values ​​is going to be an achievement. Apart from entertaining, we can get to serve for something else.
Álvaro, 'Elite' was the series that led you to fame. How do you deal with success being only 24 years old?
Á.R .: Now I am in another moment of my life as a professional. I think that at the time when all that came, you had to know how to manage it. I went through bad times because I believed that my private life was beginning to falter, that was overwhelming. My secret is to keep doing what I did before. My private life in the end has not changed anything from 4 years ago to now. Of course, I enjoyed that stage very much, I also have to say it. I can only be thankful for being where I am.
Pol, what role do you think has been the key to being known?
PH: I was lucky enough to participate in Merlí with a small role, which had its good points and its bad points. The good thing is that it gave me a lot of visibility and at no time did it burn my image. That opened many doors for me to continue working and growing as an actor and thus be able to opt for roles of more weight.
Jason, in your professional acting career, the 2 biggest projects are the role as Juan in 'Libertad' and Hugo in 'Alba'. What do you keep from the two series?
JF: We are talking about two completely different projects, both of them are truly crazy. It has been a pleasure to have participated in both.