Poems that are written with the eyes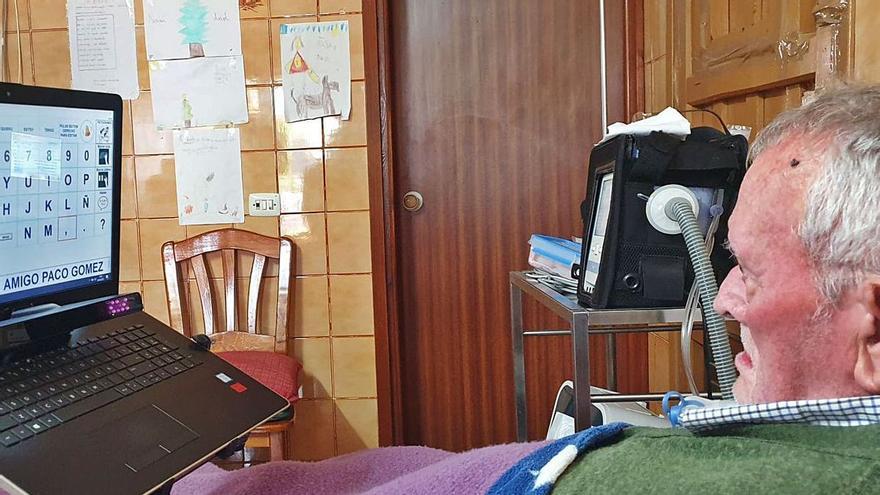 Miguel Calvo Zamora placeholder image will be 85 years old on May 26, and for five years he has suffered the effects of Amyotrophic Lateral Sclerosis, popularly known as ALS, a disease that affects the central nervous system, characterized by a progressive degeneration of motor neurons in the cerebral cortex, brainstem, and spinal cord. As soon as he knew the diagnosis, instead of collapsing he decided cope with the disease, fight it and fight day by day against her, always thinking that life must be lived until the last moment with everything she brings with her, even if it is not to our liking.
Currently, Miguel, who He was the pediatric mayor of Ramonete (Lorca) For more than a decade, he feeds via percutaneous endoscopic gastrostomy (PEG) and breathes artificially with a machine through the tracheostomy. It is moved with a crane and communicates with the eyes using technology.
Despite all this, has continued at all times doing all the things that his situation allows and that is one of the reasons why at 84 years of age he is an example of vitality, humanity and improvement, being himself the one who encourages everyone around him to not stop fighting, a sample clear of what his life has been throughout all this time.
At all times he expresses his desires to continue taking advantage and enjoying life, of his family and of his friends, as he has always done. Every day he strives to transmit to others his positivity, his desire to continue traveling, to see new horizons, to have close to those who loved him and will continue to love him, while trying to be informed daily of what is happening to him. around him, even when it comes to the sports world. His great vitality They make him demonstrate the effort and ability that he puts into communicating through his eyes with a computer. It preserves an excellent memory that it uses as one of the main engines to overcome difficulties.
As if nothing had happened in his life during the last five years, he continues to write poetry, directed at his grandchildren, ALS patients like him, nurses and friends. He is a fan of the tennis player Rafael Nadal and now also by Carlos Alcaraz and he enjoys and gets excited seeing the successes of the motorcyclist from Mazarron and ramonetero Pedro Acosta, since his grandmother and mother are from Ramonete. Flamenco and copla are also some of his hobbies that he continues to enjoy despite his illness.
In gratitude for the challenge "The Costa Cálida swims for ELA", a few years ago he dedicated the following poetry, written with his eyes, to Jaime Caballero, the protagonist of the feat. It goes like this: You have to feel very owner / and put great courage / to go from La Azohía / swimming to the town of Aguileño /. And although it seems like a dream to me / as a patient I consider / that you will be the first / that with your gestures comforts / ALS patients. Thanks Jaime Caballero.
In June 2017, his neighbors paid him a well-deserved tribute of gratitude for all that he had done for the town. Some 250 people attended the event that was held at the Puntas de Calnegre shelter.
The Plenary of the City Council of Lorca, unanimously, in November 2017, awarded him the Distinguished Services Diploma of the city that is awarded annually by the Lorca City Council. For the delivery ceremony held at the Guerra theater, he wrote the following poetry: Ramonete has always been / land of peace and nobility / where I fought without laziness / to feel loved /. Today I have been distinguished / in this event / and I thank, / with my right senses / the mayor and councilors / of the Illustrious City Council.