Plenary session for San Fernando against a low Lanzarote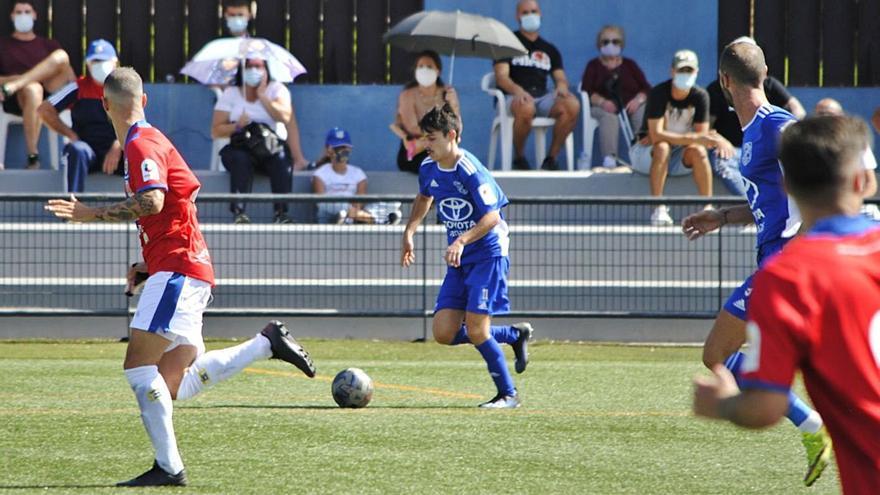 San Fernando is the leader of the Gran Canaria subgroup of the Third Division by beating Lanzarote, which continues without scoring (1-0). A solitary goal from Fuli, in the first half, gave the third victory of the course to the Tino Déniz team. The Conejero team, which has not started in this league start, shares the last place in the league table with Arucas.
As soon as the fight began, San Fernando warned of their intentions with a powerful shot from Pedro, who left brushing the squad. Before the quarter of an hour, Tino Déniz's men once again enjoyed a good approach with a shot in the small area, which forced the Lanzarote goalkeeper to clear the ball for a corner.
Josu Uribe's team replied with a dangerous corner taken by Ayoze Pérez, but his teammates were not able to take advantage of the false start of local goalkeeper David Álamo. At the edge of a quarter of an hour, San Fernando got what was ultimately the winning goal, through Fuli, who headed Alejo's cross from the wing into the net.
Lanzarote sought the equalizer with a shot from Ayoze, who grazed the left post of the Maspalomas team's goal. In the 39th minute, Betancor had the second goal with a shot, after Andrés's center, which went over the crossbar. Before the break, Betancor himself saw goalkeeper Ruymán disrupt him, with a good save, a clear action that was close to bringing, once again, the joy to the stands of the San Fernando enclosure.
After the restart, Lanzarote was the absolute dominator of the second half, although without depth in the final meters to translate their good game into clear scoring opportunities. Shortly after starting the second period, the Conejeros were close to putting the tables with a point-blank shot by Miguel Gómez, which goalkeeper David Álamo cleared for a corner with many difficulties.
In the decisive straight of the contest, Lanzarote claimed a penalty in a play that Ayoze Pérez did not take advantage of, after a dangerous foul, and that ended up rejecting Maspalomas' rear with power.