Plaza Cairasco and Alameda de Colón prepare for filming with Jennifer López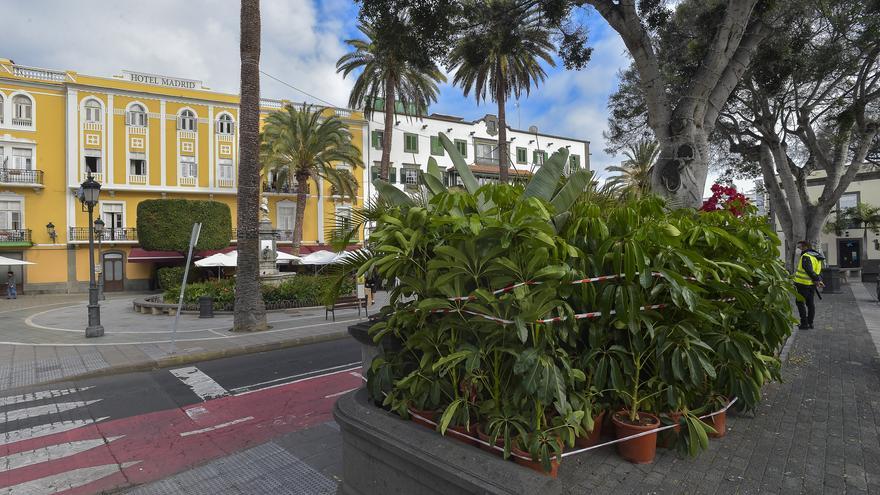 The Plaza Cairasco, the Alameda de Colón, the Literary Cabinet and the Hotel Madrid are once again reinvented as film sets to host the filming of new scenes from The Mother, Netflix's major European production, starring and produced by Jennifer Lopez, which will paralyze this capital nucleus in the name of the seventh art for at least three days.
The production team works tirelessly in the conditioning of the four spaces to transform the heart of the city into different references of Havana, where the bulk of the plot takes place. Specifically, the monument that presides over Cairasco has been spruced up like a tropical garden, while a large wooden structure has begun to be erected in the Alameda de Colón. For its part, the interior of the Literary Cabinet has traveled back in time with a new nineteenth-century cladding of the Golden Room and the Meifrén Room, which has led to a metamorphosis of the space with bas-reliefs, false doors and walls, and many other decorative details.
Numerous audiovisual productions have noticed the beauty and malleability of this emblematic building, where scenes of Alliesby Robert Zemeckis; Palm trees in the snowby Fernando González Molina; Down to dark hallby Rodrigo Cortés; or Like queensby Andy Tennant. And the same happens with its neighbor, the Hotel Madrid, in whose interior they have filmed The last suit, by Pablo Solarz, or recently, the Finnish series The Peacemaker.
The forecast, except for setbacks, is that the Netflix team, together with the Canarian production company Sur Film, will begin filming in this central area from this weekend, where it will last for three days, including nights. All nearby establishments must close their doors during the days of filming, in agreement with the production company.
These scenes will feature the participation of Jennifer López, in the skin of a murderer who returns to the fold to save her daughter in danger, played by the young actress Lucy Paez, in one of her first roles. The actors Gael García Bernal and Omari Hardwick are also in Gran Canaria, who are part of the cast and play the enemy and ally of López's character, respectively. Also completing the cast is actor Joseph Fiennes.
It should be remembered that these same locations, between Triana and Vegueta, formed the background of the film Alliesby Robert Zemeckis, which was shot in 2016 with Brad Pitt and Marion Cotillard as the main characters. That shoot was quite an event in the city that spring, as this new film adventure promises to be in the coming weeks.