Platinum weddings after beating the coronavirus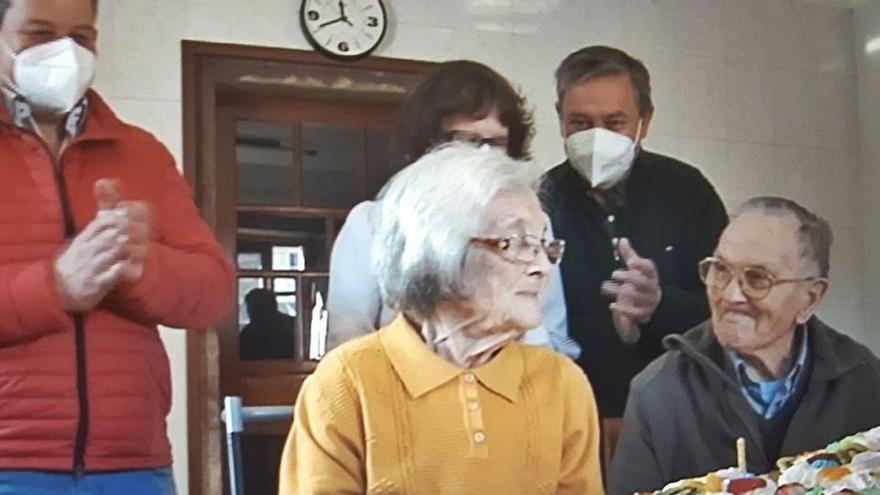 In 1955, in O Castro de Amarante, in Galicia, the town of Antas de Ulla where Carmen Varela Carnero comes from, the brides were getting married on the patron's day, San Esteban. And back then they always wore black. This is how, at 26 years old, she went to the altar to marry Luis Varela Besteiro, 28. Sixty-five years later and with the traces on the skin left by the hard work of the field, the couple continues to live at home family member of Ludeiro, in the neighboring parish of San Martiño de Amarante, and does after having overcome what is already known as the "disease of the XXI century", COVID-19. For this they have had the help of some very special "nurses", their three children: José Luis, architect in Lalín; Ana, retired teacher living in Pontevedra; and Alberto, businessman in Vila de Cruces.
At the end of November, 93-year-old Luis Varela Besteiro -O Carramón de Ludeiro, as this seasoned trout fisherman is known throughout Galicia- "began to have a fever, itchy nose, hunger and strength were lost to get up at eight in the morning, like every day, and go to work in the garden, "as his daughter refers. The test they did on the 24th confirmed the presence of the dreaded SARS-CoV-2."He did all the treatment at home. It was enough to give him antibiotics so that he would recover and, fifteen days later, he was already going back to work and going out, despite the cold, "says his youngest son.
A few days after her husband fell ill, it was Carmen, 91, who fell. "It gave negative in the first test, the 28 of November, but in the one of the day 6 it came out positive", relates his youngest son. In your case, needed to be hospitalized for a low sodium. The health workers came to tell him that at that age he would no longer leave the hospital, recalls the middle daughter, who is breastfeeding for her parents. "How wrong they were! Both are perfectly, Carmen eager to eat the cake that draws a 65 because those are the years the couple has been married, "says Ana. Few meet platinum weddings, but they have achieved it in the worst conditions that could be given: in the middle of a pandemic and infected with COVID-19. "They are very resistant people", adds José Luis, the first-born.
Trout Mesmer
"My father is as if he were 50 years old," says Alberto. Until recently, he was still driving, but his license was not renewed, because he has cataracts and he does not want to have surgery, since an uncle of mine was blind in one eye, and he was very upset. He would go every Sunday to play Antas's domino game. "He very much misses" the mobility that the car gave him "when going to the pharmacy or doing other purchases. Among the many facets of Carramón, his most important offspring young man highlights the fisherman: "He was a great troiteiro. With the bamboo poles that he made himself, he took an average of 12 to 15 kilos of trout every day that he went to the river. "Not for nothing they came to call him" the man who hypnotized trout. "
Carmen suffers from dementiaTherefore, they have caregivers from the Servizo de Axuda no Fogar (SAF) and a woman hired separately by the family. At night, for three years, their youngest, who runs the Careyxove fashion store with his wife, in Vila de Cruces, has been sleeping with them. Although he has tested negative in all the tests that have been carried out, Alberto has been confined in Antas for more than a month and will continue until January 2, so that he has not been able to spend Christmas with his wife and son, nor will he be able to enjoy with them on New Years Eve.
Wild boar accident
The same thing happened to her sister, who was positive in the PCR that was done a few days after her father became ill. "Ana could go out now, but she has arranged to help me take care of them," she says. Nor did José Luis escape. "When we returned from doing the tests at the Lugo hospital, we had a car accident, since we crossed three wild boars, "says Alberto, who called Lalín's brother to go pick up his father while he was taking care of the accident. This contact led to the quarantine of the oldest of the brothers, who did not become infected , for ten days.
At the Casa de Carramón, in the village of Ludeiro, where they have lived together for 65 years, their three children, who have cared for them during their convalescence, were the only ones present at the "mini party" of platinum weddings that they celebrated on Saturday. Under normal conditions, brothers, brothers-in-law, daughters-in-law, nephews and, above all, their five grandchildren and their two great-grandchildren would be there to celebrate it: more than 100 people, as in a regular wedding, who you do not meet 65 years of marriage every day. But coronavirus has pushed that possibility away for the moment. So, waiting for "all this to happen" to be able to make a meal "as they deserve", Carmen and Luis have to adjust their eyes to see the multiple messages that reach their cell phones.