Placido Arango, the art of living | Economy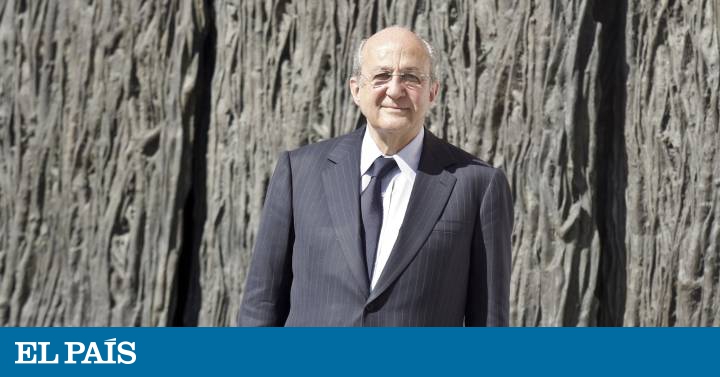 In the aggressive world that we have had to live, full of noise and fury that mean little or nothing, there are words that have become obsolete. One of them is the word chivalry. More than an act, it is an attitude, a synonym of gentleness, discretion, care of forms. That virtue, necessary in diplomacy, essential in friendship, characterized Placid Arangogentlemanly friend [fallecido el lunes en Madrid a los 88 años] who, without having had a position in the diplomatic service, was for almost half a century the cultural ambassador of Mexico to Spain.
I met him in November 1993, when he presided over the Board of Trustees of the Prince of Asturias Foundation. That year, Mexico won two Prince of Asturias awards: that of History and Social Sciences, awarded to the eminent historian Silvio Zavala, and that of Humanities, which received the magazine Return, directed by Octavio Paz. Always honoring his name, Placido directed the acts with a serene elegance. One felt that this recent ceremony had a centennial, almost medieval ancestry behind it. He was glad for the jury's decision, not only because it was Mexico, but Latin America.
As an Indian who returns and conquers the land of his ancestors without renouncing his homeland, Plácido achieved general recognition of Spanish society, regardless of flags and ideologies. That is why his role was to build bridges between the two shores of the Atlantic. He always believed that the historical alliance of Spain should be with our countries, and that in that alliance culture was our specific strength. I thought that, together, our fragile democracies could consolidate and enrich themselves.
He was born in the oil port of Tampico, in the Gulf of Mexico, in 1931. His father was one of the many young Asturians who "made America" ​​in Mexico in various fields of industry and commerce. Creative and vital, he died in fullness at the age of 99 in the port of Acapulco. His three children were prodigals in their own and complementary qualities: Jerome, the eldest, visionary, very cultured, reserved, is stoic in Seneca's tradition. Manuel, the youngest, practices with great success and without ostentation an exemplary philanthropic work. Placido, the middle child, was warm, emotional and imaginative, an epicurean in the classical tradition: that of love of life and art.
Plácido – or "Pachín", as his old friends called him – studied economics at the Instituto Tecnológico Autónomo de México (ITAM), founded in 1946 by businessman Raúl Bailleres. He was fellow student of his son Alberto Bailleres, current dean of Mexican business, and Miguel Mancera Aguayo, former director of the Bank of Mexico. "He was friendly, jovial, intelligent, and 'very alive', always impeccably dressed in a tie and suit," recalls Mancera. The teacher who formed them was Don Miguel Palacios Macedo, a philosopher economist educated in France with Étienne Gilson, whose favorite maxim was "The economy is not a physics". Having experienced the famine and inflation in Europe, Palacios Macedo instilled in his students an economic humanism far away from the cold Anglo-Saxon traditions. From that root came Placid. His entrepreneurial work was naturally unfolding towards the world of art. His wife Maite accompanied him from the beginning on that cultural journey.
In Mexico, the Arango family It had an important shirt factory and was the first to establish a self-service store called "Aurrerá". The name, which means "forward" in Basque, was an onomatopoeic finding: it promised that the purchase would be a saving. I remember going as a child with my grandmother shopping to the first "Aurrerá" in the city center and years later to the immense and ultramodern "Aurrerá" of Avenida Universidad, which competed with any American mall. In those years, in dumbbell with the publicist Augusto Elías, the Arango produced a television program that made history: The Aurrerá grand prize of 64,000 pesos. Each week a contestant answered a new question about the topic he had chosen. He could retire with the cattle or aspire to more (with the risk of losing everything), until he reached that gigantic figure. I remember that someone won the jackpot by listing the Agamemon's allies one by one in The Iliad. That popular program was our humanities-free school.
In the mid-sixties, Placido set a separate house in Spain. There he founded the famous "Vips" which, significantly, were restaurants with a section of books and magazines. After his seminal management at the Prince of Asturias Foundation (1987-1996), between 2007 and 2012 he was president of the Prado Museum, and took him to an even higher level of excellence. To prove his commitment in practice, he donated twenty-five works (Goya, Zurbarán Valdés Leal, among others) to the Prado from his personal collection. How proudly he gave me the memorial book of that donation! He had returned to Spain a part of what Spain had given him.
Every year we had an appointment in Madrid, usually at El Bodegón, his restaurant, where he invited writers and historians. The intelligent conversation was part of the label, as well as the perfect dish and a great Rioja. I once saw him at his house in Valdemosillo, whose study – conceived by his partner, the remarkable sculptor Cristina Iglesias – has an installation that resembles a passage to infinity. Surrounded by his paintings and books, we talk about history, but especially about Mexico, whose luck always worried him.
His spontaneous and easy laughter spread joy and good humor. Noble and discreet, as a good gentleman, he brought the subtle angle, the subject to open his mouth. "Do you want me to tell you the background?" I asked him the last time, on some thorny topic. "Of course!" He told me, "and I swear, whatever you tell me, he won't leave Spain."
How unfair it is to limit the luminous life of a friend to a thousand words. It is sad to think that the conversation ends. I suppose that in these cases Plácido returned to the classics, like Cicero: "That is why the absent are present, the needy are in abundance, the weak are strong and … the dead live: so great is the honor, the memory, the longing for the friends that accompanies them … "
Enrique Krauze He is a writer and director of the magazine Free Letters