"Pillow Wars" are bits of me made into poetry "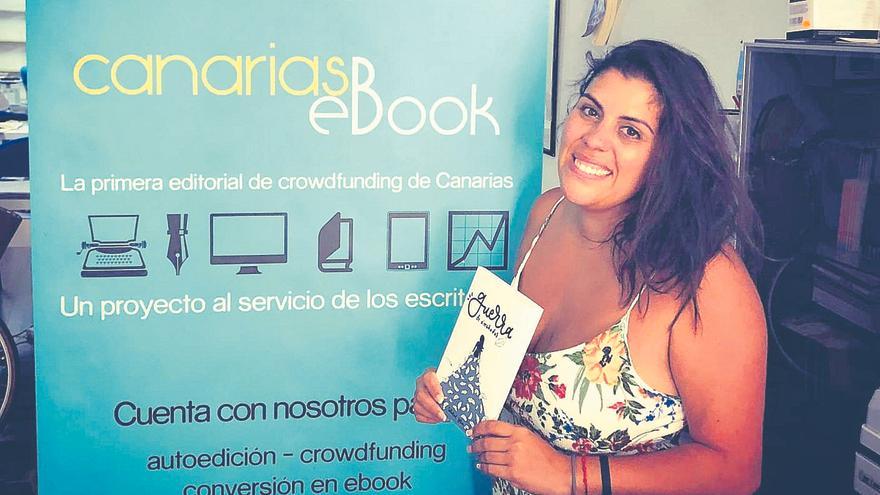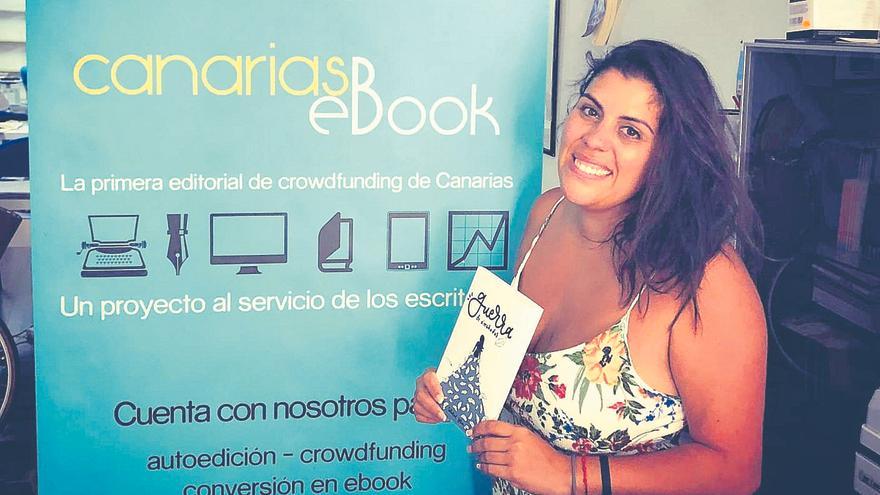 I've always liked writing. And when you're a teenager you start to do it a little more seriously. But it was in my forties when I decided that, sooner or later, I wanted to publish a book because my grandmothers wrote and I wanted to continue that tradition. My father, when I turned 18 years old, gave me my paternal grandmother's diaries and I felt that I had that debt to both of them. Then, in the quarantine, those of us who were in Erte, we had more time to appreciate everything a little and do what we really liked, and that was when I decided to take it a little more seriously. I decided to write a little more assiduously, I started recording myself and sending it to my friends. And they, who were surprised, encouraged me to continue and, for that reason, I was getting the bug.
Before he took several courses or literary workshops.
Yes, in September of last year I did a Las Palmas City Council course called Creactivxs 2.0 and some open micro, and Rubén Rodríguez and Luis Quintana were the ones who finished pushing me. It was three days at home, which were going to be face-to-face, but due to the pandemic, he was unable to compose, receive masterclasses through zoom, and that was the last push. He has taken different courses in the literary field such as, for example, A improvisar is learned by improvising with Alexis Pimienta. And I have participated in different events, such as The Sound of Ink.
Was this prior preparation important to later decide to publish your book?
Yes, because from then on I went to some contests or events because I was losing the fear of reciting in public. Then, and already in February of this year, I had my particular quarantine for a three-month leave due to a facial paralysis that I had, and that was when I finished writing the book. I got in touch with the Canariasebook publisher that I met last year, but since I didn't have the money to self-finance, we did it through crowdfounding. Then everything began to move. Then, in March, the Youth Council of the Cabildo counted on me for World Poetry Day. I was already with facial paralysis and rehabilitation. But the goal we had quickly set for ourselves was achieved in four days. Then the campaign remained open a little longer for those who wanted to become a patron. Those names appear on the back cover of the book and the objective was tripled. The presentation was on September 30. A few percent of the proceeds will go to those affected by the La Palma volcano. It was the best way I could think of to be able to do a cape.
How is the book structured?
There are ten chapters and there are around ten poems per chapter. The last are micropoems. The book has a QR code in many poems that are listenable. You pass the code that leads you to a video like the one the Cabildo recorded for one of the poem. Or it happens to an audio recorded by me reciting that poem.
And what are the poems about?
The book is almost autobiographical. I say that Pillow Wars are little pieces of me made into poetry because it is a bit like my particular way of seeing life, love, heartbreak, friendship. There is a chapter on the theme of trips that I call paradises and I talk about Gran Canaria, my family, etc. It is a very personal book, but, from what people have told me, many feel identified with them. It's like very day-to-day, things that happen to all of us in the end.
Has paralysis affected you when it comes to making your work more visible?
More than anything it has had me worried. The paralysis hit me last February and at first we thought it was due to the stress of my work, because I am a social worker and coordinator of the Neighborhood Disability Center. But many things joined me like my father's illness. They thought my facial paralysis was from that. But they began to do tests and discovered in an analysis that it was due to a tick bite, that I had been given Lyme disease.
How was the run of the first edition?
The initial contract was for 200 titles, but I have to print more because they sold a lot at the Book Fair. I have to leave books both at the publisher, at Amazon and at different bookstores, and the orders that I have separately. Now I have to meet with the editor to find out how many I have to reprint because the response has been quite good.
What poets have influenced you?
Of those from before, I love romantic poets like Bécquer or Mario Benedetti. And nowadays I really like Defrets, Lae Sánchez. or the singer-songwriter Marwan. They are a bit my references, I think I write quite similarly.
And why have you given it this curious title?
It arose in the course of Creactivxs, by the question of if you had to write a book what titles would you give it. I was at home, I had the pillow next to me and I thought that my pillow is the one that weighs those sleepless nights due to a lack of love, an anger with family, friends, etc. It is that place where we reflect and make decisions. And, on the other hand, because I want the book to be a kind of connection and disconnection at the same time. To disconnect from the daily routine and connect with those feelings or emotions that we have parked. Let it be an oasis in the rhythm of life that we lead. Because pillow wars are fun because they disconnect us a bit from all that.