Piedra Pómez hangs the 'all sold' poster for its new premiere in Cuyás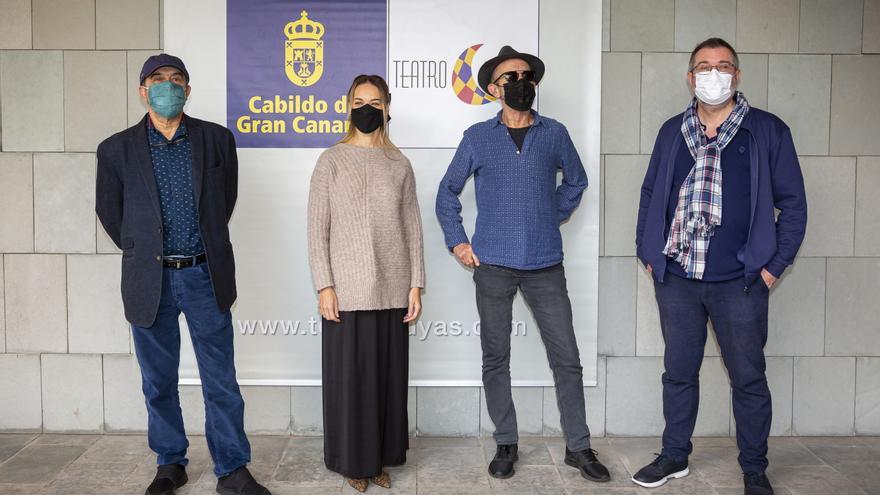 Not even the coronavirus has been able to with them. Francisco Santana and Gregorio Figueras (Piedra Pómez) have hung up the 'all sold' sign for a new show.
It is about 'Diga 33 … Anniversary', the show that they will star on January 9 at the Cuyás Theater and that this Monday, April Fools' Day, they have presented together with the Minister of Culture of the Cabildo de Gran Canaria, Guacimara Medina.
The montage will be "a dialogue between the friends Fefa and Siony as a tour of the medical consultations they have made in person or through references from other people or simply invented," explained the comic duo, which celebrates more than three decades on the scenarios.
They affirm that "if the first thirty years of Pumice Stone have passed us by flying, the next three, until the thirty-three are completed, have passed in a sigh, in a kind of pis pas, finished off by a pandemic that nobody expected", Alluding to covid-19.
Precisely, hours after the arrival in Spain of the coronavirus vaccine, both comedians try to sharpen even the pandemic, warning that the saying already says: "Pandemic for today, hunger for tomorrow."
However, they clarify that, contrary to what it might seem, the title of their new show has not been chosen opportunistically, evoking that "legendary and inexplicable medical phrase used to diagnose who knows what diseases" ("Say 33"), Rather, it emerged "spontaneously" in the middle of last year and "as a form of complicity with the doctors who have accompanied us throughout our lives."
Doctors "are like teachers, plumbers and carpenters at home" because "they have been by our side from birth until the time we say goodbye to this world and all other possible worlds."
With his unmistakable humorous tone, Piedra Pómez adds that "from childbirth, in the form of an obstetrician or midwife, through the pediatrician and the general practitioner, to the specialist of the nose, throat, ear and other internal and external organs, we have been stumbling in our lives with a good number of medical specialties ".
For this reason, 'Say 33 … Anniversary' aspires to be "a health tour in homage to our general practitioners, family doctors, never better said, who helped us grow by making illnesses sometimes reduce to" nerves on the stomach "or a" wandering "that our mothers knew how to handle."
In this particular tour and with their amazing dialogues, Fefa and Siony will lead the public who come to see them at Cuyás (on January 9 at 8:30 p.m.) for their usual medical consultations (only the forensic doctor will be missing, "of course", because they are very much alive). And it is that "after 33 years" – those that the relationship of Piedra Pómez lasts already – "the doctors become old acquaintances" because "every day a new ailment appears that makes us expand the circle of those inseparable friends", they joke about your doctors.