Photos: Who produces Hacendado, Carrefour or Dia tuna cans? | Five days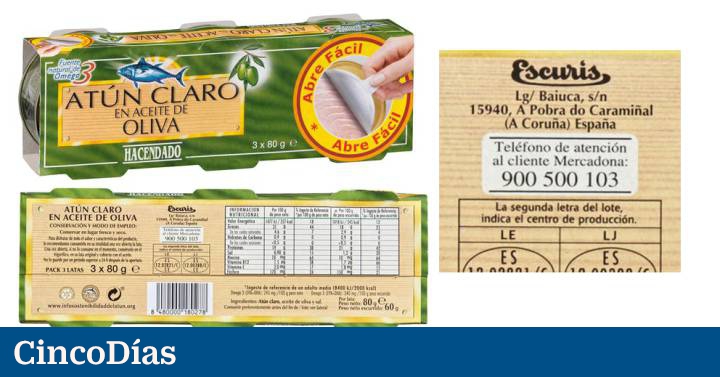 one

Hacendado (Mercadona)

The back of the packages provide the customer with information about the manufacturer of the products. In the case of Hacendado, its supplier for canned tuna is Escurís, one of the companies that make up the Corporación Empresarial Jesús Alonso, Jealsa, currently the largest Galician cannery by revenue: 667 million in 2019.

Mercadona.es





two

Carrefour

In some cases the information about the manufacturer is not explicit. It happens with the varieties of tuna of the Carefour white label, where a number and an acronym appear, those of the RGSEAA, the register of registered food companies. You have to go to your online search engine to name that code 12.06648 / C, and it is none other than Frinsa, a company that works for large distribution chains. On its website Carrefour makes it easier and among the product information indicates the manufacturer.

Carrefour.es





3

Day

Since 2017, Dia has teamed up with what has been the largest company in the sector for years, Grupo Calvo, to make its white label tuna. It was Calvo's first experience in this field, in response to the growth of his rivals in it.

Day is





4

But Calvo is not the only tuna supplier that DIa markets under its private label. In the Delicious range, its white label of premium products, the tuna belly is produced by Frinsa.

Day is





5

The English Court

The English Court sells a variety of canned tuna under its banner: in olive oil, in extra virgin olive oil, in sunflower oil, pickled, in tomato, natural … All of them have the same manufacturer: Frinsa . Also the bonito del norte in oil. On the other hand, for the varieties of bonito preserved in a glass jar, the supplier is the Basque company Conservas Cusumano.

Elcorteingles.es/supermercado





6

Lidl

Nixe is Lidl's private canning brand. Behind her (surprise) is also Frinsa del Noroeste.

Lola market





7

Auchan

Another white brand, in this case that of Auchan, which is sold in the Alcampo hypermarkets and in the Mi Alcampo, Alcampo City or Simply supermarkets. As in other chains, its varieties of tuna are produced by Frinsa.

Alcampo.es





8

Consum

The Valencian chain Consum, with a growing presence in the eastern and southern parts of Spain, breaks the supplier dynamics. In his case, his canned tuna is not from Frinsa, Calvo or Jealsa, but from the company Conservas del Norte from Pontevedra.

Consum.es





9

Alipende (Save More)

Alipende is the white label of AhorraMás, the Madrid supermarket chain also present in part of Castilla-La Mancha. In your case, the tuna varieties are also manufactured by Frinsa.