Pharmacies see the supply of antigen tests at risk due to high demand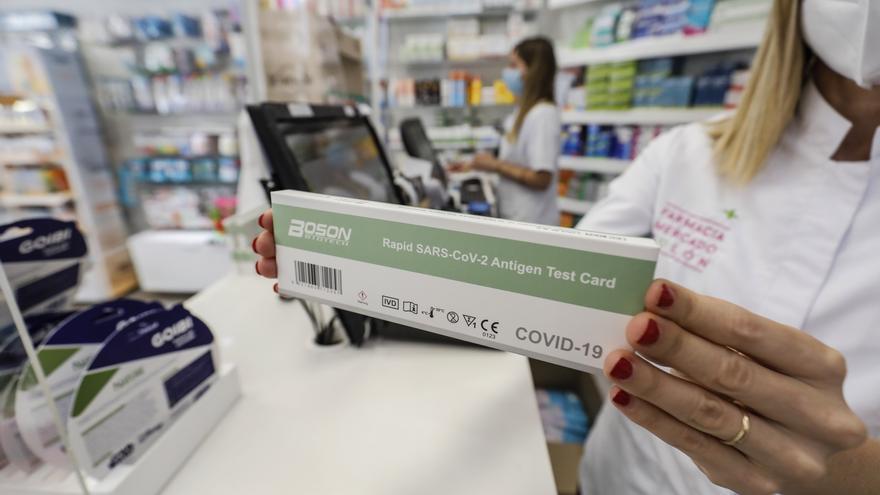 Stocks of antigen test in pharmacies they will not be enough to supply the demand if the sales rhythm of last week -from July 19 to 25- is maintained, when 386,155 units were dispatched, 61.7 percent of the sales so far this year.
According to a follow-up study of the sale in pharmacies of these self-diagnostic tests of the Covid-19 carried out by the health sector consultancy IQVIA, the antigen test stock in pharmacies throughout the country is 281,056 units, insufficient to guarantee supply if the sales figures registered between 19 and 25 are repeated this week July, coinciding with the approval in Spain of the over-the-counter sale of the self-tests.
Of the 386,155 units sold in week 29, 27 percent were sold in pharmacies in Catalonia with 104,596 antigen tests dispensed followed by the Madrid's community, where 58,893 self-tests were supplied.
These communities were followed by pharmacies in Galicia (with 43,627 units sold), Andalusia (34,430), Valencian Community (32,017), Basque Country (29,340), Castilla la Mancha (15,796), Canary Islands (14,600), Aragon (9,199), Balearics (9,094) and Castile and Leon (8,451).
The Asturias pharmacies 5,904 antigen tests sold that week, followed by Cantabria (5,811), Navarra (5,164), Extremadura (3,614), La Rioja (3,451) and Murcia (2,169).
According to the IQVIA study, the current stock of antigen units in pharmacies would prevent meeting the demand if the sales figures from the end of July are repeated.
Only in four communities Castilla-La Mancha, Castilla y León, Navarra and Murcia, the stock in antigen units exceeds the sales of week 29.
In Castilla la Mancha Pharmacies have 24,043 antigen test units, 16,222 in Castilla y León, 5,680 in Navarra and 3,677 in La Rioja.
In the rest of the autonomous regions, stocks are in danger if the demand continues at the same rate. This is the case of Catalonia (89,943), Madrid (28,806), Galicia (21,424), Andalusia (23,683), Valencian Community (23,267), Basque Country (9,054), Canary Islands (10,673), Aragon (4,804), Balearic Islands (5,631) , Asturias (5,874), Cantabria (4,622), Extremadura (1,507) and Murcia (2,146).