Peterhansel breaks away from the general classification and Benavides wins the stage in the Dakar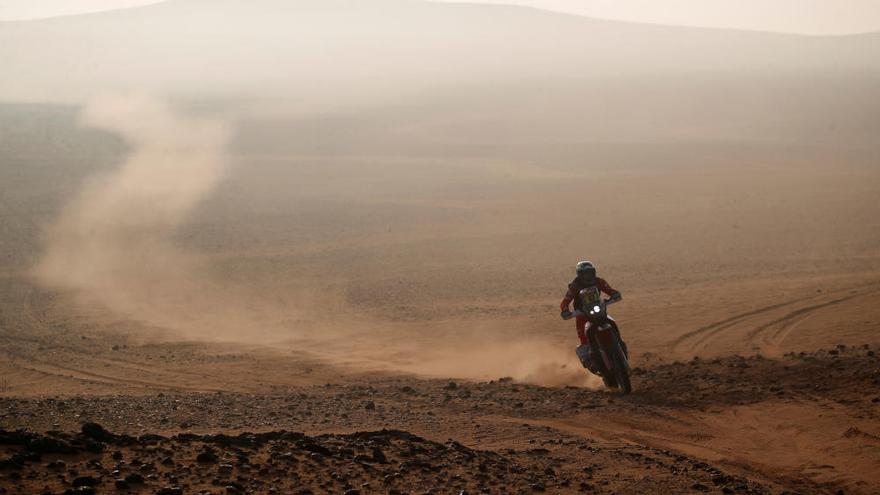 He Frenchman Stéphane Peterhansel (X-Raid Mini JCW) stood out this Tuesday in the general car of the Rally Dakar by improving the time of Qatari Nasser Al-Attiyah (Toyota Gazoo Racing) by 12 minutes, which he already beat by 5:50 at the start of the ninth special.
Pending confirmation of his first stage victory in this edition of the Dakar Rally with the arrival of the rest of the participants, Peterhansel already knows that his advantage at the head of the general classification will grow considerably.
'Monsieur Dakar', as the thirteen-time champion of the event is known, covered the 465 kilometers of special in the Neom environment in 4 hours, 50 minutes and 27 seconds and increased his income by another 12 minutes against Al-Attiyah, which now remains at 17:50 of the leader of the general.
For his part, in the motorcycle category, the Argentine Kevin Benavides (Honda) won the ninth stage of the Dakar Rally with an advantage of 1:34 over the Chilean José Ignacio Cornejo, who this Tuesday saw his advantage grow over the second classified in the motorcycle general classification, due to the abandonment of Australian Toby Price (KTM).
Evacuated by helicopter, severely sore in his left arm and shoulder, the Australian lost all his chances to fight for the win in this edition of the Dakar Rally, which is being held in Saudi Arabia for the second consecutive year. Price was second, 1:06 behind Cornejo.
Although the Chilean gave up the stage victory, by a slim margin of 1:34 against Kevin Benavides, the leader of the general classification, can be considered the big winner of the day. Now spot the runner-up at 11:24. His pursuer is precisely Kevin Benavides.
The Argentine, also winner of the fifth stage, scored his second win in this edition of the Dakar Rally, being the fastest of the day, consisting of a 109-kilometer loop and a 465-kilometer special in the town of Neom.
His brother, Luciano, who was evacuated by helicopter after a heavy fall when he was third, ended his journey in this section.
In that place the French completed the stage Adrien Van Beveren, 13:52 behind the winner.
The austrian Mathias Walkner was fourth, followed by the Spanish Joan Barreda.
The Castellón star of a notable rise in the general motorcycle ranking, settling in third position, although with a delay of 29 minutes with respect to the leader. He is behind, at 1:34, the British Sam Sunderland.
Completed the ninth stage, the participants have three more stages ahead of them to order the final classification of the motorcycle general. Ignacio Cornejo, Kevin Benavides and Joan Barreda reach the decisive part of the race on podium positions, but until Friday everything can happen.