Pet Shop Boys conquers the public at their concert in Gran Canaria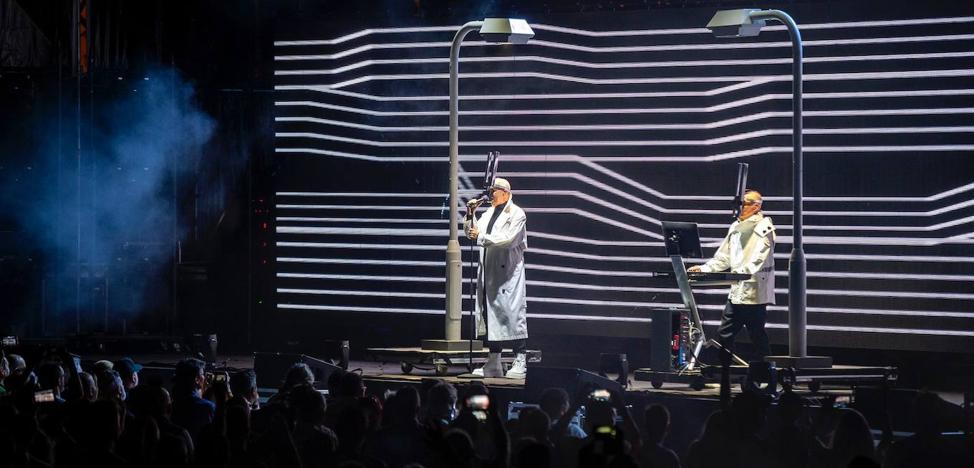 More than 5,000 souls gathered at the Gran Canaria Arena to sing and dance to the greatest hits of the legendary British duo
Neil Tennant and Chris Lowe They did not disappoint in their second concert in the Canary Islands, after the one held last Thursday in Puerto de La Cruz.
During the
ninety minutes that the concert lasted they did not miss
hits like 'Heart', 'Go West', 'So Hard', 'Domino Dancing', 'It's Alright', or the one that gives name to his tour 'Dreamland'
The legendary British electropop duo, Pet Shop Boys, did not disappoint and made more than
5,000 souls who gathered this Saturday at the
Gran Canaria Arena to enjoy the second and last concert that the group offered in the Canary Islands.
Being the
first time in his 30 years in the music that has been on the islands, the expectation was maximum, and already from the early afternoon the first faithful were waiting in line near the Gran Canaria pavilion, waiting for the opening of the doors that would give them access to the which has been one of the best concerts of recent times.
Pet Shop Boys, who comes from playing in the
best festivals in Europe such as the one at Glastonbury and the one at BBK in Bilbao, he displayed a careful set on stage this Saturday, in which there was no lack of lights, videos, futuristic clothing, and even lampposts from which some of his classics sang.
The concert, which brought Neil Tennant and Chris Lowe to Gran Canaria for the first time, began with the theme
'suburbia', that made the attendees begin to dance in the first chords of it. It was followed by 'Can you Forgive Her', 'Opportunities', and 'Where the streets/Can't take my eyes'.
The high point of the night came with
'Domino Dancing'. Although the followers of the British duo also vibrated and sang other great hits such as 'Losing my mind'; 'Always on my mind'; 'Dreamland'; 'heart'; 'It's Alright'; 'What have I done to deserve this'; and 'Go West', among others.
During the recital, the London duo showed signs of wanting to please and pamper the Gran Canaria public, just as they did last Thursday in Puerto de la Cruz, and to do so, they did not hesitate to start with
small phrases in spanish with which they delighted, even more so, that sea of ​​unconditional fans who had a flashback to their twenties in many moments of the concert.
This concert has been sponsored by the Government of the Canary Islands, the Canary Islands advance with Europe within the European Regional Development Fund, the European Union, the Canary Institute for Cultural Development, Tourism of the Canary Islands, the Cabildo de Gran Canaria, the Cabildo de Tenerife and the Las Palmas City Council. of Las Palmas de Gran Canaria, Puerto de la Cruz City Council, Archipelago Renting, datos.com, +LED, Distergen, I Love the World, Fauca, Open Commercial Zones, Canarias Viva and Isla de Canarias.