Perseverance on Mars, a planetary landing for the first time in Spanish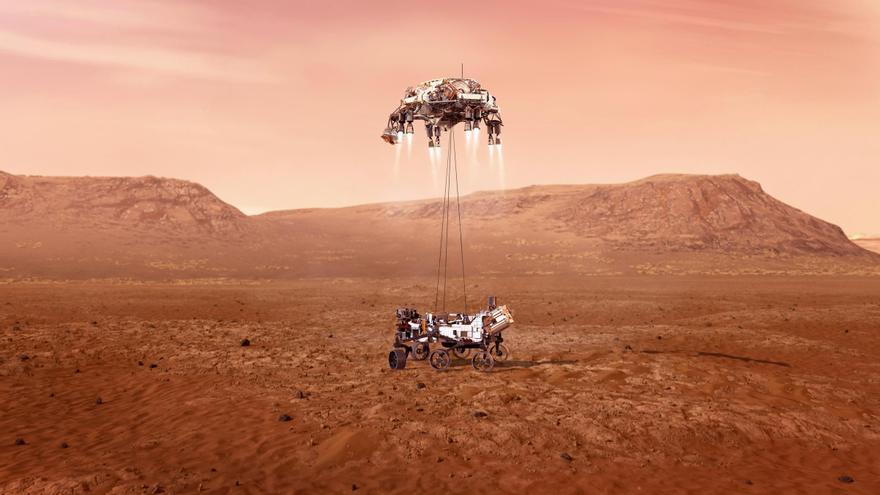 The arrival of the Perseverance robot on Mars This Thursday will be another milestone for the US space agency NASA, which for the first time will broadcast a planetary landing in Spanish.
NASA will broadcast 'Together We Persevere', a program that will provide viewers with a detailed view of the mission to Mars and will highlight the role that Hispanic professionals the US National Aeronautics and Space Administration have had in it. The program, which will air at 7.30pm GMT on the agency's website and on its Spanish-language social media accounts on Twitter, Facebook and YouTube, will begin approximately an hour and a half before the estimated robot arrives. to the surface of the so-called "red planet".
"I am very proud of NASA's efforts to better share the excitement of the landing of the rover Perseverance with the almost 500 million Spanish speakers in the world, "Bhayva Lal, acting chief of staff of the US space agency, said in a statement.
This first program in Spanish for a landing on another planet will show the diversity of the NASA team working on the Mars 2021 mission. 'Together we persevere', which will be presented by Perseverance engineer Diana Trujillo, will include interviews with scientists, engineers and astronauts Hispanics from NASA.
In addition, Hispanic figures from the world of entertainment, journalism and politics will send messages of support. One of them will be the Colombian singer-songwriter Juanes, who celebrated the "contributions that so many Latinos have made to the effort" of NASA to complete the mission, which left Cape Canaveral, Florida (USA), about seven months ago. "Excited to witness in life one of the greatest achievements of humanity and that it will also help us get closer to the red planet as a species, thus expanding our knowledge and awareness, "the Colombian said in a statement.
The Perseverance rover, which was launched on July 30, 2020, will search Mars for signs of past microbial life and collect select rock and sediment samples for future shipment to Earth. Characterize the geology and climate of Mars and will pave the way for future human exploration beyond the Moon.
Perseverance also carries a technological experiment, the Ingenuity Mars helicopter, which will attempt to carry out the first controlled and powered flight on another planet. If the landing is successful, it would be NASA's fifth space probe on Martian soil after Sojourner (1997), Spirit and Opportunity (2004) and Curiosity (2012).