Permits to build new houses fall in July for the third consecutive month | Economy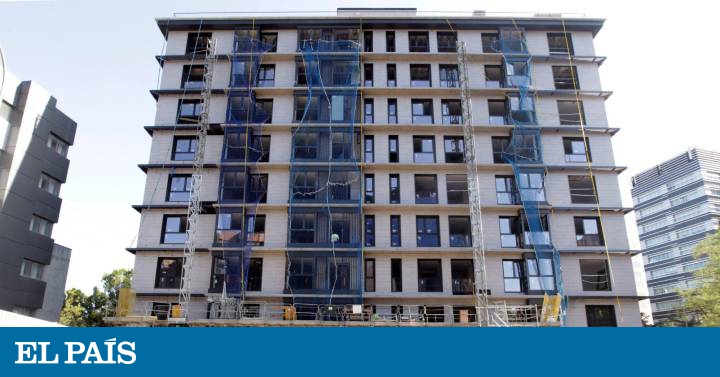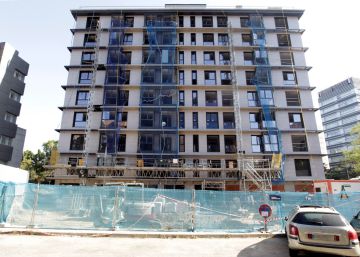 According the real estate market cools, the construction of new houses lives an early fall. Last June and July, permits to build future homes fell 1.7% in each month, according to the statistics of work visas published Monday by the Ministry of Development and corresponding to the sixth and seventh months of the year. In absolute numbers, last June, permits were requested from the official schools of riggers and technical architects from all over Spain to build 9,458 new homes, and in July for 11,967 homes. In 2018, there were 9,626 in June and 12,172 in July.
Actually, the decline began somewhat earlier. Already in May there was a 2.1% drop in the number of homes for whose construction a visa had been requested with respect to the same month of the previous year. In all cases, these are very slight decreases, which point more to a stagnation or stabilization than to a collapse of the sector, but it is significant that the statistics have completed three months in negative figures. That circumstance had not occurred since November 2013, in full post-bubble hangover.
The braking is also striking because the usual tonic of the market was the double-digit year-on-year growth. And so it was in the first four months of the year, which still compensate for the fall of the following three: from January to July, permits have been requested to raise 68,544 new homes, 10.4% more than in the same period of 2018.
By type of housing, June and July show essentially a slowdown in the construction of apartment blocks. In the first of those months they fell 4.1% and in the second 2.9%, always taking as reference the same period of the previous year. Meanwhile, permits for new single-family homes did grow in both months (8.4% and 3.4% respectively), but those increases or compensate because their weight in the market as a whole is much lower.
Public promotion, under minimum
From the point of view of the promoter class, the June and July data confirm that public housing still does not start. Of the 15,208 homes for which work permits were requested in July (counting, in addition to the new construction, with extensions or reforms), only 75 were the initiative of a public administration. With the bursting of the bubble in 2008, public promotion began a decline that has already accumulated seven years in practically derisory figures.
If the end-of-work certifications are met, the first half of this year is the worst of the statistical series, which starts in 1991. From January to July, only 66 public housing units were completed. A decade earlier, in 2009, there were 3,696 homes and in the peak year, 2008, they exceeded 4,500 in the first half of the year.
. (tagsToTranslate) permission (t) build (t) new (t) new (t) house (t) get off (t) July (t) third (t) month (t) consecutive (t) try (t) fall ( t) slight (t) statistics (t) visa (t) work (t) register (t) period (t) long (t) negative (t) final (t) 2013



Source link