Pepe Mel: "You have to give the center-backs affection, trust"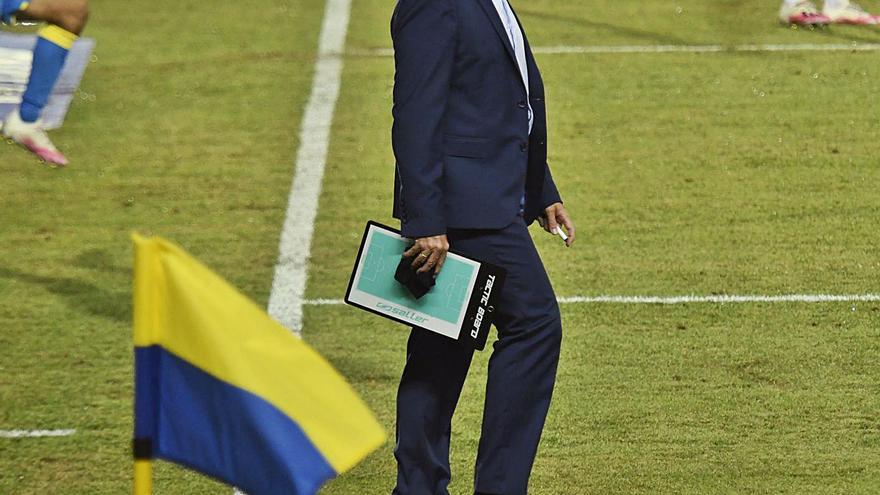 Confidence for the rear. Aythami and Cardona are back, but only the former points to the start today (3pm, Movistar Vamos) against Real Zaragoza. His companion will be Álex Suárez, the coach's bet in the three previous games, including the only preseason game. It slips from his words in the previous one. "We have a series of centrals that must be given affection, security, confidence. I am happy with how they have worked ", he assured.
And he declared: "If there are positions in which you have to give more confidence, it is the one that makes you goals, the one that stops you and especially the centrals, because they have to manage many times and many things in the team." Thus, it is presumed that the Arguineguín, who missed the previous appointment due to his expulsion on the opening day, and Suárez, will be the centrals.
Even more so for what Mel revealed. "What does not make my work easier is the impasse that Tomás Cardona has had of not training and being away because he has to adapt to our football. I have spoken with him and he has told me that the difference he sees between where he came from and where he is is the speed of the game ", he commented.
For the rest, the yellow coach insisted once again on the urgency that the players discarded by the club – Mantovani, Srnic, Rivera and Raúl – leave as soon as possible so that more signings can arrive. "First we have to solve the issue of the exits because if not we will be a little stuck. A player at the top of the attack would be good for us, and perhaps another in the center of the field. Luis and Tino know the economic and market possibilities and have my complete confidence. We can be calm ".
Trust
In any case, Mel made it clear that if any of the discarded remained in the squad, as happened last summer with Tomás Pekhart or Javi Castellano, he would get "100% of all".
In addition, he hoped not to suffer any unexpected loss. "We don't think any more can come out, but of course, as long as the market is open no one is exempt from a club coming, becoming infatuated with a footballer and taking it away from you. I dont know. What reassures me is that our path is clear to us. Every morning that I talk to Tino and I see Luis, what is closing the market because there is less and less time, "he said.
On the other hand, Mel explained that the fact that Zaragoza has not yet debuted in the competition does not represent an advantage for UD. "He has played the same games as us, against Getafe, Nàstic and Girona, and us against Tenerife, Leganés and Fuenlabrada. That these last two had points, yes, but the games are the same ", he said.
He also highlighted Kirian's role: "He's understanding what his coach wants from him. In the three games we have played, he has been much closer to what I want from him than before, which is why he remains in that title. It is giving us things, which is what I hope Maikel will surely do ".
On the contrary, he also referred to the low participation of players called to be important such as Maikel or Aridai. "We have been in the championship for 180 minutes, so drawing conclusions for two games is hasty (…). What prominence is Maikel going to have? I already tell you yes because he is a footballer with whom I talk a lot and he knows what I expect. If the boy wants to give it, there will be no problem. Aridai's problem is that unlike in other years there are players in that position who have been pushing hard and he has to win it over. There will be no problem, they will have their minutes and their prominence, "he commented.
Finally, he did not want to add anything more about his complaint about the poor condition of the Gran Canaria grass and the sports city that he presented on Sunday after the clash against Fuenlabrada. "I already said what I had to say, I don't know if it was politically correct -" the grass is a fucking disaster "- or not, but what is clear is that it was the feeling of all of us who train every day and use the grass. . Now we have to look for solutions ", he concluded.