Pepe Luis Segura, a great figure among the proxies, an independent bullfighting | Blog The bull, by the horns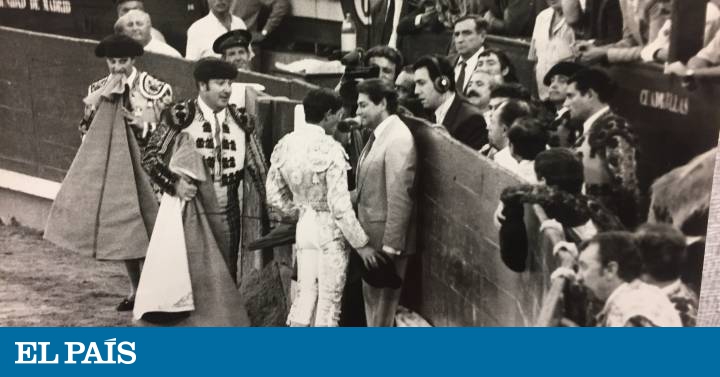 He wore the bullfighter suit in the 1970s, and eight scars remind him of it every day; The Viti was his alternative godfather in 1969, but he retired when he learned that it would not be a figure. At that time, in 1977, Pepe Luis Segura (La Línea de la Concepción, Cádiz, 1945) could not imagine that from the alley he would reach the glory that he did not find in the face of the bull.
He changed the sword and the crutch for diplomacy in the bullfighting offices, and forged a brilliant and successful career as a manager. Certainly, his curriculum is outstanding, and not only because of the high number of bullfighters he has directed, -no less than 19, many of them considered figures-, but because of the high prestige achieved as a great independent figure in the wild sea of ​​bullfighting. dominated by old business houses.
He left the profession in 2013 "out of boredom and disappointed", in his words, although he acknowledges that he would like to return to the activity. The truth is that he looks like a boy at 75 years old, without a single gray hair on a head full of experiences. He boasts, and with good reason, of his achievements, and recognizes that he never shied away from controversy in the defense of his bullfighters; today he remains a passionate man, with a great power of conviction, perhaps because he shows an unusual faith in his beliefs.
The appointment is at the office of his company in Seville, which he keeps intact despite his retirement; a small museum where he keeps a bust of Francisco Ruiz Miguel, "the flagship of my house", the head of the bull 'Madroñito', whose death the right-hander from La Isla gave him the afternoon of his farewell in Madrid, and numerous memories that They speak of the more than 30 years that he has dedicated to suffering and enjoying in the alleys and business offices.
"Being an independent attorney-in-fact means not marrying anyone, and I can honestly say that I have fulfilled that maxim," says Pepe Luis Segura. "I am a friend of all companies, but I have not married any of them; and most of them have taken their toll on me, although I have been fortunate to have good bullfighters, who have justified the conditions that I demanded in the arena ".
"Yes, many bills and of all kinds," he continues; "To have, for example, ten confirmed bullfights with Manuel Chopera, and cancel them overnight; but since he represented a bullfighter who leaned in like a lion, named Ruiz Miguel, I didn't care ".
"The attorney-in-fact must be very faithful to his bullfighter," he explains, "and praise him more than necessary when he is successful, but speak clearly to him when he is wrong. I remember an afternoon in Valencia, in which Julio Aparicio was not well. We get into the gang car, and you already know what the gangs are like: a continuous rally to the matador. I turned around and said, 'Stop blaming the bull; Julio has been bad, very bad. ' Upon arriving at the hotel, the bullfighter called his father, who found me immediately and put me back and a half. 'Would you have been able to?' He asked me. 'I, no, teacher, and that is why I am a proxy, but that is the truth', I replied. A few days later, he called me again to tell me that he had been informed and that I was right. What am I going to want for my bullfighter? I have strictly adhered to this slogan with everyone: to be loyal, sincere and, above all, very honest ".
Pepe Luis Segura recalls that he was the attorney of Julio Aparicio three times. One of them as a result of the bullfighter leaving through the Puerta Grande in Madrid on May 18, 1994.
"That same night they contacted me to take care of him, and that year he earned 265 million pesetas, clean of dust and straw."
And one more detail about the Madrid right-hander: Segura keeps laminated - and shows it proudly - the contract he signed with Diodoro Canorea, businessman from La Maestranza, for the hiring of Aparicio in the 1992 season: seven bullfights with Curro Romero , at the price of 9 million pesetas for each afternoon.
"This document is historical," Segura comments. "Don Diodoro, whom I have great respect and admiration for, only signed two contracts in his life: with Manuel Benítez El Cordobés and with Julio Aparicio, whom I represented."
Question. One would have to conclude that the bullfighters have made money with you ...
Answer. "The one who has come closer, yes. Ruiz Miguel, for example, finished paying for his farm when I took him over; José Antonio Campuzano bought a luxury estate and villa; the last year with Padilla, he earned 7 million in Bilbao and 11 in Pamplona; and Víctor Puerto was liquidated 3.5, 4 and 4 million for three runs in San Isidro, and the following year, already in my hands, he won 10, 10 and 12.5 million pesetas. These amounts are no longer earned ".
P. Do you think that bullfighting would work differently if there were more independent attorneys-in-fact?
R. "Undoubtedly. Companies should not take over bullfighters, and I say this out loud. Companies should only be companies, so that there is no change of stickers, the payment of favors or revenge. In addition, history shows that the bullfighters who have become millionaires are those who have trusted independent men. There are the names of Mr. José Flores Camará, who has been my reference in this profession, Andrés Gago, Curro Caro, Martín Arranz, Roberto Domínguez, Curro Vázquez… I love them; bullfighters who know the conditions of their bullfighters and truly defend them ".
P. But you have to be a very good bullfighter to be represented by an independent ...
R. "Sure, a very good bullfighter, and bring people to the plaza. Those two conditions are fundamental. There have been extraordinary bullfighters who have not earned money because they have lacked pull at the box office ".
Pepe Luis Segura recalls that he began in the world of empowerment thanks to Finito de Triana, the brilliant junior who has since disappeared, who asked him to represent José Antonio Campuzano.
"When I cut my ponytail, I wanted to dedicate myself to construction, like my father, but… I had helped some bullfighters, and I was delighted by the case of José Antonio, who was then processing the banderillero card in his brother Tomás's gang. It cost me my own life to convince Canorea to include him in the Guardiola bullfighting poster, at the April Fair of '82, and he left through the Puerta del Príncipe. For several years he was in figure because he was an extraordinary bullfighter. The only thing I reproach him for is that he abandoned me out of cowardice "
P. ?
R. "Yes, he was a coward. I made very strong statements against the Lozano brothers, because they removed Ruiz Miguel from Miura's run in Seville to place Espartaco. I tried to avoid the confrontation, but it was not possible. I told them: 'Don't touch my eating spoon, and mine is Ruiz Miguel, the last bullfighter who has cut off a tail from a Miura bull in Seville ". I proposed a heads-up between the two bullfighters, but they didn't accept it ".
P. And José Antonio Campuzano got scared ...
R. "Indeed. Some 'disturbers' made him believe that my dispute with Los Lozano could harm him, and he told me so the day he left ".
P. His bullfighter has been and continues to be Francisco Ruiz Miguel ...
R. "He could have liked it more or less, but it's not easy for someone else like him to come out. I think no one has had its continuity. He is a true friend, who has always responded in the ring ".
P. With him he has also been an experienced psychologist.
R. "With Paco and with all the bullfighters. We spend many hours together, you meet the person, their circumstances, their problems, their moments of discouragement. Paquirri's death upset Ruiz Miguel; he argued with the spectators, he provoked me in the alley, and all to justify that he had his head elsewhere. Until one day we sat in the hotel room and talked. 'There is no way to walk like that, Paco,' I told him. 'You know that I have been a very good friend of Paquirri, and it comes to mind,' he replied. 'I understand you, but if you want to be a figure…' And the uncle tells me: 'This is over; Either I win or I end up in the infirmary. ' In the end, we both ended up crying, but he kept his word. "
During the conversation, Pepe Luis Segura has been writing down the names of the bullfighters he has taken over on a piece of paper. The list is overwhelming: José A. Campuzano, Ruiz Miguel, Nimeño, Manili, Tomás Campuzano, Vicente Bejarano, Chamaco, Jesuli de Torrecera, Aparicio, Manuel Díaz El Cordobés, Jesulín de Ubrique, Rivera Ordóñez, López Simón, Ortega Cano, Emilio Muñoz, Víctor Puerto, Oscar Higares, Manolo Sánchez, Padilla ...
"I am retired, but I would like to return to the activity if some bullfighter were to excite me again. There have been so many experiences… ", he comments while posing next to the bust of Francisco Ruiz Miguel, his bullfighter and great friend.